Photo by Toni Rosado
In discussions of his solo and collaborative productions for Ostgut Ton and his own MDR label, his biting remixes for folks as disparate as Modeselektor and Sandwell District, and his infamously expansive DJ sets, club music commentators invariably accuse Marcel Dettmann of being a purist. But purism — as a stance on techno — implies pretension, and you'd be hard pressed to meet a man who puts on fewer airs about this music than Dettmann. At his headlining appearance at New York's famed Bunker party, he may have threaded the needle from Tan-Ru's "Assembly" (his fitting tribute to the late Ian Loveday, who passed away in June) to Newworldaquarium's "Trespassers" and touched on countless rare techno sides in between. But if Dettmann — casually clad in jeans and an MDR t-shirt and handing out high-fives to all who approached him — played professor in any regard that night, it was only delineating how one brings down the house and keep revelers enraptured straight through 6 a.m. A few hours before all this madness commenced, I sat down with the famed Berghain resident for a chat on dubstep, Deuce, and what this whole techno thing means to the man who has lately come to personify it.
I've read that '80's pop artists like Depeche Mode and Kate Bush were both big for you growing up. Was there a first record or clubbing experience, though, that got you into techno, that made it your passion?
Marcel Dettmann: When I was 12 or something like that, we'd hang around in clubs for kids. There were DJs there who played the Cure or Depeche Mode and Joy Division, stuff like that. We grew up with this kind of music, mostly electronic body music and synth pop and things like that. Then, in 1992 or something like that, we went for techno because we heard something or read something. And then the brother of a good friend of mine, who was six years older, gave us some compilations of techno, or gabba compilations or something like that.
Do you remember some of the first records that really struck you?
Mostly American stuff. Really early Frankfurt stuff. After the EBM thing came mostly techno for me. I'm not really sure. There were so many records at this time. The first record I bought was 3 Phase feat. Dr. Motte's "Der Klang Der Familie." It was really famous in 1992, a big hit. We listened all the time to it, so we went to the shop and bought it. Before that I bought some seven inches and stuff like that, from bands like Depeche Mode. I come from East Germany, so we had just a turntable, no CD player. We had a cassette recorder, but mostly we listened to vinyl at home, so that was the reason why I bought seven inches and singles.
Were there techno parties going on in East Germany around this time?
In the area where I grew up, which was about half an hour from Berlin, there were a couple of guys running techno parties. One of the best DJs at this time was Gerard. Nobody knows him now, but it was amazing, such a mindtrip, such great stuff, really good techno. When I think about it, it's magic. We listened all the time to his tapes. Norman Nodge as well.
[Nodge] has been around for quite a long time.
He's been DJing for like 20 years. He played all of this cool stuff from the States. So we'd go into the shop in our city and say, "We want this one and this one," and they'd get some more stuff for us. These guys were a really good inspiration for me and my friends.
Is it wild to have now released some of Norman Nodge's material on your label?
He's a good friend of mine. I've known him for like 18 years or something like that. We did a couple of parties together in the '90's. His hometown was half an hour from my hometown and an hour from Berlin. He'd invite me to play and I'd invite him to play. I'm a really big fan of his. I really like his DJ style, and I really like his music. It's so pure. It's like he doesn't think about it, he just does music. That's the most important thing: don't think about it, just do it.
Going off of that… I know that techno means a lot of different things to different people. As one of the foremost guys doing it right now, how do you define it? Is it a style of music, an aesthetic, a philosophy?
Techno for me… I mean, I live techno. I live it all the time. I love it. Techno for me is like a 24-hour job. When I wake up, I think about music; when I go to sleep, I think about music. I think about it all the time. My wife is really jealous! (Laughs) But that's my life. Since [I've been able to] think, I've been thinking about music. I just love good tracks.
So more than anything else, it's something you feel.
That's the most important thing. You have to feel it. It's not just a good club track. It's mostly like, any kind of music, you just have to feel it. You catch it, and it's really magic. I need to think of the English words… I don't know. For me, it's just very, very important.
You favor a very pure, very classic sound, so we know where you stand on the past. Where do you think techno is going?
The thing is, right now there are so many good artists from the past who are making new tracks. I talked to Robert Hood, and he sent me some new tracks. I'm a really big fan of his; he's the master, you know? And I'm really pleased, I really appreciate that this guy is making music now, again. It's the same with Regis from Downwards, who's now working with Sandwell District. I'm just really pleased these guys are making music again. There are also many good new producers, like Levon Vincent, as well as all the guys who are around me: Norman Nodge, Marcel Fengler, Ben Klock. For me, the most important thing isn't how new the music is; it must just have personality inside, soul inside. If you feel it, get it. If not, then it's not your style and that's okay.
So much of what Hardwax posts on their homepage right now is, to borrow their term, "subs-driven" music: bass music, dubstep. You work there, so I'd imagine you're surrounded by this music all the time. What do you think of this music? Do you play a lot of it?
I mean, I really like it. It's a really good inspiration. There are a couple of guys where they like your stuff, you like his stuff. For all of us, it's a good inspiration. They are looking through the techno guys, and we are looking through the dubstep guys and thinking, "Wow, great, nice." I think it sounds really futuristic, and that's where techno comes from. Simple and futuristic: that's techno for me. It works in the clubs for sure, but it's a different thing. The beats are changing all the time. In techno or electro, you have a bass drum, a kick happening all the time. Dubstep is more breaking like this, breaking like this. But I really love it. I love sound, the atmosphere, the feeling.
And it must sound pretty incredible in Berghain, on that sound system.
Yeah, really great. I'm a really big fan of Martyn and Scuba and all those guys.
So what about your own music? Tell me about your studio. What are you making music with?
I work with Ableton Live. I have a couple of drum machines, but I just use them for sampling and stuff like that. Mostly I work with Ableton Live.
And you've been working with it since you started producing, right?
Yeah, I started in 1997, not because I wanted to be a producer or something like that, but just for fun. Some people play Playstation, I play with sounds, loop stuff.
Do you have any new material on the way?
There are a couple of remixes coming. There's a remix for the Richie Hawtin project Cybersonik, from 1992 I think. One of my absolute favorites, actually, on Plus 8. There's also a remix for Fever Ray…
I love that record! Such a wonderful LP.
It's really, really nice! They played at Berghain. It was amazing. The show was… it blew me away. I saw them at Sonar, too. They've become good friends of mine. So I did a remix for them. Also a remix for Junior Boys. I'm also working on a new material for my own label, MDR. The last one was Norman Nodge. Now it's time to make a new one. I have a couple of tracks. Maybe at the end of this year, I'll release a new 12″ on MDR.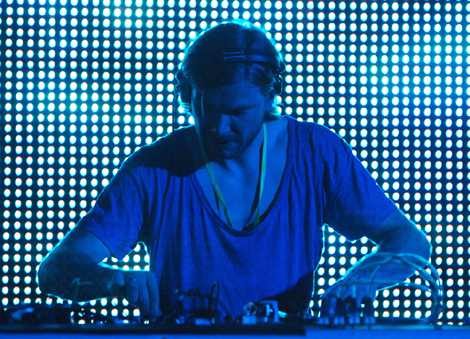 Photo by Toni Rosado
You're known for your DJing as well as your productions and remixes. Do you think being a DJ is an important part of being a producer, and that being a producer is an important part of DJing?
Mostly, I'm a DJ, for sure. I started with DJing. I love switching styles and playing my favorite records. That's what I really love. I'm making music for… I don't think about it that much. I'm just making stuff. I mean, I'm really pleased that people like my music, but I'm just making [music out of] what's surrounding me.
You hear about people like Ricardo Villalobos making a lot of music for their own sets, not intending for it to be released. When you're working in the studio, are you thinking about it for your own use, or are you thinking about it for release?
Not for myself. I'm making music for my friends and for people who want to use it. Sure, I play my tracks, but mostly I play them before it's coming out just for checking it in the club, seeing how it works. I don't play so much stuff of my own. It's for the other DJ's. There are so many other people [whose music] I like to play.
So you couldn't really see yourself doing a live performance or something like that.
Yeah. I mean, I think about it sometimes. I have done a project with Shed called Deuce, and I'm a really, really big fan of his! He's one of the best producers at the moment for me. He catches the old times and brings them into the new, so it's really fresh, it's really funky, it's amazing. I really, really love his music. I'm really pleased that we worked together, so what I'd like to say is that we're thinking about maybe doing a live set sometime, just a couple of dates, just once or twice a year or something like that.
No tour, just kind of to give it a try?
Right, just a couple of times.
What was it like working with Shed? What was your process?
It was really, really simple. We just brought our music together. We have a couple of sounds, a couple of unfinished products and tracks, and we just made a session. We'd sit there and record for like an hour, and then we'd cut something out. That's how we made the three tracks. For me, it was just a good inspiration, working with someone else. Sometimes I sit in the studio with Marcel Fengler or somebody else, and it's really good inspiration to hear what the other guys do. I really like to help them. I say, 'How is this? How is this?' And they say, 'How is this?' We go back to back all the time. It's so helpful, it's really important for us all to be speaking about music, what we're thinking about.
Any more Deuce material on the way?
No, not now. We will see. Maybe next year.
And what about Dettmann | Klock?
Yeah, for sure. But now it's really hard to come together because he's playing every weekend, I'm playing every weekend, and we have to do so many projects, like remixes and our own stuff. He's my best friend, and 'm really happy to have him as my best friend. We'd really like to do something again. We spoke about it and it was like, "Yeah, let's do something together again," but we have to finish this, this, and this. So we'll see. But yeah, for sure.
He recently released an album. Do you think you might do one?
I think about it, and I'd like to do it in the next year or something. But it requires thought, for sure, because I need to say to myself that now is the right time to make an album. It's not like I can just bring a couple of tracks together and say, "That's my album." You have to bring a fairy tale to the people, bring your vision. I have to have something to say. For me, it doesn't depend on how many tracks it is, it could be six or twenty. It'd just have to be a good thing for me.
When you're getting ready to do a seven or eight hour set, how do you prepare yourself– mentally, physically, and musically?
Mentally, it's like… mostly, I play until the end [of Klubnacht at Berghain], from 8 in the morning until 3 or 4 in the evening, eight, sometimes nine hours. I sleep before, for sure. I have a couple of tracks I can't play in other clubs, because I only play there for three hours or something like that. When I play for eight hours, I have like 300 records with me, and I play mostly until the end, I play my favorite, favorite records. I really enjoy it, getting into the music and seeing how people will close their eyes on the dance floor and go into the music. It's a really special moment.
I've read where you've said there's a point in the night (or day, I guess) where you feel like you could pretty much play anything.
Yeah, that's it. But you have to work for this moment. You have to bring the people to this place.
Is it almost a challenge to play a shorter set after you've done longer-form sets?
I like shorter sets as well, because you make a package, you make it compact. When I'll play a festival for one or two hours, I'll play straighter, more pumping, harder stuff. When I play for eight hours, I can grow, go up and down, up and down. I like both. But I like compact sets. You can play forward all the time.
You really like this Bunker party. What about it gets you going?
When I play here, it feels like a warehouse, a basement club. Really nice crowd, not so professional-feeling. It's more pure. Really true, really personal. It feels like techno to me. It's one of my favorite parties in the world.