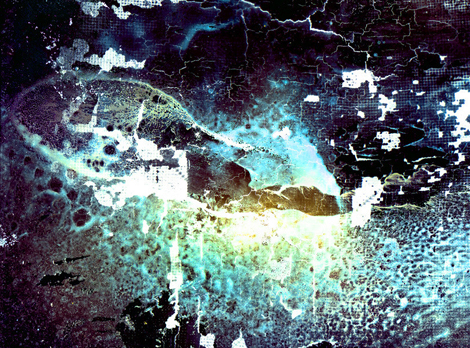 "It's not like I can just bring a couple of tracks together and say, 'That's my album,'" Marcel Dettmann told me last July. "You have to bring a fairy tale to the people, bring your vision. I have to have something to say." The more I think about it, the more I disagree with Dettmann's assessment of what albums should strive for, at least within the realm of techno: Many of the last few years' best — Shed's Shedding The Past, Shackleton's Three EPs, Actress' just-released Splazsh — have taken the format's extended runtime not as an opportunity to engage in storytelling but instead to explore and flesh out the producers' sound. (To my ears, Carl Craig's More Songs About Food And Revolutionary Art and Martyn's Great Lengths are some of the only techno albums with successful rock album-style plotting.) It's not that the best dance albums have something to say so much as they have something to show.
Audio clip: Adobe Flash Player (version 9 or above) is required to play this audio clip. Download the latest version here. You also need to have JavaScript enabled in your browser.
At the time, it sounded like Dettmann was talking about making an album purely in the hypothetical, but less than a year on from our conversation, Marcel's debut LP on Berghain's Ostgut Ton imprint has come into fruition. Though I wasn't so hot on his fairy-tale-of-techno concept, I was excited to hear if Marcel would use the album format as an opportunity to take his sound design ("songs" or even "tracks" doesn't quite communicate the sort of music he releases) to the next level. While it's at times painfully monochrome, Dettmann certainly succeeds both as an expansion and as a fine-tuning of the MDR aesthetic. But perhaps not surprisingly, the album contains not a single unicorn.
Dettmann, an avowed Mika Vainio acolyte, begins his album with the tense pipe-drip of "Quasi (Intro)" and "Argon," a wobbly and off-kilter (for someone so dedicated to 4/4) rhythm loop. The tracks, without question the set's most experimental, are at once exciting and a tad disconcerting: I'm happy to hear Dettmann trying on home listening for size, but he's already losing me. Thankfully the next two excursions, "Screen" and "Motive," find the producer doing what he does best — crafting cold, mechanical twilight worlds you very quickly get lost in. With its clicking percussion and sustained synthesizer murk, "Motive" does this especially well, sounding more like a field recording from the ultra-frozen tubes of the Large Hadron Collider than a dance floor bomb. Following with a pair of fiery yet discouragingly inert chuggers, "Drawing" and "Reticle," Dettmann gets a sudden burst of energy on "Irritant." Dettmann prefers not to let his DJ and producer personas comingle — he generally doesn't play out his own material — but "Irritant" recalls the kind of hugely tense moments that make his DJ sets so transcendent. Likewise, "Captivate" brings the funkiness (and fun) we know from his sets that's largely been absent in his studio work.
Audio clip: Adobe Flash Player (version 9 or above) is required to play this audio clip. Download the latest version here. You also need to have JavaScript enabled in your browser.
Dettmann finishes his album on cruise control: the churning "Silex," space-beaming "Home" (a rare deviation from his preferred 4/4 pulse), oilfield-burning "Viscous" maintain the energy of the album's midpoint with almost laboratory precision. And that's basically the rub. While I don't think techno albums have to take you on the same kind of journey a great rock album should, I can't help but think that Dettmann did indeed just bring a backlog of material together and press it to CD. Dettmann has some major highlights, but given its few stylistic deviations and almost absurd darkness, it's a difficult set to take all in one chunk by practically every measure of digestibility. The guy obviously knows how to tell a story: his timeless Berghain 02 compilation achieved this famously. But if storytelling is what Dettmann is after herein, I find its closest referent in "The Part about the Crimes," the section of Roberto Bolaño's posthumous epic 2666 where the author writes — for nearly 300 pages — description after sickeningly clinical description of the corpses of rape victims in a fictionalized Ciudad Juarez. Both Bolaño's prose and Dettmann's sound design possess a meditative focus on bleakness that feels artful, but it's admittedly difficult not to just throw in the towel.