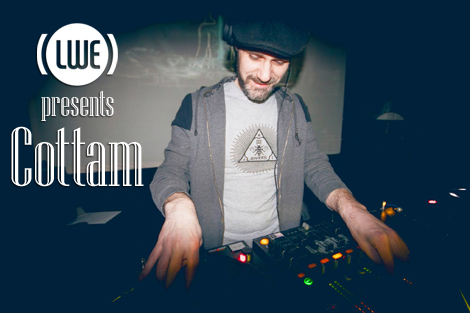 Some time towards the end of 2009, with the effects of slow-mo house and an on-going run of impressive re-edits circulating in the clubs, a quick-fire triple blast of colored, un-credited 12″s appeared in record stores, being quickly snapped up by those with nimble and discerning ears. The etching on the vinyl runout gave the only clue as to who the producer might be or what the label was called: Cottam. The mystery of this edit-loving beatmaker deepened when the already elusive Story label issued its third release with more these R&B-soaked goodies on its two sides. Before long it was confirmed this was also Cottam; and although fans had to wait another full year before receiving more frequent output from the producer, they were more than sated by his outstanding productions. With demand rising, we started hearing more from Paul Cottam on an array of labels and original productions started to take the place of his earlier sample and edit-based output. Though his incredible talent has continued to spawn highly regarded EPs and impeccable DJ sets and mixes, the producer has been battling against multiple sclerosis, which he was diagnosed with in 2009. The neurological condition has many adverse effects, like having trouble standing, doing physical work, and even concentrating. Despite this, Paul shows no signs of this affecting his creative output, as his incredible DJ mix he approached us with can attests. LWE promptly jumped on the chance to feature the mix and put some questions to the producer at the same time.
Hi Paul, what have you been up to lately?
Paul Cottam: I've been playing a lot of Lego. My speciality is vehicles which can drive on the road, fly, and also seem to always house storage for a motorbike. I've been watching lots of antiques shows, Lego films/programs, and Horrid Henry. I have also not been sleeping or eating much, but that's how I keep my sound mind and youthful good looks.
So you have a new label up and running, Ruff Draft. Can you tell us a bit about the label and what sort of musical aesthetic you are pushing with it?
Yeah, I started the label to release music that I would like to play, or hear played, in clubs from other artists. I was being sent and hearing quite a lot of unreleased music that I would love to have been able to play in clubs so I thought why not. It's not about a style of music, just if it makes me have that feeling of "I'd love to play this out." I have been toying with the idea for quite a while now. I'm still very new to this, so I don't really know what I'm doing. I'm enjoying learning though and I realize it may be some time before I get halfway competent at it.
In terms of the artists you are releasing on there, are these friends? Demos you've received? Where are you sourcing your releases?
Most of the releases are from people who have sent me the music. Usually people I have either met in the past or people I "know" through social media. In one case someone got in contact with me as their label had quite a full schedule and he must have thought, "These tracks need releasing" and passed them on to me with the artist's contact details.
You've already put out four releases on Ruff Draft just this year. Can we expect this release rate to continue? Anything forthcoming Ruff Draft issues you can tell us about?
Five releases now :0) I'm not sure if the rate will continue. It really depends on the music I find or am sent and if it's possible to release. There is one more release ready to go, Ruff Draft 6, but after that one there is nothing solid. There are a couple of things brewing but I don't like saying anything until things are done and dusted. Wouldn't want to tempt fate and all that.
When you first came out with your self-titled label, your tracks were largely based around edits, Afrobeat and soul. This still plays a part in some of your releases, though to my ears, it sounds like when you're not sampling or editing you opt for a darker house/techno sound. Can you tell us about this transition and how you started out making tracks?
It's a long story and my brain isn't very good at summarizing these days. Here we go: I started making music with a friend in his studio around 18 years ago. It was all done on hardware apart from the sequencing and was kind of hard techno. I was a proper techno head for many, many years. From about 2000, I had stopped working with him and didn't really make much apart from the odd session with close friends. This was mainly having fun and learning I guess.
2008 came along and I actually had a computer. Bought a couple of bits, soundcard, controller, and keyboard, and then proceeded to learn how to make music on a computer, mainly through trial and error but also with the odd pointer from friends. Obviously, as you can tell from my early stuff, it was all either sample-based, reworks or re-edits. I was buying a lot of soul, hip-hop and afro, hence the first releases being the way they are. Hahahaha, told you my brain can't summarize these days. Anyway, my tracks are getting a bit darker house/techno because it's taken me a while to teach myself the ways of making music on a computer. I would have been making more of that in the past if I knew how. The sample based/edits thing was a good place to start in my learning of the ways of making music on a computer.
Given that when you first started releasing there was no name on your records, do you have any other musical aliases?
Nope. I'm too dim and scatty for any of that.
Through some of your edits and remixes you've made great use of vocals. Is working with a vocalist something you'd like to do in your original productions?
I would love to use a vocalist. I did start plans with a young lady with a fantastic voice but the creative process of song writing proved too much for me at the time. Ill health kind of escalated at that time and with everything that was happening I kind of put it on a back burner. I have never revisited the idea as I came to the conclusion that I ain't a proper producer and I'd probably make a mess of it.
What can you tell us about the mix you've put together for us?
The mix was done during a period of feeling "unwell," hence the title when I gave it you, "A Downer On A Dark Dank Day." I just had a blast and the music kind of reflects, in my head, how I was feeling at the time.
What can we expect from you over the next year?
I don't really know to be honest. I don't really plan things out. You can be sure there'll be a shed load more DJ mixes. Production wise, who knows…
Download: LWE Presents Cottam (101:23)
Audio clip: Adobe Flash Player (version 9 or above) is required to play this audio clip. Download the latest version here. You also need to have JavaScript enabled in your browser.
Tracklist:
01. Keith Worthy, "Interlude 1" [Aesthetic Audio]
02. Huerco S., "Untitled A1" [Proibito]
03. JBSF, "Untitled B2" [Ferrispark]
04. S Olbricht, "Veuns" [Lobster Theremin]
05. Royer, "Sunday Yellow" (Independence Ave Orchestra Sermon mix)
[Material Image]
06. Clendon Toblerone, "Mystics Of Thaquitz" [Cos_Mos]
07. DJ Qu, "Soma" [Strength Music Recordings]
08. Q.V., "Social Music" [Phonica White]
09. Spoiled Drama, "The Sun In Your Face" (Route 8 Remix) [Nous]
10. Community Corporation, "Crystalis" [Argot]
11. Zennor, "Storms" [The Trilogy Tapes]
12. S Olbricht, "Fi" [Lobster Theramin]
13. Q.V., "Change" [Phonica White]
14. Henry Giles, "Exploring 0 S 102 0" [Public Possession]
15. Steve Murphy, "What Did You Just Give Me" [Basement Floor Records]
16. Community Corporation, "Subterranean Limestone" [Argot]
17. DJ Qu, "Untitled (Hi-Life)" [Strength Music Recordings]
18. 45 ACP, "Hold On" [Dog In The Night Records]
19. TWINS, "Creepstick (Believe The Floor)" [Clan Destine Traxx]
20. Voiceless, "Charivari" [Ill Rivers]
21. Barnt, "Under His Own Name But Also As Sir" [Hinge Finger]
22. Tzusing, "No Primordial State" [L.I.E.S.]
23. Life's Track, "Stone" [Cos_Mos]