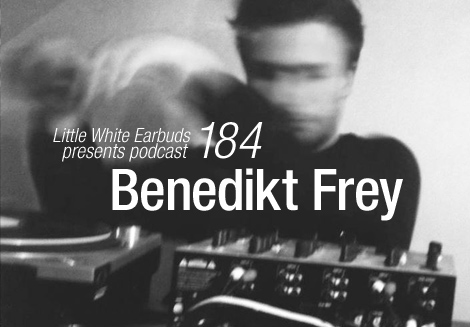 If the small handful of releases that Benedikt Frey has been releasing over the past couple of years sound carefully considered and far from the work of a new hand then it's for good reason. Frey had already been active under the name Suedmilch for some four years before he turned to using his own name. As Suedmilch, he made perfunctory dub-inflected house and techno that occasionally showed signs of the promise that was to come. By Frey's own admission he started releasing too soon, though if his Suedmilch period served as a means to get to where he is now then it was certainly not in vain. When Frey appeared on the It's All In The Mind Ethereal Sound sampler, it was apparent that here was a real talent. That small taste of meticulous, burnished deep house was soon followed up by a four track EP for Mule Electronic, which mined even deeper recesses of house and also conveyed Frey's ability to credibly work with vocalists. Since then, increasingly impressive EPs have been forthcoming for Live at Robert Jonson and his own Love Pain Subshine & Rain imprint, all favoring a slightly tougher style, mixing his considerable talents for deep house with techno. LWE reached out to Frey to quiz the producer on his approach to music making, if having his own label gives him more freedom in what he releases, and whether we are likely to see a full length album from him soon. He also gave us our 184th exclusive podcast made up of scintillating exclusives and forthcoming tracks that shows his mastery in the studio also extends to the DJ booth.
Download LWE Podcast 184: Benedikt Frey (62:35)
Audio clip: Adobe Flash Player (version 9 or above) is required to play this audio clip. Download the latest version here. You also need to have JavaScript enabled in your browser.
Tracklist:
01. Init, "Untitled Sympathy" [*]
02. Psyche, "The Saint Became A Lush" [Bol Records]
03. Kid Machine, "Night Freaks" [Viewlexx]
04. Benedikt Frey, "Broken" [*]
05. Benedikt Frey, "GDN" [*]
06. Drvg Cvltvre, "My Neck Of The Woods" [030303]
07. Mutant Beat Dance, "Lowlife" [Light Sounds Dark]
08. Juju & Jordash, "Shrublands" [Dekmantel]
09. Joey Anderson, "Above The Cherry Moon" [Avenue 66]
10. Diseno Corbusier, "Golpe De Amistad" (Benedikt Frey Edit) [*]
11. Juju & Jordash, "Echomate" [Dekmantel]
12. Benedikt Frey, "Out of Here" [*]
13. VtotheD, "Untitled" [*]
14. Init, "Blind End" [*]
* denotes tracks which, at the time of publishing, were unreleased

You started releasing under your own name in 2011 but you had previously had a number of releases as Suedmilch. Was there an incubation time there where you went away and hatched your new project or was it more a case of being a natural evolution of what you were making?
Benedikt Frey: Yes, I would say it was a natural evolution.
Has your method of production or your equipment changed much since you first started?
Of course some things have changed due to six years of working. Equipment and knowledge grows from time to time, but some things stayed from the first second on. Primarily it's the experimental attitude in combining things which at first sight don't really fit together. Same with the arrangement. It was and still is a competition for me to create complex and sometimes more or less unpredictable arrangements. I'd be bored just recording "one take jams" without having the option of editing it afterwards. That would have worked out for me 20 years ago, but technology developed. Just to make sure there is no misunderstanding here, I really do respect people who gain great results with this method, but you have to be very good, not to sound just like the rest. I love using my DAW as much as I love controlling hardware to manipulate listeners. And if you manage to control it both, you might achieve a "greater" result.
You have worked with vocalists before. How did the collaborative process go? Were they singing over tracks you'd already made or were they expressly made for the vocal?
Usually I have a working loop before I start looking for existing vocals or someone who can deliver a nice timbre.
Is there a Benedikt Frey album in the works?
Not seriously but, I have a lot of unfinished material that someday might work together in form of an album.
If so, have the tracks all been made with the album in mind? And how did that challenge you?
The challenge would be the compositions itself, the relation between those pieces and what everybody tries to reach, a certain "transition," of course. I wouldn't be the one who'd just take a few existing dance tracks and put them together. If you have the chance to release an album, then take it and make the best out of it.
I understand that there will be a Vtothed album coming out from previous sessions you'd done with Locoto. Will the two of you continue to collaborate?
Sure, but we're having a break until the album is released to "protect" our sight on those current pieces. If we'd go on, all those productions in the past would more and more lose their current magic. When we talk about music production nowadays we both know that we're already beyond those. They are finished since more than one year now. And that is quite a long time.
You've released a couple of EPs on your own Label Lopasura. Does having your own label change what you might otherwise produce and release?
No, But it´s good to know that you´re able to release whatever you like.
What can you tell us about the mix you put together for us?
I've chosen some favorite pieces from forward thinking artists and took the chance to combine them with my own unreleased work.
What can we expect from you and your label over the next year?
Music.