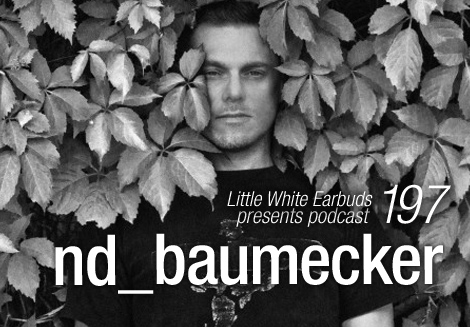 On paper Andy Baumecker has only been putting out records for a few years, but his limited discography belies a wealth of experience that stretches back more than twenty years in the music industry. From DJing and producing to working in a record store and even running a couple of labels, Baumecker's exposure to the music he loves to make has been intensive and varied. Though he has had a couple of credits to his own name, it is with Sam Barker that he is best known; their Barker & Baumecker project has so far generated a handful of releases including the very impressive Transsektoral album in 2012. Though output from the duo has been only occasional to date, its high quality has kept fans of their work anticipating new releases. We got in touch with Andy to find out when we can expect to hear more from the pair, if he plans on releasing any of his own tunes and who else he is working with in the studio. He also mixed our 197th exclusive podcast which shows off his incredible talents as a DJ; an hour of house and techno mixed with a few early influences too.
Download LWE Podcast 197: nd_baumecker (62:22)
Audio clip: Adobe Flash Player (version 9 or above) is required to play this audio clip. Download the latest version here. You also need to have JavaScript enabled in your browser.
Tracklist:
01. The Wolfgang Press, "Time Less" [4AD]
02. Martin Andal, "Skogen" [Maksimal]
03. Carter Bros., "Jamaica Burning" (Version 2) [Throne Of Black Catalogue]
04. Fort Romeau, "Her Dream" [Live At Robert Johnson]
05. Lorca, "Forgive Me Love" [Naked Naked]
06. Wesley Matsell, "Dowlais Wheelie Crew" [Border Community]
07. Juxta Position, "Mercy" [Mistress Recordings]
08. Leon Vynehall, "It's Just (House Of Dupree)" [3024]
09. Dave Aju & The Invisible Art Trio, "Good Gawd" [Nuearth Kitchen]
10. Will Azada, "Michalski's Theme" [CGI Records]
11. Daywalker and CF, "Side Supersonic Transport" [L.I.E.S.]
12. Blancmange, "Blind Vision" (Dub Version) [Island Records]
13. Arcanoid, "Interzone" [Semantica Records]

Was your start at the Delirium store your first post in your musical career?
Before I started working for Delirium at the end of 1994, I already had DJed for about three years officially in public. Ata (formerly of Playhouse Records and now Live At Robert Johnson) discovered my sets at my friend Dirk's weekly Sunday tea-dance party at the Intimbar in Frankfurts red light district. This party was melting together very different scenes and soon became the place to be on a Sunday afternoon. I was jobbing for a German club-wear label called "Sabotage" near Heidelberg, who were deeply involved in Germany's techno and house scene at the time — and Dirk was their resident DJ. His girlfriend was the designer. And Ata happened to have the best club-wear store with a record store attached in the basement. He asked me if I wanted to work in the record store and I said "Ehm, yes!?!"
That must have been a real education working there. And how long then before you got into other parts of the industry (DJing/working at and running labels)?
Funnily, I was totally not into techno at this point. Techno ended for me at a time when "James Brown Is Dead" came out – and the Techno referring to Mills, Hood, Plastikman etc. hadn't even started. Before, I was a regular at Talla 2XLC's Technoclub that was running since 1984. Yes, TECHNOclub! I was an EBM/indie/gothic kid that crossed over through Acid House and now liked Warp & Rephlex, Pop and Indie music and countless American House labels. At the store, I worked with Heiko MSO, Roman Flügel and Jörn Elling-Wuttke (of Alter Ego/Acid Jesus) who had just founded their Playhouse, Klang Elektronik and Ongaku labels with Ata. So, yes, you can say that working there was a real education for "Techno in the 90ies" which essence I fully discovered later at the HD800 parties in Mannheim, once again through Dirk Dman, Move D, Bouillabass, and Alex Cortex.
Heiko and Ata offered me a residency at their weekly Wild Pitch Club nights in 1996, a bit later a residency at the D800 in Mannheim followed, turning the focus from house into more experimental dance music, electro, etc. I left Delirium in 1997 and started selling records at Freebase Records. About one-and-a-half years later I was somehow fed up with Frankfurt and moved to Heidelberg/Mannheim. I jobbed at Humpty Records and also at the record company UCMG where I had the chance to start a label. Unfortunately, the whole company went bankrupt and the next record I wanted to release, Isolée's It's About, became the first release on Freudinnen.
When Thilo Schneider from Groove Magazine discovered a weirdly named Gay Pride party with Daniel Wang and myself in Mannheim, Daniel's first gig in Germany ever, he was curious and got in touch with me and soon after I was booked for Dance With The Aliens at the Ostgut in Berlin. I was then a regular at Panorama Bar when it opened and moved to Berlin two weeks before the new Panorama Bar was opened.
You used to run the label Freundinnen during the naughts. Do you ever miss it? Why/why not?
Andreas Baucker: I don't really miss it right now. I am really bad at paperwork. I was thinking about restarting the label a few times, but I think I would really need a good concept and at least three outstanding releases to make it work out better the next time around. And right now, time-wise, it's not looking good.
You've been collaborating with Massimiliano Pagliara as Drei Fragezeichen on DJ sets. How did that get started and what do you hope will come out of it?
Massi is probably one of the first people I met at Panorama Bar when it opened in 2004. Shortly after he started to DJ and to make music. Unfortunately we lost touch for a while but having some time out from each other never harms a good friendship. Drei Fragezeichen was born out of a very spontaneous (and long overdue) unannounced b2b set to finish up Panorama Bar on a Sunday night/Monday morning. In fact, we finished up both PBar and Berghain on that night, which was a totally unexpected ride. Still on location and a few drinks later, we took the "???" from the running order and called ourself "Drei Fragezeichen" (German for three question marks). It is a fun project. There will be a few more gigs and going to the studio together is also planned. When time allows.
You're a veteran DJ at this point: what do you appreciate most about DJing in 2014 and what bugs you the most?
Still being able to discover new and exciting music, play this music out and make people happy. Meeting a lot of grateful and like-minded people that love to dance to exactly this music like there is no tomorrow. What bugs me most: Lack of variation in sets. I get bored easily when nothing happens. Also, the invention of genres and people liking only one genre. This can make me really sad. Music is so much more…
Along those lines, what advice would you give a new DJ just starting to establish themselves?
Be different, be brave and don't push the "sync"-button. Don't have the idea in mind that being a DJ will lead you to superstardom. It's a nineties thing and should have never happened. There are enough examples online what super stardom can do to you and you don't want to become one of them.
Although you've had the odd track out from as early as 2002 it hasn't been until 2010 that you started releasing more, for the most part with Sam Barker. How did the two of you meet?
We met while preparing the first Autechre gig at Berghain a few years back. Sam works for their booking agency. We immediately clicked while the Berghain soundsystem was doing the rest.
In researching for this interview I noticed you haven't done many solo interviews (that have ended up on the web, anyways). Do you have any ambitions to put the focus on yourself as a solo artist?
I like staying out of focus. But when the time is right, I will definitely let you know

Do you work on solo material as well or do you prefer to produce with others?
Over the past years there have been a few sketches that I did on my own. Nothing really finished and also more some kind of homework while figuring out how all the machines work together. Unfortunately, I don't have so much time to go to the studio on my own and the little time I have I rather use with Sam now for mentioned reasons.
What can we expect from yourself and Barker & Baumecker over the next year?
After doing some remixes, we are now concentrating on working on our own material. We would love to make a 12″ for Ostgut Ton this year, that is our priority for now.
What can you tell us about the mix you put together for us?
It was doing my head in. I am a perfectionist when it comes to these things. I am never 100% happy. Making an official mix CD would definitely kill me 😉 I had various ideas about how to approach this and how to mix it, what tracks to include, etc. It ranged from "Tracks I Will Never Ever Play Again At Panorama Bar" to "20 End Of The Night Songs" to "Tracks I Would Listen To With Lady Gaga Before We Go To Berghain." In the end, I discarded them all. I woke up, had a coffee and started to record with 2 turntables and a CDJ, with a small pile of records and some unreleased stuff (which is now released).