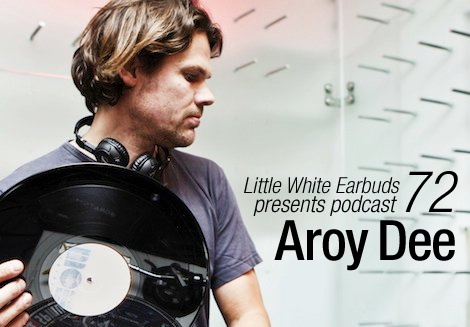 For anyone with even a passing interest in the high quality strains of techno emitting from the Netherlands, the name Aroy Dee will no doubt already feature on your radar. As Aroy Dee and M>O>S, Steven Brunsmann has been releasing deeply emotive techno and house music since the early days of 2001, kicking off with one of the first releases on Rush Hour Recordings. In an age of digitalized studios and sound-alike productions, Brunsmann's vintage sound is refreshingly timeless. His own M>O>S imprint plays home to his own productions and features those of like minds Legowelt, Morphosis, Ross 154 and others. As well as providing us with an in-depth look into the mind of Aroy Dee in our interview, his exclusive LWE podcast is a special double mix, including a DJ set taken from a Panorama Bar appearance and a fantastic live set from his R-A-G trio.
LWE Podcast 72-1: Aroy Dee (94:52)
Audio clip: Adobe Flash Player (version 9 or above) is required to play this audio clip. Download the latest version here. You also need to have JavaScript enabled in your browser.
Tracklist:
01. R-A-G, "Beyond" (Slow) [M>O>S Deep]
02. Cmetric, "Debris" [Applied Rhythmic Technology]
03. Virgo, "All The Time" [Radical Records]
04. Soulomon, "Nebula" (Formation Mix) [Recondite Records]
05. Unknown artist, "52.3751472" [Rush Hour Recordings]
06. Audio Atlas, "Guatemalla" [Mathematics Recordings]
07. MD III, "Take Me There" [Westside Records]
08. Legowelt, "Police 303" [M>O>S Recordings]
09. Inner City, "Ahnonghay" [Music Man Records]
10. Master C & J, "In The City" (Club Mix) [State Street Records]
11. Paul Bennett, "Last Dance For Galaxian" [Modernista]
12. The H-Men, "Scream" (Radio Mix) [Rockin' House]
13. 2 AM/FM, "Electronic Justice" [Spectral Sound]
14. Julian Jonah, "Jealousy And Lies" [Cooltempo]
15. Tevo Howard, "Move" [Hour House Is Your Rush Records]
16. Steven Tang, "Glimmer" [Aesthetic Audio]
17. DMC, "Set Free" [M>O>S Deep*]
18. Aroy Dee, "Beauty" [white*]
19. Reel by Real, "The Aftermath" (Remix) [10 Records]
20. Caribou, "Bowls" [City Slang]
21. Terrance McDonald, "Mind Over Matter" [Saber Records]
22. Marcus Mixx, "House Flash Back" [Streetfire Records]
23. 2 AM/FM, "Desolate Cities" [M>O>S Deep]
24. Stick Men, "Entruder" [Clubhouse Records]
25. Shake, "Frenchie" [Frictional Recordings]
26. 2 AM/FM, "Werkin House" [Spectral Sound]
27. R-A-G, "Energy" [M>O>S Deep]
* denotes tracks which, as of the time of publishing, are unreleased
LWE Podcast 72-2: R-A-G (34:50)
Audio clip: Adobe Flash Player (version 9 or above) is required to play this audio clip. Download the latest version here. You also need to have JavaScript enabled in your browser.

It's pretty hard to find any information on you, so tell us about your introduction to electronic music and how you started producing.
Steven Brunsmann: Way back when I used to listen to Italo disco. Back then I didn't realize why I liked Italo so much, clearly the overdose of analogue synths and the melancholy in the melodies must have played a role. I liked the Italo vibe so much that the horrendous vocals by badly dressed Italians didn't seem to disturb me at all. For me I guess, it made the music even more alienated. Also 80's synth pop in general, ranging from Jam & Lewis productions to Depeche Mode, Prince, David Bowie and so on. Later I discovered the more underground and "darker" side of the 80's. Music from Front 242, Anne Clarke, Japan and Liasons Dangereuses, just to name a few, influenced me a lot.
When I heard the track "Mystery of Love" by Mr. Fingers for the first time it was like all my previous musical interests where combined in one track. It hit all my buttons. Combining the sadness of wave music with the melancholy of Italo disco, the straight forward but slow house drive and the ultra deep psychedelic bass line working with the strings. Another personal revelation in that period was the track "World Turns Round" from Kool Ma Kool. For me it was (and remains) a magical combination of a highly hypnotizing and weird flowing acid-bass with some very deep, emotional string pads. And then this hypnotizing voice stating that indeed the world turns round… and round… and round. I can go on and on naming songs which inspired me through the last 20 years, it's an endless list. Some of the records, producers and labels that inspired me last year were: Conforce' s Grace Steven Tang's Verged Sessions, all the music of Tevo Howard, Gesloten Cirkel and Traxx's label Nation.
In 1990 or so I started creating tracks myself with a 707 and a borrowed Korg synth. Before that I used to make mega-mixes cutting up tape with a reel-to-reel recorder. One of my friends who inspired to start making music myself was my long time compadre 154, AKA Newworldaquarium. Through the years all his music has been inspiring me, from the early releases on Evoo-lute and 100% Pure until [his album] The Dead Bears. We used to hang out, listening to music, mixing it up, playing melodies on top and having fun. The Ross 154 record I released on M>O>S was created on a night like that, and fortunately somebody was still sober enough to press the record button of the tape deck. It was in 1998 that I first entertained the thought of releasing my music somewhere, but nobody seemed to be too enthusiastic about it! Some of the tracks I released later on Rush Hour, Delsin and M>O>S where already on the demos I sent back then. Only when I moved to Amsterdam in 2000 and Jochem (NWAQ) introduced me to Marsel van der Wielen (Delsin) and the Rush Hour crew I found an audience for my music. My first releases dates back from 2001, it was the third release on Rush Hour.
There's a distinct flavor running through your productions that shows a big love of music out of Chicago and Detroit. Tell us about your influences and perhaps some that may not be so obvious.
Any alienating music with lush melodies, a sense of sadness and melancholy attracts me. Detroit techno and Chicago house music fit this description in its purest and rawest form. Also wave music and seventies electronics drenched in sadness and darkness, preaching about how fucked up our world is, is a big influence for my sound. Listening to artists like Chris & Cosey, Janitor Lunacy, Klaus Schulze and so on always makes me run to my studio afterward. Another form of instant inspiration is my fascination for cities. The romanticism of decaying cityscapes, industrial ruins and urban chaos has a strong relation with my music. The extreme density and strangeness of mega-cities in Asia and South America gives me a similar emotion as listening to my music. Also Derrick May stated that Detroit techno sounded like the city itself. I explain that as if the music echoes the anonymity and alienation of the urban condition in Detroit. Of course I realize this relation is highly personal; the track "Tears" I recorded just after visiting the slums of Jakarta, it was about the emotion of wandering on my own in anonymity through a strange and unfamiliar city. The track "Ooxo" I recorded when I lived in Rotterdam, expressing the feeling my rainy and gray neighborhood in a state of decay gave me at the time.
You started your label M>O>S after only a couple of years of releasing your own music. Why did you set up the label and what was your vision for the label at the time?
I liked the romantic notion of creating a specific and unique musical universe which would express my personal taste in an undiluted way. I also enjoy making the artwork, using my Urban Decay photography for the covers to emphasize the relation between my music and my architectural interests. My vision for the label is creating timeless music, not following the "crazes of the day" and to explore my own musical taste.
And has that vision changed at all?
Actually my vision and approach hasn't change that much. The red line running through all M>O>S releases is my musical taste, which is quite well defined, but I'm always searching for music which puts my own taste in a new context. I am not looking for remakes of old records. Artists like Legowelt, Morphosis or Chicago Skyway may have their influences, but their music is very unique and individual. A good example is the latest M>O>S release of Morphosis. For me the track "Musafir" could be best described as a 21st century interpretation of Ron Hardy's Music Box sound. The resemblance is not in copying his sound, but in creating a similar atmosphere. I think in music I rather like artists who evolve a personal sound and take it into the deep, far more than artists who flow along with every new musical trend and try to imitate that. I hope there are listeners who feel that the M>O>S releases are as timeless for them as they are for me, not just being a temporary tool to get the dance floor going for one or two months.
It sounds like you are producing only on vintage gear. Is this true? Was it a decision from the start to use vintage technology (or to emulate those sounds)?
When I started making music the digital option didn't really exist. I didn't get more digital than a W/30 with floppy disk! So using analogue gear was the only way to go. Using an analogue or digital studio doesn't define the quality of music, it depends how you create your own unique sound and developing a method to do so. Personally I like the rawness and unpredictability of analogue synths and mixing consoles, and since I developed that method better for me it feels more natural to make music "the old way." On the other hand, I have to admit that I've used soft-synths and Logic quite frequently the over the past few years. Combining soft-synths with analog gear works well for me. It's funny, but I've noticed that my most digitally produced tracks (yes, they exist) are the ones where people praise my use of analogue gear!
Do you play live at all or does your set-up make that a hard thing to do?
Recently I started playing live with my band R-A-G, a collaboration with Marco Spaventi and G-String. Our first show was here in Amsterdam in Trouw and it went surprisingly well. We brought our synths, drum computers and laptop, then started jamming. The quality of this way of playing is that every session is different and we can follow the mood and improvise. Because there are three of us and we divide the work, it's not too complicated and we just can jump, have fun and improvise during our set.
You've been releasing singles and EP's for around ten years now. Any plans for an album?
Certainly I have plans for an album, if it will be ever finished time will tell. Let's wait and see. I also perceive my four-track EPs as small albums, telling a story through the combination of tracks with a coherent line running through them. I am also working on a M>O>S compilation album to celebrate the 10-year existence of M>O>S Recordings.
Talk to us about the newer side arm of M>O>S, M>O>S Deep.
Till now I released music of 2AM/FM, Chicago Skyway, R-A-G, and I re-issued one of my old personal favorites Terrance McDonald. The idea is to release high quality sexy and deep dance floor music, it's mainly meant to provide my own new records while DJing.
Tell us about the mix that you've done for us.
I recorded this mix during a three-hour set in Panorama Bar in Berlin last November at one of our Planet Delsin nights. When I started playing it was for a one person audience, Marsel van de Wielen aka Mr. Delsin, one of my other music comrades. So the first hour, while Marsel was showing me pictures of his cat, it was time for some extreme deep mood setting music, defining the night to come. Slowly the audience grew and towards the end of the recording Panorama Bar was packed and rocking. The mix has lots of deep classics and my favorite new records at that moment and some unreleased M>O>S and Aroy Dee tracks.
Is this a fairly typical sort of set that we could expect to hear from you? Do you usually play in a similar style or do you really change things up depending on the party?
This mix gives quite a good idea of what and how I play as a DJ. I change things up depending on the atmosphere and the mood I am in. A good DJ should always create a unique vibe taking in account the atmosphere of the party. In the last part of this set I played tracks of Front 242, Yellow, Scotch, IMS and Anne Clarke. If you listen to other mixes I recorded you will notice the differences in style, yet retaining a typical Aroy Dee emotion. Despite the fact that I play a lot of old records, I would never consider myself being a retro DJ. I simply combine the music that sets the mood and is the most valid for me. The fact if a record is one day old, or 25 years old is not an issue for me. A good record should always keep it's relevance.
What can we expect from Aroy Dee in the next year? Do you have any news or signings to the label that you can tell us about?
2011 will start with an amazing album of Morphosis. It will be co-released with Delsin and Morphine. The album is highly experimental, and brings a sound somewhere in between German Krautrock, New Wave and dark house music. Last year we issued a white label featuring 2 remixes album tracks by NWAQ and Just For One Day. This will come out fully in February 2011, but on vinyl only. Furthermore a new Aroy Dee record is waiting to be released. You can listen to a track of this release in the podcast, it's called "Beauty." Another release is from D'marc Cantu, with two surprisingly melodic tracks. "Set Free" is one of those tracks, it's also in the podcast. Furthermore, new material from Chicago Skyway, Legowelt and R-A-G is on schedule for the coming year. Next to this I am selecting tracks from different artists for a compilation album to celebrate the 10-year existence of M>O>S Recordings.