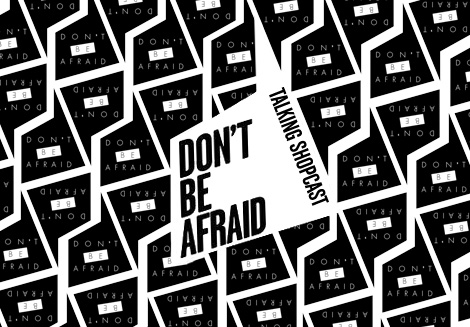 There is a chance that had Benjamin Roth not been so determined his Don't Be Afraid label would never have gotten off the ground. When LWE first spoke to Roth just over a year ago for the podcast he did for the site, he disclosed that he had been sending out his tracks for three years before the advent of DBA, with not one response. Despite the lack of encouragement — or perhaps because of it — Roth set up his own label to release a number of his own EPs under the name Semtek. Realizing he was entering a competitive market as an unknown artist on an unknown label, he enlisted the talents of people like Mr. G and Neville Watson to remix some of his tracks. Although the names would have helped gain the label a small amount of attention, it was the later Mr. Beatnick records that really set the label on course. More recently EPs by MGUN and Disco Nihilist have furthered the label's credentials, with DBA and its two off-shoot labels nearing towards 20 releases. We got in touch with Roth to talk about creating a successful label, where he discovered some of the new talent on DBA, and telling your heroes that you don't like their work. New signing to the DBA Special Editions imprint, Disco Nihilist, was the man in charge of mixing our 18th Talking Shopcast podcast. Worth the wait, its 80 minutes are composed almost entirely of the American producer's own edits of disco, funk, techno, and house favorites.
Why did you set up DBA? Was it essentially to release your own records or did you always have the view of it being for other artists as well?
Benjamin: If I'm honest, I can't really remember. The first few releases were my own tunes, but they didn't do well, not at all. The first one, DBA001, did OK but 002 and 003 were disastrous, sales-wise. I think if I hadn't had it in mind to do the Beatnick releases at that point I would have given up, but I knew those had to see the light of day and I felt as though I had a good idea of how to do them. I have also to thank a few people like Neville Watson, who remixed my third EP, Andy Blake, and Mr. G all of whom offered ceaseless advice and encouragement throughout the process. In fact Neville's remix of "Lotos Eaters," which is one of the best tracks we have ever put out, was a turning point in that it was the first to be licensed and the first to really validate what we were doing. I still play that track today, regularly.
You haven't released on DBA yourself for a little while. Do you have anything coming up?
I'm not sure. I have some tracks in the works which will come out somewhere but I'm not sure where exactly yet. I still feel quite uneasy about releasing my own music; it takes a certain single-mindedness, but the way I work these days is anathema to that approach. Any of the artists who have recorded on our label would tell you that I am a hardliner when it comes to the contents of the EPs we put out. That has definitely gotten in the way of my own work as a producer because I ask myself the same questions I ask of anyone who releases on our label throughout the creative process. It has made me a better DJ though, I have a much clearer idea these days of what makes a track work for me, and of what works in a club.
What sets DBA Dubs and DBA Special Editions apart from the main label?
I guess DBA DUBS is about more soulful, melodic house jams. Dixon played the Kelpe 10″ in his recent Essential Mix, and that's exactly the kind of DJ I would expect to be playing them. Both the DUBS releases so far have done really well on account of the fact they're soulful and club-friendly at the same time. There's also a strong boogie edge to both of them which is a happy accident really, but something I intend to maintain throughout the series. The Special Editions imprint was created as a kind of Club Constructions deal — it's reserved for much more straightforward club cuts.
You've been very busy since we last spoke, ramping up the exposure of DBA and doing more high-profile parties. Tell us a bit about the parties and what your plans for them are.
I have been putting on parties since I was 15 years old, and it has always been the plan to have a Don't Be Afraid label party which offers a physical presence for the label. The first party I ever did was at Po Na Na in Cambridge. We had MC Det, Dave Stone (then owner of Emotif Recordings, quite a big deal), and Ed Solo down to play, but by the time they arrived the club had realized that we were under-age and chucked us all out. So we ended up sat on a Cambridge street corner in mid-summer explaining to MC Det, who had come from London and encountered some unexpected trouble on the way, that he wouldn't be able to step on the mic because none of us were allowed back in the club. I should add that Det was unbelievably sound about the whole thing, given what had come to pass. To be honest it's been downhill ever since, but putting on raves is second nature to me, I'll most likely be doing it until the day I die.
Your Spargel Trax series continued this year with another two EPs for record store day. Is this going to be an annual fixture from now on? Can you give us any clues on the identities of the producers?
Spargel Trax has been received really well, so we do plan to continue with it, yes. I can't really say anything about who is behind the records, except that we have used it on occasion as a way to introduce artists to the label. In fact we have gone on to work with almost all of the artists who appeared on Spargel Trax.
Can you tell us about some of the newer signings to the labels? How did you come across people like MGUN, Kelpe, and Claws For?
I saw MGUN on a lineup for a party in Detroit with Rick Wilhite and a few others. At the time I was just curious to see who he was, and this was before the Wild Oats release had dropped even. I Googled him and came upon his Soundcloud. Kelpe is someone who Mr. Beatnick put me on to. Kel is an old friend of Nick's and he's a talented producer, for sure. I have a special interest in trying to get people who are used to working at slower speeds into making techno. Claws For? is an old friend who I've know for 15 years or so. It has always been obvious that he's an amazing producer, although his talent for taking apart pieces of equipment that were otherwise functioning has proved an impediment over the years. In all seriousness though, he is a very clever guy who is destined for big things, musically. Watch out for his new project, "The Whole Truth" which features Errol Bellot.
As a label owner, there are various pitfalls that inevitably pop up along the way. Did you have anyone to mentor you or give you some advice on the labels when you first got going with them? Or was it a matter of trial and error?
I mentioned earlier a couple of guys: Andy Blake, Mr. G, Neville Watson, all of whom have helped out since the start and offered invaluable advice. Other than that it has been trial and error all the way. The greatest pitfall for me has been trying to find the balance between guiding artists to achieve their potential and becoming too invested emotionally in their music. I have a background in sound engineering and in production, but also as a musician, so I have very strong views as to how a track should sound. It's not easy though telling one of your heroes that you aren't into the track he or she has just sent you. That sucks, hard.
Apart from the essential aspect of getting the music right, what do you feel is one of the major factors in securing success for a label?
You'd have to ask someone who has managed to secure success for their label first. We're a minor deal compared to some of the names that have been around since the 90's, like Clone, Delsin, Rush Hour. Let's see where it goes.
What can we expect from DBA and its side-arms over the next year?
We have records on the way from our new signing, Halvtrak, from Neville Watson, from MGUN and also our first CD release which is a compiled version of Mr. Beatnick's outstanding Synthetes Trilogy, alongside four new tracks.
Download Talking Shopcast 18: Disco Nihilist (79:58)
01. Elaine & Ellen, "Fill Me Up" (DN Edit) [Ovation Records]
02. Jackie Moore, "This Time Baby" (DN Edit) [Columbia]
03. Escort, "Love In Indigo" [Escort]
04. The Quick, "Zulu" [Pavillion/CBS]
05. Konk, "Your Life" (DN Edit) [Sleeping Bag]
06. Aleem, "Release Yourself" (DN Edit) [NIA]
07. Saundra Williams, "Free Girl" (DN Edit) [Stolen Records]
08. J.M. Silk, "Let the Music Take Control" (DN Edit) [RCA]
09. Colonel Abrams, "Music Is The Answer" (DN Edit) [Streetwise]
10. Rickster, "Night Moves" (DN Edit) [Sound Pak]
11. Mark Imperial, "J'adore Danser" (DN Edit) [DJ International]
12. Mista-E, "Don't Believe The Hype" (DN Edit) [Polydor Urban]
13. J.M. Silk, "I Can't Turn Around" (DN Edit) [RCA]
14. Nexus 6, "Take Me Higher" (DN Edit) [AKA Music]
15. The Vision, "Sharde" (DN Edit) [Nu Groove Records]
16. Da Posse Feat. Martell, "Searching Hard" (DN Edit) [Dance Mania]
17. 2 Puerto Ricans, a Black Man and a Dominican, "Do It Properly!" (DN Edit) [Fierce Records]
18. Colm III, "You Take Me Higher" [Elusive Records]
19. 808 State, "Flow Coma" (DN Edit) [Rephlex]
20. Underground Resistance, "Back Road to Nirvana"
[Underground Resistance]
21. Prince & The New Power Generation, "Money Don't Matter 2 Night" [Paisley Park]