Welcome to the latest edition of our series of interviews and mixes affectionately titled Talking Shopcasts. The majority of media and fan attention gets showered on the artists who create the music we love to listen to/DJ with/dance to, and for good reasons. But without the hard work, keen ears and business savvy of label staff, we'd be stuck only streaming tracks on their websites. For our fifth volume, we focus on arguably Berlin's hottest label, Ostgut Ton. It's difficult to describe the label's meteoric rise to the top of the pile without lapsing into hyperbole, as it evolved rapidly from merely Berghain/Panorama Bar's label wing to a dominant force in underground dance music in fewer than four years. In that short time, Ostgut Ton has helped make stars of Marcel Dettmann, Ben Klock, Cassy, Shed, Prosumer & Murat Tepeli, and almost anyone else who earns one of its coveted catalog numbers. Each must-purchase release pushes house and techno forward in a way few labels can claim without letting the success go their heads. With that in mind, we picked label manager (and LWE podcast alumnus) Nick Höppner's brain about the label's sound, its future, and even a tip for getting past Berghain's bouncers. In case that's not enough, we've also procured an exclusive and incredibly deep mix from Panorama Bar resident, Steffi.
Please tell me your your job title and what you do on a day-to-day basis for Ostgut Ton.
Nick Höppner: I am Ostgut Ton's label manager. I take care of all things administrative here at the label, i.e. licensing our compilations, booking mastering dates, setting deadlines for our artists, graphic designers, lay-outers and press sheet writers and trying to make everyone stick to those deadlines, translating press releases from German to English, coordinating schedules with our PR agency Tailored Communications, our distributor Kompakt and our manufacturer Handle With Care, handling third party licensing, accounting sales for all our releases and artists. I am not doing it alone though. I'm supported by Michael, one of Berghain's co-owners. He's taking care of most of the artwork together with our layouter Yusuf Etiman and different artists, illustrators and graphic designers. For some of the day to day business, I'm getting support by Nicole and Elif who are taking care of our booking and bills are taken care of by our company's general financial accountant.
Tell me about the beginning of Ostgut Ton. Why and how did you start out? How did the name Ostgut Tontraeger come about?
First of all, the label's name is Ostgut Ton. It started as Tonträger, which means carrier of sound in German, but after our first release we changed it to Ton, which is German for sound. Ostgut is the name of the company running Berghain and Panorama Bar and was the name of the club preceding Berghain, which included a smaller version of today's Panorama Bar, where I have already been a resident DJ. Ostgut had to close at the beginning of 2003 due to a re-development plan of the entire area. There's a massive O2 arena now where the club once was. As a reminder, especially of the Sunday afterhours at Ostgut's little garden right next to the tracks coming out of Ostbahnhof, André Galluzzi did a mix called "Im Garten" (in the garden) on his own label Taksi Music after Ostgut finally closed. The idea for a label had been floating around for a while, but everyone was so busy running the club itself and it was never realized; so André and his business partner just did it as they already had the infrastructure.
When it became clear there would be a follow up club, I got in touch with the guys running it and offered my help in case they were still thinking about setting up their own label. They reacted very positively, but needed to spend more time on setting up the club itself. And six or seven months after Berghain and Panorama Bar had opened, I went to work on licensing our first mix, Berghain 01 by André Galluzzi. We didn't have any big plans then. We wanted to make that compilation, that was it. Kompakt agreed to distribute it. My bosses advanced me with an incredible amount of trust. Although I had worked for a record label before, I wasn't really experienced as I hadn't been given any responsibilities at my former job. That's how it started. A while later Ben Klock and Marcel Dettmann, both residents at Berghain, left a demo with Michael and this demo became our first vinyl release.
What is Ostgut Ton's mission statement, its modus operandi?
We just wanted to set up a platform for our residents to release music on, and that's what we did.
How is the label's roster decided? Is it strictly limited to Berghain/Panoramabar staples?
It is, with the exception of special projects like our ballet cooperation, where we asked artists like nsi., Luciano, Sleeparchive, The 7th Plain and Âme to write music for choregraphy staged by the Staatsballett inside Berghain, which we then released as Shut Up And Dance! Updated (Ostgutcd 03). Other special projects include the exclusive tracks we've released on vinyl for our mixes Berghain 02 & 03, although none of the artists involved have been complete strangers to the club. On the contrary: Norman Nodge is a resident, Radio Slave runs a label night at Panorama Bar, tobias. and Shed have had quite a strong affiliation through Cassy and Marcel Dettmann already.

An example of Berghain/Panorama Bar flyer artwork
Ostgut/Berghain stands out both as an insular, tight-knit music community and, as has been said, a "world capitol of techno." Do you still see Ostgut Ton as a local label?
Mostly, yes — at least when you look at it from the production side of things. The core of the label is completely Berlin based, although we have just started to release material by one of our international residents, Luke Slater as Planetary Assault Systems, as well. He plays Berghain four times a year. In terms of how the label is perceived and where our music is bought, it totally is an international label, though.
How much freedom do Ostgut's artists have in what they release? How much control do they have over the final product?
They have 100% control and freedom. It is not a rare thing for me to hear the music after it already has been mastered and the manufacturing process is already in full swing. We have declined to release music by one of our close artists only once. When it comes to artwork and packaging the label gets more involved, though. Michael is a very visual person and usually has quite an influence on how our releases end up looking.
What is one of your favorite releases on your own label? Why?
It has to be our first vinyl one, "Dawning" by Dettmann/Klock as its success came as a complete surprise. We have just put it out, no press or DJ promo. Marcel hadn't released anything before and Ben only rarely before that, I think/ "Dawning" was such a fresh track at that time. It has this kind of dark seriousness about it and at the same time has a very playful edge. It combined straight banger qualities with an afterhours sensitivity making for quite a unique combination. It was a very satisfying experience.
Ostgut has risen quickly to the top of the pile in tandem with Berghain/Panoramabar. Is there a lot of pressure to maintain Ostgut's top rated reputation? How does it impact your label decisions?
I would be lying if I said I'm not feeling any pressure at all. At the same time, we are trying to stick to what we believe in and what has worked for us in the past: Give the artists as much freedom as possible, do nice packaging, pay bills on time 😉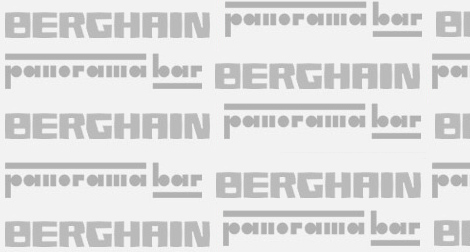 In the last couple years the Berghain sound has crystallized and used to describe a generally dark and banging sort of techno. By contrast, Panorama Bar doesn't seem as clearly defined. Do you think there is Panorama Bar sound, and if so, what is it?
First of all, I'd like to say that, for me, Berghain hasn't such a defined sound as is always attributed from the outside. Of course, there are certain congruities between Marcel Fengler, Marcel Dettmann, Norman Nodge and Ben Klock especially. At the same time, they are very different from each other. Len Faki is something else completely already and all our other residents like Luke Slater, Rolando, Tama Sumo, Boris, ND_Baumecker and myself who are frequently playing downstairs as well are all adding different flavours to the Berghain pie. But you're right in assuming that Berghain musically is a much more defined space as compared to Panorama Bar, where the music policy is much more open yet generally house-oriented. Up there anything might work. The stylistic range is very broad. Thus, it is a lot harder to pinpoint a certain sound, although I'd say that all of the residents have a very good understanding of where house is coming from in general.
Some have likened Ostgut's signing of Luke Slater's Planetary Assault Systems to the missing link between early-to-mid 90's "hard" techno and contemporary sounds. Do you find that to be the case as well? Do you see Ostgut as something of an ambassador of that style?
Not really, to be honest. The way we have released the music as we did, has been more a matter of who had what available at what time. If some of the more house-y DJs and producers had been more prolific, it could have been the other way around completely. There has never been a master plan behind what we did. We just went along with it. Of course Luke Slater and our label are a good match. But again, the relationship with him goes back to a time when the thought of a label didn't even exist. The guys behind Berghain have been promoting parties in Berlin since the mid 90s and started booking Luke at a very early stage. It is nice that it's all falling into place, but it does so because of long term, quite personal relationships and not because of business plans.
Along those lines, is there a particular era of electronic music you feel is ripe for rediscovery?
Can't think of one at the moment. Maybe, because in the environment of Berghain/Panorama Bar, it all has been always kind of present. We have so many residents, and Michael and Norbert have chosen DJs very well. Anything from Hi-NRG, deep house and loop-y, banging techno has always been represented, independent of current trends. This might sound a bit pompous, but it is how it is.

An example of Berghain/Panorama Bar flyer artwork
After hearing the Shut Up and Dance! Updated compilation and seeing artists like Animal Collective, who aren't necessarily dance-oriented, on the Berghain schedule, is Ostgut Ton open to releasing more than dance music? Are there any plans on this front?
Yes, we are open for something like that, but there aren't definitive plans at all.
Going back to Panorama Bar, are there plans for a second Panorama Bar mix CD?
Yes, indeed. I've almost completed licensing our second Panorama Bar CD which is compiled and mixed by Tama Sumo. It's going to be released on October 19th and there will be exclusive tracks by Levon Vincent, Basic Soul Unit, Lerosa and our resident Steffi on a two part vinyl set.
How have the exclusive tracks for the Berghain mixes come about? Do the DJs propose the selections or do the producers approach Ostgut Ton with the tracks? Or is the label that's making the suggestions?
It's all in the DJs' hands. They all are very well connected, some are even close friends with the contributors. As soon as they've decided which tracks to use, I get involved for the paperwork.
How do you think the proliferation of podcasts and live sets over the Internet impact the viability of mix CDs? Is there something that can be captured in a mix CD that's missing from podcasts and downloaded live sets?
Economically speaking, in order to sell mix CDs these days there has to be an added value compared to podcasts and live mixes off the Internet. We are trying to achieve this by featuring exclusive material and I think we will even focus more on that in the future. So far it is working out for us, only meaning we are not losing money with the mixes 😉
Although Ostgut Ton is by no means the first label affiliated with a club, it's quite possibly the most popular in recent memory. Perhaps seeing your success, a number of other clubs have opted to release records and mix CDs as well. Do you think clubs make for good record labels? Why or why not?
Well, I think our success is very relative. Of course, we have fortunately been getting a lot of attention, but anyone who thinks we are making a lot of money with the label is clearly mistaken. Bookings are where the money's coming in. I still think it is not a bad idea for a club to set up their own label, even today. A club already brings an office infrastructure, there is a network of DJs and artists to be tapped into, and there's a great chance for cross-pollination between club and label, as long as both jobs are done well.
What are a few other labels, past and present, you respect/revere the most? Why?
Quite obvious, but Factory, because they really treated music as a piece of art to an extent where they actually lost money with mega hits ("Blue Monday") without diverting an iota from the original idea. I really like how Innervisons are tackling the new challenges of running a record label today, plus they're releasing good music. And although it's probably really about time now to rethink their stance, I love Perlon's stubbornness not to go digital.
The Berghain/Ostgut crowd seems to have a cozy relationship with Hard Wax. What is Ostgut's relationship with some of the labels it releases/distributes?
Well, a lot of artists we are working with are distributing their labels through Hard Wax: Shed, Marcel Dettmann, Ben Klock, and Cassy. We're all shopping for records there frequently. Prosumer, Marcel Dettmann and Shed work there, and Cassy used to until last year.
What can we expect from Ostgut Ton in the next year or so?
For the rest of 2009 there will be the new Panorama Bar mix, Ben Klock remixes by Sandwell District, Kenny Larkin and Robert Hood, a new Marcel Fengler 12″ as well as a new one by Prosumer & Murat Tepeli. At the end of 2010 it's our five year anniversary and I hope we will come up with something nice to mark the occasion. I hope to release both a new Panorama Bar and a Berghain mix next year, as well as one or two artist albums and a string of 12″s including one by Steffi who provided the podcast for this feature. She's very busy in the studio at the moment. There will also be a new Shed 12″ and maybe even a dubstep mix CD in cooperation with Scuba, who's running the Sub:stance parties at Berghain four times a year.
And finally: Berghain's bouncers are notorious for their seemingly random enforcement of door policy. Do you have any tips for getting in?
Don't give up 😉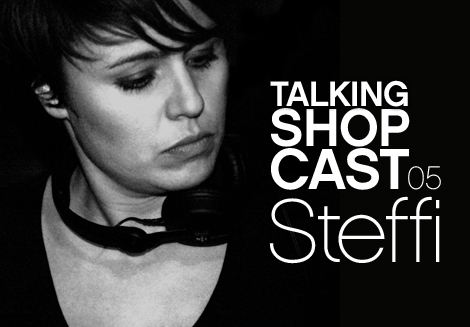 Talking Shopcast 05: Steffi (76:14)


Tracklist:
01. Sven Weisemann, "Winter Tale" [Essay]
02. Linkwood Family, "Miles Away" (Intrusion Sunrise Dub) [Firecracker]
03. Tevo Howard, "Everyday House Music" (Album edit)
[Beautiful Granville Records]
04. Kerri Chandler, "Time Is Destiny" [Large Records]
05. Franck Roger, "Klubhead" [Real Tone Records]
06. Leonid, "Sadim" [Sistrum Recordings]
07. Neville Watson, "Up Yours" [Clone Jack For Daze Series]
08. House to House, "Taste My Love" (Tasty Club Mix) [Police]
09. Boddhi Satva, "Warriors Of Africa" (Seedadan Inst.) [Offering Recordings]
10. Scott Ferguson, "Any Day Now" (ElectroVox Remix)
[Deep Vibes Recordings]
11. DJ Boom "Kinda Kickin" [Phonography]
12. Parallel 9, "Domunis" [Music Man Records]
13. Mike Dehnert, "One O Eight" [Fachwerk]
14. OBX, "It's All We Know (Trippin' On Air)" [Ascension Records]
15. Shed, "Well Done – 033472 Edit" [Soloaction Records]