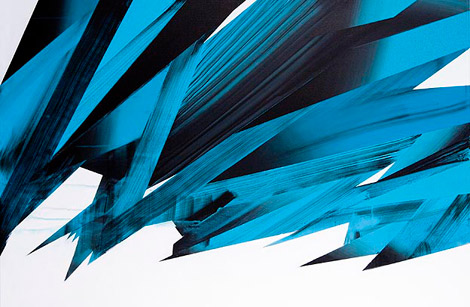 Image by Phil Ashcroft
Deservedly, there's been a lot of fuss over Todd Terje's last two records. But with all the excitement, perhaps it's been too easy to forget that there are other people out there coaxing just as much joy from their synths. Ireland's Jonny Dillon, for example. Released concurrently with the Strange Terrain EP, Fieldwork is Dillon's third record for Dublin imprint Lunar Disko, and again delivers only the sunniest of tunes. "Field In The Morning" kicks off the day-themed release. Dillon lays down a real menagerie of synths on a bed of twittering bird calls and curt break beats. There are weird sproinging noises, offbeat droplets and two rambling sequences of bloops. It's disappointingly similar to "Beannach Mhor" from the aforementioned Strange Terrain, but otherwise hard to criticize. "Field In The Afternoon," meanwhile, is like a more chaotic version of Basic Soul Unit's "Groundswell." What's cool about this one is how much it blurs the line between melody and percussion. Perhaps not in terms of the actual sounds, but because the track's cartwheeling bleeps and skipping snares are entwined so tightly that it's almost impossible to regard them as separate entities.
Though it's the mildest of the four cuts, "Field In The Evening" still swarms with the same irrepressible bleeps and bloops. This time, the difference is in the pads; shimmering, cosmic chords that sway back and forth like seaweed in a current. "Field By Night" is pretty similar, but de-emphasizes the pads in favor of a burbling acid line. None of the tracks are quite as catchy as Terje's, but hey, every DJ is going to need a less conspicuous replacement when "Inspector Norse" becomes more of a platitude than a pleasure for dance floors. Any of the tracks on Fieldwork will do just fine in such a capacity.