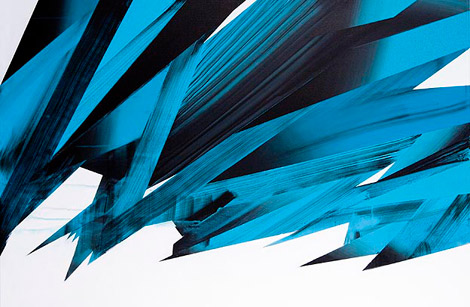 Image by Phil Ashcroft
[Delsin]
In the four years since his debut release on Rush Hour Recordings, Boris Bunnik under his Conforce guise has become an indispensable part of the techno soundscape. His studied, modern take on classic techno theories and sounds are spread over nearly a dozen releases and two albums, not to mention his further output under his other handles. While his singles have documented in short form the many sides to his love of techno, it is his two highly polished albums that really show what the producer is capable of, as much for the sustained quality that is contained therein as for the actual material. For many, Machine Conspiracy in early 2010 was their first brush with the producer, and it proved to be an almost flawless manifesto of deep, dub-influenced techno without falling into the somewhat bland pigeon-hole that the over-simplified categorization can imply. Since then Bunnik has continued to explore many facets of techno, showing both a tendency toward dance floor material (the Grace EP and State of Mind EP), and some seriously weighty, cerebrally crushing business (the Dystopian Elements EP). Although hinted at on previous releases including Machine Conspiracy, his deep regard for electro also came to the fore in 2011 through a series of releases as Versalife. Then in the final weeks of 2011 his second LP as Conforce arrived and helped to further cement his already impeccable reputation.
Audio clip: Adobe Flash Player (version 9 or above) is required to play this audio clip. Download the latest version here. You also need to have JavaScript enabled in your browser.
Much of the framework laid out on Machine Conspiracy is present on Escapism; the introspective, rain-soaked moments of gloom and fragile hope, the painstakingly, note-perfect emulation of techno's most revered themes. That's not to say that Conforce can only emulate, for his ability to transcend the past in which his sound is based is incredible. Take the title track for example, in which Bunnik crafts sounds familiar to any purveyor of techno, but infuses the track with the sensibility of one who has been exposed to plenty of more recent productions by the varying strains of UK bass music. If there is a noticeable difference in the two Conforce albums, then it is that Escapism shows the nearly two years of time elapsed between the releases in its self-assured direction and refinement. For all its verve and polish, Machine Conspiracy was the sound of a producer wearing his heart on his sleeve, whereas Escapism is the sound of that producer taking the knowledge he gleaned from studying the sacraments of techno and expanding on those ideas, forming his own, exploring his possibilities.
Audio clip: Adobe Flash Player (version 9 or above) is required to play this audio clip. Download the latest version here. You also need to have JavaScript enabled in your browser.
These explorations are evident in tracks like "Elude" and "Lonely Run" where Bunnik experiments with much slower tempos, using the strength of his sound design to flesh out the slow moving tracks. Also on "Shadows Of The Invisible" and "Timelapse" in which he fools our ears by doubling up on certain sounds, creating a kind of shimmering, sonic mille feuille. Other tracks like "Within" simply demonstrate his consummate expertise in the studio, creating a full, detailed sound that you can listen to endlessly and continue to pick out new details you hadn't heard the first time around. The same can fairly be said of the whole album, for it is one that can be revisited time and again, like any classic piece of music. And like many classics of this oeuvre, it's the sort of music that begs to be consumed with dim lighting, meditatively, without interruption or other distractions.