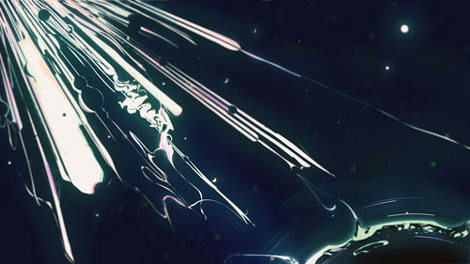 This year, Uncanny Valley's release schedule seems to validate its own existence — indisputable proof that it needed to be. The Dresden label only began in 2010, a loose association of relatively unknown artists who needed an outlet for their creations. Since then, they've made over a dozen such tracks public via five well-received records. Strollin' is C-Beams' second appearance on the label, their first being the enchanting "Thumbling." The duo — consisting of Break SL and Stefan Menzel — also grabbed the A1 slot on Smallville's recent Twentyfour Ways compilation with "One." These first two records were characterized by an all-pervading sense of tranquility, one which largely continues here.
Audio clip: Adobe Flash Player (version 9 or above) is required to play this audio clip. Download the latest version here. You also need to have JavaScript enabled in your browser.
Offered in two flavors, the title track woos via gentle acidic squiggles, seemingly miles away from the agonised squeals often reached for with the 303. The first sees vocalist Tina Slotta alternate between romantic lyrics and nonsensical scatting. Doing away with her voice altogether, the "Speechless" version allows the machine elements more room to shine. Delayed electric piano drifts contentedly alongside the 303, its chiming chords barely bothered to move. Instead they're shoved forward by the throaty bass gargling up from beneath. Like sprinkles on a cake, tasteful bird calls complete the package.
Jackmate's remix does more rearranging than modifying. The Philpot boss also adds quite substantially, however, bolting on tense symphonic plucks and sharper syncopation. Its taut, almost-marching cadence is a pleasing contrast to the original's sunniness, especially since it's been crafted using such typically "pretty" sounds. The remaining cut — "Scrapyard" — is quirky, jacking house. Its impelling rhythms are augmented by a constant offbeat stab, something halfway between a drip and a fart. The first section of the track largely establishes this driving beat, with swirling pads moping in the background. In the latter stages, these frenetic lurkers rise up like a burgeoning tempest. This isn't a euphoric ending though; their detuned piping is far too unsettling for that. It's not quite as strong as the rest of the record, but it's still a perfect example of why ever more people are taking note of Dresden and its flagship imprint.