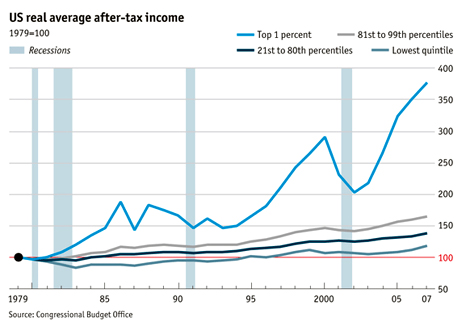 Chart courtesy of The Economist
01. Creative Swing Alliance, "In Love"
[City Fly Records] (buy)

Having been repped twice by Danilo Plessow — first with a side on the well loved MCDE 1206-07 doublepack, then with a spot on his DJ-Kicks CD — one can easily guess there's something compelling about Creative Swing Alliance. It's not that they've brought much new to deeply inclined house music; in fact, many of their tracks feature its staple elements. But what cannot be denied is the cohesive and catchy nature of their arrangements, as perhaps best exemplified by "In Love" from their new CSA EP. The feel of their end-to-end stitched male vocals, underpinned by seemingly incidental plucks and scrapes, sidesteps the quotidian and lands in more invigorating territory. The tune eases into a flaring, aquamarine organ progression, gradually lifting the tune to its peak as carefully placed string whines and vocal snatches add to the tension. Even the open 909 hi-hats, a standard of kicked-into-gear house, feel purposefully timed and gives the sense that Creative Swing Alliance have thought things through from front to back. This style has been done nearly to death in the last few years, yet this relatively new duo keep finding ways to grab listeners' interests without lapsing into the house music equivalent of "Weekend At Bernie's."
Audio clip: Adobe Flash Player (version 9 or above) is required to play this audio clip. Download the latest version here. You also need to have JavaScript enabled in your browser.
02. Carsten Jost, "Chateau Jalousie" [Dial] (buy)

When thinking about Hamburg's Dial, Peter Kersten (better known as Lawrence ) tends to overshadow the label's other two founding fathers, Paul Kominek (aka Pawel) and David Lieske (aka Carsten Jost). That's perhaps understandable given how both of their discographies have trailed off a bit in the last few years, but their past productions can't be so easily dismissed. So it's exciting that Carsten Jost has a new split single with Lawrence after a few years of only the occasional drip of new material. "Chateau Jalousie" picks up where his criminally underrated 2007 split single side, "Love," left off. Its long electric piano phrases drift like fog across a bed of simple and snapping percussion, occasionally spiked with more alert leads. After thickening the air around listeners, the tune beckons for an embrace with highly charged pads and drones, some which read as growing guitar tone while others hint at retro futuristic synths. Lieske's return might not make a big splash, but its impact will be felt by patient DJs and dancers.
Audio clip: Adobe Flash Player (version 9 or above) is required to play this audio clip. Download the latest version here. You also need to have JavaScript enabled in your browser.
03. Ultramarine, "Find A Way" [Real Soon] (buy)


Generally speaking, reunion shows and records tend to be awful ideas only brought into existence because those involved need the money. Yet there's not even a whiff of cashing in on Find A Way, the first new record from Ultramarine in more than 15 years. Released by Real Soon, the same label that brought us Carl Craig's stellar remix of Ultramarine's "Hooter" in 2003, this 7″ single is as immensely charming as it is short-lived. Hobbling along on hand drummed rhythms, "Find A Way" enmeshes its struck organ chords and broadly strummed guitar lines in a smattering of soulful voices that soar in and cut out almost at random. Blushing bass lines charge into the mix and recede just as quickly, shy despite their earnestness. The whole thing has an intensely human feel to it, as if it was created on the fly and left as is to preserve one particular moment. It's also a reflection of life: you can't anticipate what will happen, just react to it as best as possible. If all respected groups returned with such strong new offerings the word "reunion" would no longer leave such a bad taste in listeners' mouths.
Audio clip: Adobe Flash Player (version 9 or above) is required to play this audio clip. Download the latest version here. You also need to have JavaScript enabled in your browser.
04. 2562, "Wasteland" (Head High Remix)
[When In Doubt] (buy)


The mutual respect and camaraderie between Rene Pawlowitz and Dave Huismans dates back at least to 2007 when the former released the second A Made Up Sound single on his own Subsolo Records. In fact, Huismans is the only other producer to appear on the label besides its owner. Both producers are uniquely capable of chewing up their influences into tiny pieces that are transformed into innovative, head-turning dance music with few peers. This lends a natural quality to Pawlowitz's remix of "Wasteland," a sense that their similar M.O.'s allows him to find and exploit the inherent alternatives not taken in the original. He zeros in on a few of the smallest details — a rolled marimba, a yippy vocal, a bonking tom — and amplifies them into a raving party starter. The juxtaposition between the atonal bits surrounding the stomping beat and the sweeter melody fluttering in provides a sense of restrained urgency. It's not unlike knowing you need to leave the dance floor to get a drink/talk to someone/relieve yourself, but persevering because the vibe is too good to let go. His remix is also quite powerful in DJ sets as demonstrated by Huismans himself when he used it out of Sound Stream's "'Live' Goes On" at the Boiler Room, igniting the dance floor. This is one producer friendship we'll never tire of.
Audio clip: Adobe Flash Player (version 9 or above) is required to play this audio clip. Download the latest version here. You also need to have JavaScript enabled in your browser.
05. Cromie & JRapp, "How I Know" [Boe Digits] (buy)


Although Boe Recordings can generally be relied upon to release classically influenced house and techno, its digital-only sub-label, Boe Digits, is much less defined. So far it's put out the work of relative unknowns, and on its second release takes a big leap into the realm of bass music-influenced UK house. "How I Know" is the highlight of the package, the work of newcomers Cromie and JRapp. Forgoing many of the syncopated rhythms found in most contemporary UK house, the tune simply charges ahead at around 132 BPM and takes off on the strength of its wide mouthed synth stabs. The duo hit the afterburners with the repetitious use of male vocal samples and increasingly broad percussion patterns, recalling Joy Orbison, Ramadanman — or more broadly the last dozen Aus Music records. Often we tend to dismiss digital-only labels, but material like "How I Know" reminds us that when they take chances they can make them worth listeners' time.
Audio clip: Adobe Flash Player (version 9 or above) is required to play this audio clip. Download the latest version here. You also need to have JavaScript enabled in your browser.
06. Gerd, "Palm Leaves" [Royal Oak] (buy)
07. Roman Flügel, "Lush Life Libido" [Dial] (buy)
08. Luomo, "Good Stuff" [Moodmusic] (buy)
09. BNJMN, "Open The Floodgates"
[Rush Hour Direct Current] (buy)
10. C-Beams, "Strollin' Speechless"
[Uncanny Valley] (buy)

Staff Charts:
Nick Connellan
01. The Third Man, "More Than One" [Applied Rhythmic Technology]
02. Tornado Wallace, "Rainbow Road" [Instruments of Rapture]
03. Nick Chacona & Anthony Mansfield, "Tase the Wizard" [Wurst Music Co.]
04. Kevin Reynolds, "Liaisons" [Nsyde Music]
05. Basic Soul Unit, "Soulspeak" [Dolly]
06. Crackboy, "More Order" [I'm A Cliche]
07. Darkcell, "Dusty (Perc Remix)" [Fluxus]
08. Chicago Damn, "Romcom" [Wurst Music Co.]
09. Moomin, "You" [Smallville]
10. Moomin, "The Game" [Smallville]
Anton Kipfel
01. Brandt Brauer Frick, "Bop" (Pépé Bradock's Geoduck Dive) [Studio !K7]
02. Kassem Mosse, "Enoha" [Nonplus+]
03. Creative Swing Alliance, "In Love" (James Johnston Remix)
[City Fly Records]
04. Lando Kal, "Maneuver" [Rush Hour Direct Current]
05. Kruse & Nürnberg, "Daze Without You" [Liebe*Detail Digital]
06. Crystal Maze, "Crystal Maze" (Chicago Skyway Remix) [aDepth Audio]
07. Moomin, "Sweet Sweet" (Oskar Offermann Remix)
[Smallville Records]
08. Michelle Owen, "Perchance To Dream" [Moodmusic]
09. Tim Green, "Swamp Girl" [Rebellion]
10. Blawan, "What You Do With What you Have" [R&S Records]
Kuri Kondrak
01. Juju & Jordash, "Bleached Roots" [Rush Hour]
02. Steve Moore, "Volatile Memory" [Future Times]
03. Och, "Whalesong [Trelik]
04. Mark du Mosch, "Blue Sphere [Tabernacle]
05. Tangula, "Jebisu [Diametric]
06. Polartronics, "In The Deep [Instrumental] [Dekmantel]
07. Raiders Of The Lost Arp, "Night Theme [Lunar Disko]
08. Furthr, "Fountain [Icons of Desire]
09. DJ Yoav B, "Temptation [Syncrophone]
10. Hakim Murphy, "Moonbeam Express [Synapsis]
Chris Miller
01. Poisson Chat, "Une nuit américaine" [Poisson Chat Musique]
02. Boddika, "Acid Jackson" [white]
03. Ricardo Villalobos and Max Loderbauer, "Meet Tshetshe Boys"
[Honest Jon's]
04. G.H., "Earth" [Modern Love]
05. Kassem Mosse, "Enoha" [Nonplus+]
06. The Please, "Abodigital Dishwasher" [Purple Maze]
07. BNJMN, "Black Square" [Rush Hour]
08. Jenifa Mayanja, "Dark Matter" [EDJ]
09. 52nd Street, "Cool As Ice" (Jellybean Mix) [Strut]
10. October + Borai, "Left Out" [Brstl]
Harry Sword
01. AnD, "Hydrothermal" [Idle Hands]
02. GH, "Ground" [Modern Love]
03. Paul Woolford and Psycatron, "Stolen (dub mix)" [Hotflush]
04. Kassem Mosse, "Enoha" [Nonplus+]
05. Throbbing Gristle, "20 Jazz Funk Greats" [Industrial Records]
06. Powell and Karl O Conner, "The Ongoing Significance of Steel and Flesh" [Diagonal]
07. Lee Scratch Perry vs Digital Mystikz, "Like The Way You Should (Mala Remix)" [On U Sound]
08. Alex Cortex, Kihon LP [Pomelo]
09. AnD, "Lights Down" [Idle Hands]
10. Point B, "The Established Order" [Frijsfo]