Photo by Seze Devres
After a week of recuperation, LWE's Jordan Rothlein and Chris Miller offer their thoughts on this year's Unsound Festival New York.
Festivals have never really been North America's strong suit, at least for house and techno. Yes, DEMF and Mutek have been providing those of us on this side of the Atlantic with expertly curated and executed festivals for over a decade now, but when contrasted with the glut of festivals over in Europe it hardly seems fair. New York, perhaps most unfairly, has always had problems putting on any kind of techno festival (surely no one needs to be reminded of Minitek). And yet, in the past couple years, the festival scene in New York has improved dramatically, to the surprise of pretty much everyone. Electric Zoo has managed to be wildly successful, but in terms of booking seems to become less attractive to dance music fans of more discerning taste each year.
Enter one of the most inspired developments in New York's festival scene in quite some time: last year's inauguration of the Unsound Festival's New York edition. Unsound has been long respected as one of Europe's premier festivals when it comes to heady and experimental electronic music, and last year's events went off without a hitch (aside from the ever-present visa problems, which this year's edition was not spared from either). For 2011, Unsound New York was consolidated into five intense days of chamber music, dance music, and practically everything in between. With so much going on it was near impossible to catch all of the riches on offer, especially with ever-present work and school concerns, so what follows in less a thorough review of everything that happened and more the reflections of two LWE writers on a truly massive couple of days of music.

Before the festival itself began in earnest, five days of small events known as the Unsound Labs took place at scattered locations around New York. I was lucky enough to catch the last of these labs, Cinema for the Ear, presented by ((audience)) at the Walter Reade Theatre at Lincoln Center. Taking place in a pitch-black movie theater without any visuals, the program consisted of works by numerous electronic artists in 5.1 surround sound, all exploring the theme of horror. Raime, the hotly tipped UK duo whose two debut releases have been very well received, provided the highlight of the evening with a genuinely frightening piece full of disquieting panting and sinister noises. They also used the 5.1 sound better than anyone else, panning sounds around the room to an eerie and disorienting effect. Felix Kubin's piece contained snippets of noises recorded at night and fragments of narration in German (the words "extrem dunkel" struck me as particularly appropriate), while Demdike Stare's contribution was short but sweet, using some of the themes found on their previous work in a new context.

Steve Reich. Photo by Stephen Cardinale
The festival proper kicked off on Wednesday night with the official opening at Lincoln Center's Alice Tully Hall, seeing New York's techno denizens (attempt to) mix with higher society. Sinfonietta Cracovia started things on their own with performances of pieces by Krzysztof Penderecki and Steve Reich. The ominous and chilling moods that are the hallmark of Penderecki's compositions, combined with projections of birds flying around at dusk, sent quite a chill down the audience's collective spine, whereas the following two pieces by Steve Reich (both exclusively for stringed instruments) lightened things up a bit. After a short break Sinfonietta Cracovia came back with Daníel Bjarnason and Ben Frost for the main event: "We Don't Need Other Worlds. We Need Mirrors – Music For Solaris." Given the intensity, loudness, and sheer physicality of Ben Frost's music I was eager to see how it would translate once backed by prepared piano and a full orchestra in one of the most upper class venues in all of New York. Instead, Frost and Bjarnarson's piece opted for extreme subtlety.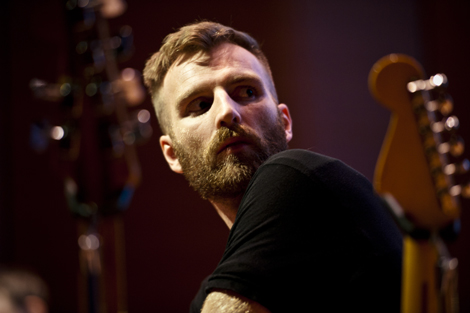 Ben Frost. Photo by Stephen Cardinale

Sinfonietta Cracovia. Photo by Stephen Cardinale
Sinfonetta Cracovia played throughout as if they were their own delay units, issuing haunting swells of sound while Bjarnarson played the role of conductor as he contributed stirring notes from his prepared piano. Frost, who quickly removed his shoes, used two guitars and a laptop with Ableton Live to transmit otherworldly drones that, at certain critical moments, grew until the whole of Alice Tully Hall was submerged in sub-bass. Accompanying the music were "film manipulations" from Brian Eno, which turned out to be pretty unnecessary. The opening part of the visuals featured the face of an older man that transformed slowly into that of a younger one (which ran in reverse at the end), and it was a nice effect, but on the whole I was happy when the visuals ended and my mind was left to concentrate solely on the music, which was extraordinary.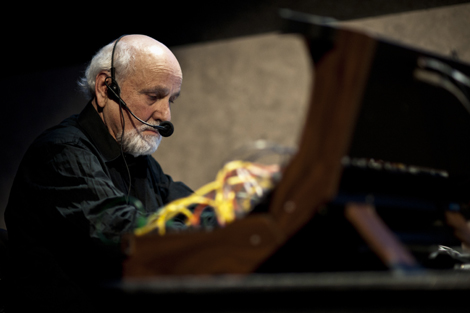 Morton Subotnick. Photo by Stephen Cardinale
Thursday saw the arrival of LWE editor-in-chief Steve Mizek, and after catching up we headed back up to Lincoln Center for "Modular Dreams." This event was at the David Rubenstein Atrium, an intriguing indoor venue with great sound as well as sandwiches from 'Wichcraft, should you get hungry. Morton Subotnick played the first hour from behind a seriously impressive modular synth setup. The first half of his performance was characterized by chaotic, unmistakably modular sounds that layered and wormed inside each other, always with a rhythmic intensity underlying the whole thing. His set then slowly drifted into more laid-back sections, continuously impressing with his mastery over the machines in front of him. Lillevan provided the visuals and, unlike the night before, they were engaging and complimented Subotnick's music perfectly.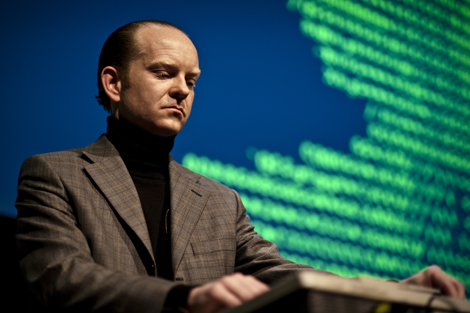 Atom™. Photo by Stephen Cardinale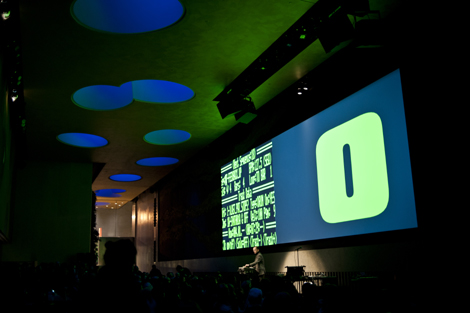 David Rubenstein Atrium. Photo by Stephen Cardinale
After a short pause the man born Uwe Schmidt but billed as Atom™ stepped up in his sharpest jacket/turtleneck combo and stood behind an MPC. Schmidt's visuals were split-screened, with his MPC display screen on the left side and more aesthetic ones on the right. The beats came quickly, and it was a real joy to watch, in real time, as Schmidt switched patterns, changed effects parameters and even altered time signatures. While I stayed seated primarily because that seemed to be the "proper" thing to do, Atom™'s set made me want to stand up and jerk my body around to his addictive, jacking rhythms. His set was occasionally interrupted by videos of various Uwe Schmidt ventures (the first of Señor Coconut and the second from 2009's Liedgut album), and during his final segment the pattern on the MPC read "Good Night!" and, with the feedback on the delay pushed up, Schmidt simply walked right out of the building. Always a showman, Atom™'s set was one of the festival's true highlights, a display of an artist at the height of his talents.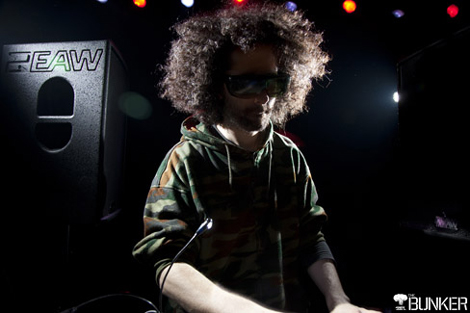 Badawi. Photo by Zach Dilgard
Friday night saw us head to Public Assembly for the first of the Bunker parties, this one being the much-anticipated Bass Mutations party. We walked in to find one of New York's finest, Dave Q, slaying the back room with junglist vibes. Low-end oozed out of the subs and seemingly transported us to the seedier alleys of London. Dave Q was followed by Raz Mesinai, whose music as Badawi is as involved in the project of bass mutation as anyone. Obscured by sunglasses, hoodie, and gigantic hair, Mesinai was a playfully menacing presence on the back room stage, and his set similarly combined the low-end of dubstep with compositional strategies that would feel at home in more academic musical quarters. Though it lacked the electricity that Shackleton (an artist he's worked with and with whom he shares a certain gloominess) brings to live performance, Badawi's set was deeply considered: themes would appear and reappear, time signatures would shift, and high energy proved a fleeting but seductive presence.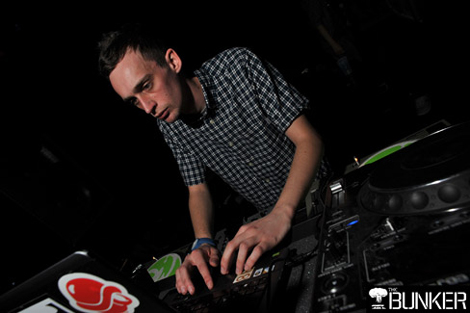 Lone. Photo by Seze Devres
One of the most anticipated performances of the week for us was Lone's. Now synonymous with a brand of house that's equal parts raved-up and wistfully dreamy, the man born Matt Cutler may have been a strange fit after Badawi's doom-laden set, but he very quickly filled the room with a welcome glow. While the tunes — selections pulled straight from his excellent Emerald Fantasy Tracks album and other compositions that are obviously from the same era — were great and the crowd still had their early evening enthusiasm, Lone's set felt like it was only halfway there. Beyond the occasional chop-up and stutter, the music didn't feel particularly transformed by the live setting, and we weren't sure Cutler has enough depth to his discography to let the tracks carry themselves. And Cutler, suffering from severe laptop captivation, wasn't really doing much in the way of selling the tracks. It was by no means awful, but we all agreed that the Lone live PA was still in its infancy.

Badawi. Photo by Zach Dilgard
The contrast with Sepalcure, the Brooklyn-based duo of Praveen Sharma and Travis "Machinedrum" Stewart, was pretty extreme. High up on the front room stage, they were having as much fun as anyone in the crowd. Their mood was contagious, but regardless, their live set is difficult to argue with. It's their chops as electronic musicians that allows them to be as animated as they are on stage, so even amidst the veritable dance contest taking place on stage, their chunky beats and simmering synth textures stayed well within the pocket. Their material from their two Hotflush EPs continues to sound fresh, and the multitude of new sounds that provided glue for the set has us very excited both for the next Sepalcure transmission and the high-profile solo material each member has on the way this summer. But we're making the educated guess that one of the set's most unexpected highlights, the chorus of Corona's "Rhythm of the Night" sitting seamlessly in the mix with a humid Sepalcure riddim, probably won't be getting pressed to vinyl anytime soon.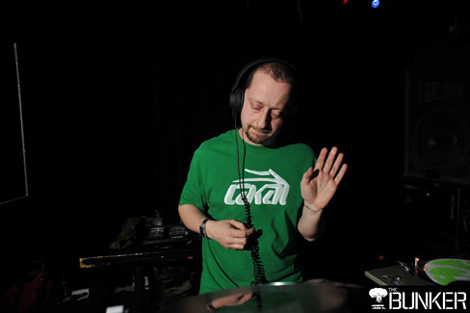 Kode9. Photo by Seze Devres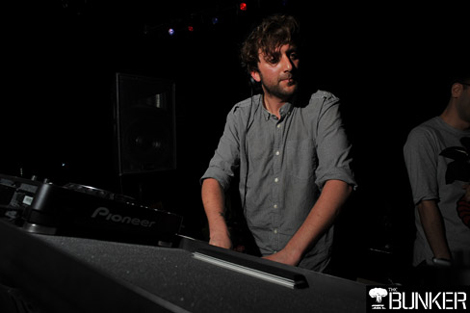 Appleblim. Photo by Seze Devres
After quickly grabbing some drinks we rushed back to the back room to catch the beginning of Kode9's set, perhaps unsurprisingly starting with Burial's recent "Street Halo." His short, hour and a half set managed to encompass most forms of modern bass music, hitting some recent favorites (cuts from Pearson Sound and Addison Groove were highlights) as well as plenty of tracks we hadn't heard before. After Kode9 finished it was Appleblim's turn to man the decks and remind everyone why his name is so revered. A couple of minutes of dubbed out, fathoms-deep techno kicked things off and soon we were navigating from the dry and jacking (Kowton's "She Don't Jack") to the melodic and glorious heights of SCB's "Loss." Having been on our must-see list for quite some time and just narrowly missing him on numerous occasions, Appleblim's set made up for all of those missed opportunities by being supremely focused and, in a word, transcendent. The dude has a knowledge and flow that few equal. Every point of his set seemed to have a purpose and point towards what was coming next, and even tracks about which we're rather lukewarm (his "Void 23" collaboration with Ramadanman) worked wonders. A tempting live set from Spatial loomed, but our tired legs refused to let us continue, so it was time to hit the sack and prepare for Saturday.

Tin Man. Photo by Seze Devres
When we arrived at Public Assembly on Saturday night, DJ Olive of New York's thinking-man's dance imprint The Agriculture was laying a thick shmear of dreamy bass on the front room. It was difficult to concentrate on much other than Tin Man's impending live PA, however. When the man otherwise known as Johannes Auvinen stepped up to his laptop, microphone, and 707 on the front room stage, the crowd — small at first, but growing with each 12-bit handclap — was immediately pulled into whatever warmly bleak world this guy comes from. Combining recent hits (the massive "Nonneo," the perhaps massive-er "Lost In L.A." from his forthcoming Perfume long-player) with wholly unfamiliar acid jams seemingly built just for his live show, Auvinen gave us the best of both worlds — a recitation of what's made this guy awesome so far, and goose-pimply reminder that he's likely to continue his awesome streak for quite some time. Our one complaint was how low those signature Tin Man vocals sat in the mix, but something tells me Auvinen, who in crisp white shirt and dark slacks could have been mistaken for a wayward management consultant, wanted to keep them as mysterious and un-bombastic as possible. Sultry yet subtly jacking, the set was a festival highlight from a producer whose prolific output has thus far been 2011's highlight.

Octave One. Photo by Zach Dilgard
We quickly shuffled into the back room to catch the second half of Octave One's live set. Barely visible behind the mountain of analog gear that has become the staple of their blistering live set, the duo were already pretty far along in methodically slaying all in attendance. Something about the vibe told me that they hadn't played "Blackwater" yet, and low and behold, about ten minutes after we got situated, they let it drop. Not that such a track ever really gets old, but I was thrilled to note that their classic hasn't stood still: though still anchored by Ann Saunderson's vocals, subtly updated sonics make today's "Blackwater" no straight copy of 2000's "Blackwater." The techno onslaught continued with Samuli Kemppi, who delivered just the kind of intense set of anonymous floor-fillers the Bunker is known for. We danced until we couldn't stand anymore and then briefly sought refuge in the chillout cove in the front room, knowing we'd need to summon the energy for Atom™ and Pink Elln.

Atom™ & Pink Elln. Photo by Seze Devres
Tobias Freund seems to exist for the sole purpose of reminding us how techno should be done. Likewise, Uwe Schmidt teaches us to expect more out of electronic music than a soundtrack for grinding and/or drug-taking. How the two combine in a live setting as Atom™ & Pink Elln has been well documented, so we had some idea of the sort of wild acid ride we'd be taken on in their first North American performance together. But while techno was in full effect as the duo perched over their gear, Schmidt and Freund stayed firmly in control, never letting their beats bulk up too much. Likewise, a warmth — that swelling, room-filling rumble only an analog drum machine can properly deliver — permeated their set, effectively de-icing their brand of minimalism. We stood somewhat in awe of these guys and these sounds for quite a few moments, but we quickly realized their set was very much something we should be dancing to. We summoned some strength, busted some moves on the still-packed back room dance floor, and gave our Unsound weekend a proper sending-off.
Though we didn't attend every event, and while the festival seemed to be somewhat pared down from last year, Unsound remains overwhelming. Fortunately, though, the festival inundates with quality, not quantity. Rather than spend a day bouncing between outdoor stages or tents, or choosing between millions of disparate showcases, Unsound puts some of the most exciting players in contemporary electronic music in awesomely curated lineups and well-suited venues. We techno nerds are so spoiled for choice here in New York most weekends that it often feels like no party is truly unmissable; if you can't make it out to one, there will surely be another that eclipses it within a month. But between Tin Man and Atom™, Kode9 and Sepalcure, Ben Frost and Appleblim, and the countless others who filled some of the city's best venues over a long early spring weekend, Unsound this year felt pretty damn essential.