All photos by Neil Matheson
My decision to attend this year's Moogfest was a bit impulsive, to say the least. Having never visited the annual tribute to synth pioneer Bob Moog, it only took a single glance at the lineup to have me e-mailing my editor to see if he was on board for coverage. He of course was, and my attendance was set in stone. But it wasn't until push came to shove and it was time to embark on my trek that I really started to wonder if it was worth the effort. A 15-hour overnight drive from Boston to Asheville, North Carolina didn't lend itself to as much. Neither did our budget hotel room that smelled of stale cigarettes and chlorine, despite there being no pool. And on top of that was the impending threat of superstorm Sandy, leaving my photographer and I to worry about our return trip home before we'd even arrived in the sleepy southern metropolis. A nerve racking barrage of obstacles for what would eventually equate to 14-hours of actual music.
Yet it took about 30-seconds into Friday evening's program to assure me that the whole endeavor was, in fact, very much worth it. For the unfamiliar, Moogfest is a two-day city-wide festival, taking place at five indoor venues throughout Asheville. A pass gets you unlimited re-entry to each venue during the 7 pm-2 am runtime. The individual lineups for each evening, while somewhat curated, often forced one to make hurried dashes between venues — Friday was especially hectic and found me making a total of seven venue changes throughout the seven hours of music. This would seem like an exceptional pain in the ass if it wasn't for the relative proximity between venues, with the furthest trek being about a half-mile or a 10 minute expedited shuffle. Pair of comfortable sneakers, a warm sweatshirt, and you're good to go.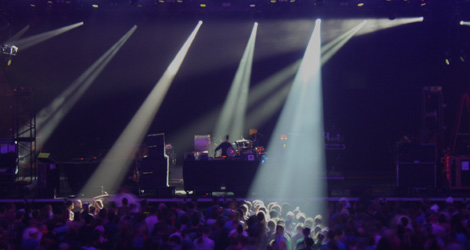 Pantha du Prince
Enough on schematics though. My immediate wash of gratification arrived via Friday's opening live set from Pantha du Prince in the U.S. Cellular Center, and it had little to do with the music coming from the stage. Rather, it was the innate ridiculousness of the scenario that was able to win me over. Picture for a second a stoic, pale-faced German minimal composer, head wrapped in a fancy scarf, playing to a basketball arena of Halloween costumed onlookers, all while the two large projection screens that are typically reserved for slam dunk highlights flanked Pantha with visuals that resembled a colonoscopy camera. And while many of the attendees were merely holding their place for the forthcoming Nas set, they showed no reservations getting down nonetheless. Both silly and revelatory that something of this nature could unfold in a venue called the U.S. Cellular Center. For his effort, Pantha worked through early set technical glitches that were mostly a result of his intimate brand of music being channeled through the cavernous arena. Smoothing out the transitions, instead of allowing the mountainous builds between tracks to crumble around themselves in a heap of bass, proved to be the key as he drove home an hour-long outing that while thinly attended, proved an ideal table setter for the weekend's proceedings.

Morton Subotnick
A quick scurry over to the Diana Wortham Theatre unveiled the second core half of Moogfest's varied programming. While a majority of the festival's acts incite a party-type atmosphere, there was a selection of more contemplative sets throughout the weekend, mostly held in the theater, with Morton Subotnick chief among them. The electronic maestro's set was billed as Morton Subotnick presents "From Silver Apples to a Sky of Cloudless Sulfer," meant to highlight Silver Apples of the Moon. That 1967 epic is regarded amongst the most important pieces of electronic music for being one of the first to repurpose electronic sounds into something resembling traditional rhythm, as opposed to the dissonant ambience that came before. As Subotnick and his esteemed visual collaborator Lilleven worked through a 40-minute set of cautiously arranged metallic plucks set to a sepia-toned mirage of cacophony, the audience remained seated, seemingly rendered inert by the arresting nature of their effort. Electronic music as an artform in the best sense.

El-P
Rendered somewhat flummoxed by the wonderment of Subotnick's set myself, I stumbled up the street to the Orange Peel where El-P was set to perform. An underrated aspect of Moogfest was it's innate ability to highlight just how unique each of Asheville's music venues are. The Orange Peel is an exceptionally no frills, square-sized room that would serve as a premier concert hall in any city, Asheville included. Curious to see how hip-hop would play in the electro-centric billing, I was pleased to see El-P allow his instrumentalists to take some center stage shine during the early portion of his set.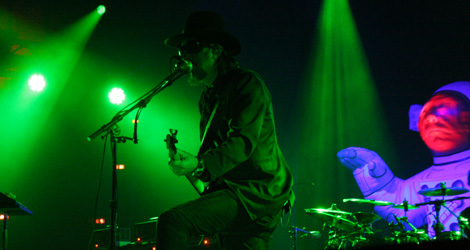 Primus
Ever on the move however, my curiosity dragged me back to the arena for Primus' 3D set. If you've ever found yourself on the fence about attending a Primus show — as I have every time they've passed through my city — I'd strongly recommend catching them on this current tour. While the extra dimension is undoubtedly gimmicky, at least they're fully owning up to it, creating an immersive head-fuck of an experience. Leading up to my attendance, I had someone describe it to me as tripping without the aid of psychedelics and they couldn't have been more accurate.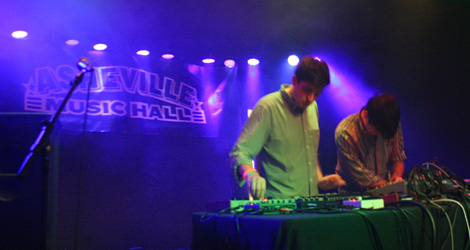 Notably less extravagant in presentation was Blondes. The Brooklyn duo's self-titled debut LP from earlier this year was met with divided opinions that varied from expansive to directionless, and their live performance is liable to draw similar remarks. Fortunately, I was among the camp that thought Blondes to be one of the most replay worthy releases of this year and thus was completely enamored by their live set at the Asheville Music Hall (fifth venue change of the evening in case you're keeping score at home). Working amongst an impressive array of analogous equipment — made all the more impressive amongst the tight knit confines of Moogfest's smallest venue — the pair chugged through a repetitive formula that involved building their fortress of sound to its absolute breaking point then letting the sails down to move between tracks. Their set would be all the more effective if they could somehow bridge those transitions, allowing for less downtime between songs, but their ability to repeatedly wind up everyone in the room speaks toward the immersive qualities of their music.

GZA
Unfortunately, my evening ended with a pair of woeful sets from Richie Hawtin — unable to lock into a distinguishable groove within the hollowed out arena setting — and GZA — performing his classic Liquid Swords, but with merely a backing DJ he lacked the flair that El-P possessed earlier in the night. All was forgiven however as by that point I was nearing 48-hours without sleep so an early retreat to my cigarette and chlorine scented sleeping quarters was necessary.

Julia Holter
Saturday had a daytime portion of panels that I was unable to make thanks to my sleep-at-a-premium schedule, yet I was able to roll out of bed in time for a highlight run of early evening performances in the theatre. First up was Julia Holter. With her delicate pop not really my bag and only in attendance because Actress had encountered visa problems and was forced to cancel his appearance, I was somewhat taken aback by Holter's ability to engage my attention. I would best liken her to James Blake in her ability to draw maximal impact from such a minimalist stage approach — working with her keyboard setup, a cellist, and a drummer, who didn't as much play the drums as brush against them. She was also able to benefit from the motionless environment and the impeccably clean sound of the theatre.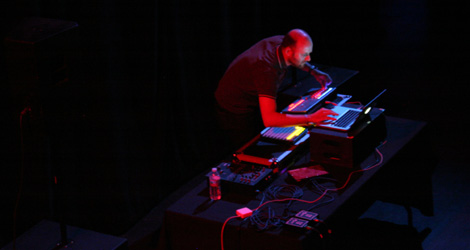 Andy Stott
Less beneficial of the same setting was Andy Stott. Listen people: just because there are seats doesn't mean that you must remain seated. I understand that much of Stott's set was muted in it's delivery, but that was intentional, I swear. At the core was still a vigorous kick that should, granted you have a soul, inspire some movement. But alas, the audience was forced into a sitting position via mob mentality. Even the poor kid to stage right who was practically ripping the chair in front of him from its moorings during the most excitable portions of Stott's set. Working from a cloud of coarse clippage, Stott eventually arrived on Luxury Problems vocal standouts "Numb" and "Hatch the Plan," working off the ascending back of these cuts to venture down a meticulously plied path of writhing beats, eventually landing in a DnB mindfield to close the outing. Yet the people sat. It wasn't the first case of a misappropriated billing, though thankfully it would be the last of the weekend. One of the few gripes that I'd like to see addressed in years to come.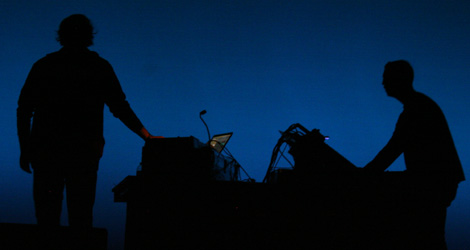 Daniel Lopatin and Tim Hecker
Far better suited for the theatre was the collaboration between Daniel Lopatin and Tim Hecker. Both being relatively young masters of their respective fields — both ambient: Lopatin capable of incorporating a varied array of more common electronic tropes as Oneohtrix Point Never; Hecker while working with a sweeping pastoral palate — their teaming seemed natural. And while their upcoming collaborative LP is still my most anticipated release of the remaining year, their live performance left a bit to be desired. Predictable in its builds, the peak of the set arrived with a chattering squalor of synths that unfortunately sputtered out thanks to a misstep on one of their parts — with the theatre lit solely by a dark blue backdrop, it was near impossible to attribute who was contributing what. Although I'd have preferred a solo set from either, there was still an overarching sensibility that something special will eventually come of this pairing.

Four Tet
On the prowl for something a bit easier to move to, I ventured into the Thomas Wolfe Auditorium for my first and only set within the elongated theatre setting. While far from the ideal spot for Four Tet, his ability pack the room until the fire marshall would no longer allow anymore entrants was testament to just how anticipated his headline Saturday set was. And he didn't disappoint, delivering 90-minutes of commandeering techno that drew from predominantly new and unreleased material. In many ways his set was the ideal amalgamation of the weekend's prior sets, rinsing the peaks ("Love Cry," "Pyramid") to their most blissful, unrecognizable boundaries while loading the transitions with ambiance afforded by the previous theatre acts. While content in calling it a weekend, I instead opted to circle back to the Orange Peel for the remaining hour of Carl Craig's DJ set. This proved to be my move of the festival. Only ever witnessing his live set as 69, I was initially taken aback by a jovial Craig behind the decks, but just about kissed the ground when he announced over the PA that we had entered "the church of latter day techno." And informing us that Derrick May's "Strings of Life" was our "Amazing Grace" served as a fitting bow to a festival spent amongst people who were fully buying into his sermon.
Home for a week and a half now, having survived Sandy on the ride home and again once I returned to Massachusetts, I've had some time to contemplate the festival as a whole, but seeing as I'm nearing 2,000 words here, I'll leave it at this: attend Moogest at all costs. Asheville is a picturesque city that plays home to some of the finest venues I've ever had the pleasure of attending. While littered with a couple cringe-inducing filler acts that may turn some off, I believe if that's what it takes to be able to round out the bill with the choice names, so be it. There's enough going on as to avoid the riff raff. And the fact that I've only mentioned Moog's name once up to this point is a damn shame in its own right. Opting to focus solely on covering the musical aspect hindered my ability to experience some of the demos and lectures, all designed to ensure the man's legacy is maintained amongst the festivities. But there was about a 15-minute break between Holter and Stott's sets on Saturday night that I got to spend playing with a Minimoog in the lobby of the theatre. That I could've spent the entire weekend playing that thing and still left content only speaks volumes.