All festivals present their attendees with a broad range of choices to choose from, but most are still settled within the confines of the location and time they have allotted and can deliver a pretty similar overall experience. MUTEK and its longstanding festival in Montreal offer a completely different perspective on throwing a festival. Now in its 14th year, MUTEK is closer to a string of discreet events across six days, tightly tied together by the group's keen curatorial ears. Their line-ups contain stunning live sets from a range of artists across the electronic music spectrum. They also place visual arts on a similar if not quite equal footing as the music, which yields some of the most impressive visuals we've seen in such settings, visuals that morph both throughout the days and within the shows. In addition, there were the re-occurring Dromos performances where artist duo Maotik and Fraction took over the Satosphère to present an audio-visual spectacle based on the work of French thinker Paul Virilio. A/V showcases included multiple performances by Matthew Herbert (presenting music from his disparate One Pig and The End Of Silence albums) and Pantha Du Prince and the Bell Laboratory.

Pantha Du Prince & The Bell Laboratory, photo by Caroline Hayeur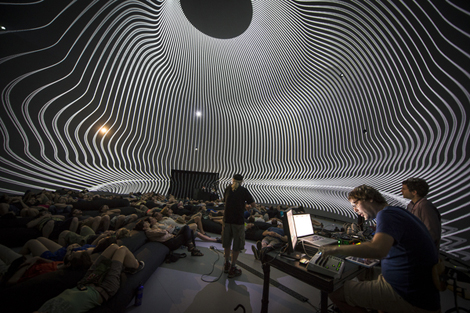 Dromos, photo by Caroline Hayeur
But what makes MUTEK so special is the ability choose, at a granular, show-by-show level, what kind of experience you're trying to have. You can easily only attend the night time showcases with their packed line-ups and feel as if you've enjoyed a full festival's worth of music. Getting a pass which allows you to bounce between the two main venues — Société des Arts Technologiques (SAT) and Metropolis — is perhaps the best option, as they're only two blocks apart, allowing for a tasting menu of the whole evening's entertainment. While not every performance as as cleanly executed as the festival itself, the festival's passion for engaging electronic music flowed through the artists for some rather memorable performances. LWE's editor-in-chief, Steve Mizek, and staff writer Steve Kerr, have compiled their experiences from this year's festival in a more or less chronological fashion. We begin the festival with Mr. Kerr.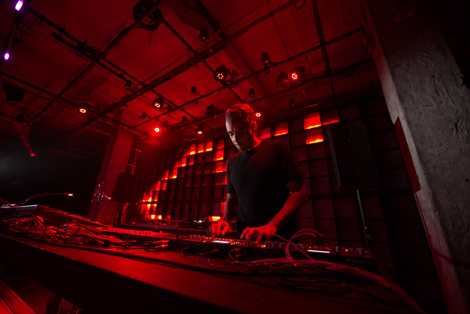 John Tejada, photo by Miguel Legault

The Field, photo by Miguel Legault
The influential German label Kompakt is celebrating its 20th anniversary this year, and on Tuesday its Mutek showcase offered a decent, if abridged selection of its talent. When I entered, John Tejada was in the midst of a very trimmed, minimal, almost nondescript set, which is how it mostly continued. Toward the end he climaxed in some very pretty melodies, which might be generously called anthemic if they didn't come so early in the evening. The Field's set might have been better suited to the opening spot, as the Swedish producer began beatless and kept it that way for quite awhile. It was definitely peaceful but represented a bit of a lull in the night's proceedings, though he eventually built up to a mesmerizing, shoegazey wall of noise, undercut by a throbbing, Gas-style kick.

Sachienne, photo by Miguel Legault
Saschienne's set fluctuated between harder, punchier, almost EBM-influenced sounds when Julienne Dessagne wasn't singing, and sweeter, more fluttery vibes when she was. It wasn't bad, but not quite enough to make me check out their record in the days since. Michael Mayer was next, and while I've always wanted to see him but haven't ever had the chance, I stepped out midway through Saschienne's set to go to a party being put on by Forbidden Planet, who are Montreal's top promoters at the moment. What was (possibly) better than Michael Mayer? Bill Kouligas of PAN, Bradley Zero of Boiler Room, Paul Purgas of Emptyset, and Lee Gamble trading off DJ duties. There was at least an hour where every track sounded like Kassem Mosse, and someone also played Syclops' "Jump Bugs," which is one of my favorites of the year so far.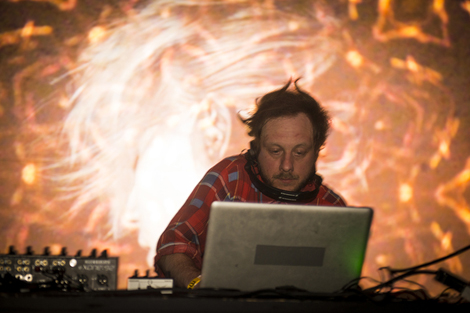 Lee Gamble, photo by Caroline Hayeur

Andy Stott, photo by Caroline Hayeur
The next evening I met Steve Mizek at a Chinese restaurant and then headed to SAT, where there seemed to be, at least initially, an issue with the low-end, which was a bit crunchy. This persisted through Pulses' opening set of dubby, industrial techno, which was predominantly done in halftime. Lee Gamble seemed to actively combat this; as those who heard his Dutch Tvashtar Plumes album last year will attest, Gamble tends toward crisp, paper-thin sounds. His set was as supremely well EQ'd as one might expect, with a particular highlight in a squashed locked groove piece that seemed to modulate in several different directions at once. I was on the Andy Stott bandwagon for awhile, but his set, which began with guttural death metal and went through sludgy low-BPM chuggers and slowed-down hardcore, was a little too aggressive for my taste — not to mention, the overdriven bass issue reared its head again. I was clearly in the minority, though, as he easily commanded the crowd's attention.

Matthew Herbert as Wishmountain, photo by Miguel Legault
After Stott, I caught some of Brandt Brauer Frick at Metropolis. They seemed to be trying really hard, and their quirky tracks were busy with switches and bursts. At one point Jamie Lidell appeared out of nowhere for a cameo performance, although it came across somewhat awkwardly. A brief return to SAT found Deadbeat continuing with a gnarly, punishing set of industrial techno (with Jamaican vocals, of course), and so I headed back to Metropolis to catch Matthew Herbert DJing as Wishmountain. As one might expect, Herbert seemed to have poured a ton of thought into his set, and while it was fairly interesting from a construction standpoint (i.e. how one might admire a commercially released mix), taking in a lot of experimental, Raster Noton-type tracks, it may have backfired for the dancers, who seemed uniformly lethargic.

Ramzi, photo by Caroline Hayeur
Early on Friday, I caught a free set at 2-22 by my associate (full disclosure) Ramzi, who went in on a kind of psychedelic, slow-motion dancehall, which she toasted over in surreal, pitch-bent vocals. Hear's airy techno was not displeasing either, and formed a nice counterpoint to the seemingly predominating, testosterone-fueled industrial sounds. Friday evening culled together fairly opposing lineups at SAT and Metropolis. Vlooper's opening set at SAT seemed more like a stock warmup than an important festival showcase, which left an odd atmosphere for Lukid. Lukid lived up to his unassuming reputation; while other performers lent their tracks more muscle in the live setting, the London producer seemed to mellow his material — the brash "Hair Of The Dog" sounded toned down in particular.

Emptyset, photo by Miguel Legault
After his set, I checked out Emptyset at Metropolis. Their performance a couple of years back was a tiresome slog, but they have really developed into a powerful live act. Steve Mizek likened the sub weight to a T-Rex, which is totally accurate, and they accompanied this pound with huge granular gusts. It was every bit as aggressive as the acts from the night before, but it really seemed that they were getting the most out of their machines. There is something really satisfying in hearing a duo conjure a jet engine roar from a few small boxes. I headed back to SAT for Ghislain Poirier's set as Boundary, which featured a live drummer. Essentially, the drummer was playing swinging garage rhythms while Poirier inserted bass tones and some simple drones on top. I'm not a huge fan of the Montreal producer, but the two had a remarkable synchronicity — it was much better than anticipated, if not particularly complex.

Onra, photo by Caroline Hayeur
Onra, who followed, formed my personal highlight of the festival. I'm a sucker for filters and funk bass lines, and his set was a perfect complement for the hot, humid weather. Armed with a few samplers and effects, the producer seamlessly moved from his Southeast Asian-sampling instrumental hip-hop, through 80s funk and g-funk, and into broken French touch-type house to close. Along with Ramzi and Juju & Jordash, it was one of the festival's most colorful displays, and again formed a welcome contrast to the general focus on muscle. If there was anyone on the bill who could combine funk with muscle, though, it was Robert Hood. Even though his last LP, Motor: Nighttime World 3, veered in a more fleshed-out, jazzy direction, he was in full punishing mode for his set at Metropolis, doing what he does best on an array of gear, and pounding out jacking patterns on the fly. Though he moved through several encores, his set still seemed a bit short, but perhaps that's due to the insane space odyssey his sometime collaborator Jeff Mills took MUTEK on last year. Hood deserves to be judged on his own terms, and in the scope of covering his most dynamic achievements — and knowing what he does best — his set was definitely a success.

Robert Hood, photo by Miguel Legault
On Saturday, I (Steve Mizek) took the opportunity to explore Montreal for a while. But before I did, I observed as Andrew Ryce interviewed John Hopkins in one of Monument-National's many rooms. It was good to be on neither side of the microphone; Andrew coaxed an entertaining and insightful interview from Hopkins about his early days in music, being licensed for "Sex and the City," working with Brian Eno, and more.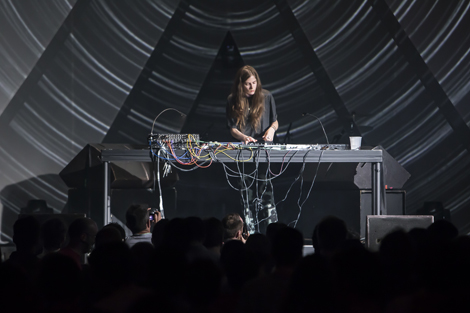 Laurel Halo, photo by Miguel Legault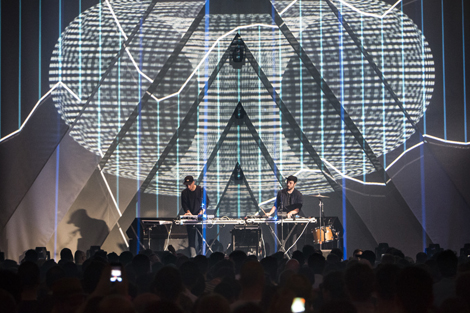 John Talabot, photo by Miguel Legault
That night was all about Metropolis. I arrived to find Laurel Halo in the midst of grinding the gears of techno with long, grumbling progressions which jabbed at the ears. John Talabot, who followed, couldn't have been more different. Playing what is certainly a well-honed festival set, Oriol and Pional powered through many of Talabot's greatest hits. The pair's live vocals added a great deal to those songs, affording an energy and band-like presence which invigorated the crowd.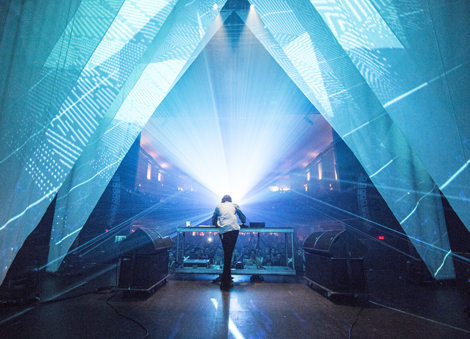 John Roberts, photo by Miguel Legault
John Roberts was tasked with keeping that spark alive, and his new, beefed up live set more than delivered. Wielding his music's delicate textures and tones atop tougher, reconfigured percussion, Roberts set was captivating and had the audience following closely. New versions of old favorites sewn together with Fences highlights and new interstitial beats kept the momentum high, even bringing it to a fevered pitch with Roberts' as-yet unreleased, Dance Mania-worthy remix of Naysayer & Gilsun's "All That Good Work." A personal favorite performance of the festival.

Âme, photo by Miguel Legault

Efdemin, photo by Miguel Legault
Unlike every time I've previously seen Âme play, this time it was Frank Wiedemann and his live PA rather than a DJ set from Kristian Beyer. The duo's remixes were largely the order of the night, opening with one of the XX followed by Ame's remixes of Osunlade, Tiga, and their own classic, "Rej." Wiedemann skipped his recent "Howling" hit in favor of some new Âme material whose euphoric progressions in HD were meant for huge venues like Metropolis. And flanked by pulsating red lights, this was the stadium-sized set I always expected Âme was capable of. Feeling a bit spent, I took in the first half of Efdemin's DJ set — one of relatively few during the festival — while seated. The crowd was more enthusiastic for the grueling, peak time techno selections he delivered, and which played me out and back to my hotel.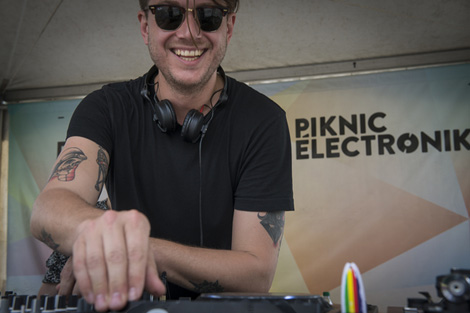 Axel Boman, photo by Caroline Hayeur

San Proper, photo by Caroline Hayeur
The Piknic began only seven hours later, and an hour after that I arrived in Jean-Drapeau Parc, an island off the east coast of Montreal, to enjoy it. Somehow I didn't realize Axel Boman would warming up the square beneath and around Alexander Calder's gently hulking "L'Homme" sculpture. His summery selections convinced the sun to come out of the clouds, leaving me wanting more when he handed over the controls to Dewalta. The latter played a fine and varied live PA, although I was a little more intrigued by house music vagabond, San Proper. "Thizzzz is the zounnnnd, of a laptop dyinnnnng, in your face," he admitted, unflustered after making it only halfway through his set. Digging deep into a CD binder of unreleased material, however, he kept the raucous, sample heavy vibrations flowing. Oriol of John Talabot followed him, this time as a DJ. His choices were again laser sighted for their surroundings — party jams new and old which loosened up the atmosphere. This could also be attributed to the literal buckets of rum being sold on-site.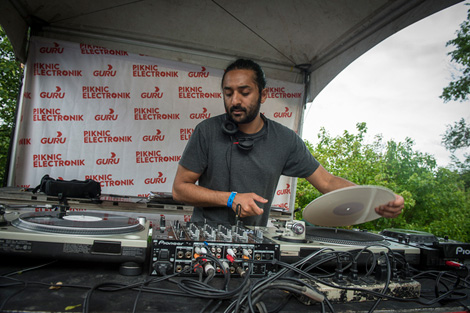 Paul Purgas of Emptyset, photo by Caroline Hayeur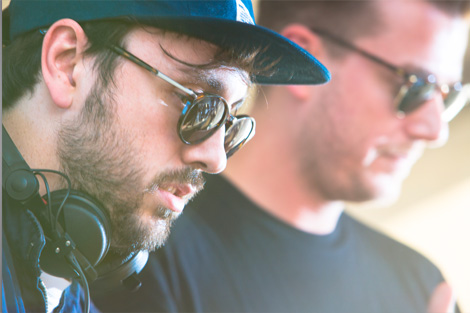 John Talabot & Axel Boman, photo by Miguel Legault
What MUTEK didn't advertise was a second stage on Jean-Drapeau Parc where a somewhat random cast of artists previously seen throughout the weekend took their turn DJing. So compelling was the main stage that I only checked it out for a while, but it was a true pleasure to hear Paul Purgas, half of brutalists Emptyset, turning out Pepe Bradock, Oni Ayhun, and Sound Stream cuts. Braving the millions of insects swarming overhead and all around, I spent the rest of the evening near the main stage where a winning tag-team set by Boman and Talabot was gaining steam. Often favoring vintage cuts or favorite tracks from the last five years, their set (occasionally spiked by San Proper's eye-opening additions) had the swollen crowd in the palms of their hands. Practically a miniature festival on its own, Piknic was the least studious MUTEK event but also one of the most fun.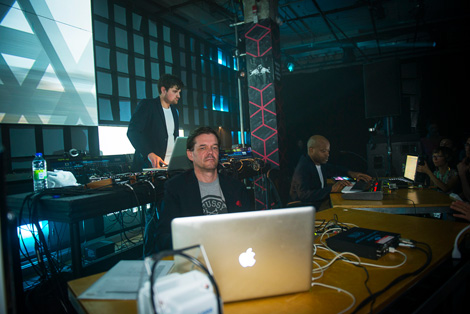 Moritz von Oswald & Juan Atkins, photo by Caroline Hayeur
Sunday evening's Nocturne opened with Pheek & Diagraf doing a kind of angular, rearranged sort of techno jazz, which never cohered into anything spectacular but was reasonably interesting on its own. With how incredibly hot it was in SAT yet again, I (Steve Kerr) went home to put on shorts and returned for the finish of Dictaphone's set. This was even jazzier, merging clarinet and violin with electronics for a deeply noirish vibe, nicely suited to a Sunday night. Techno legends Juan Atkins and Moritz Von Oswald (and Von Oswald's nephew, as engineer) debuted their Borderland project next, which was as much of a success as one would expect from such seasoned professionals, though it was a bit calm and pared-down. The two worked through dubby, tightly-wound material from their recent album together, and climaxed in an outstanding version of Atkins's classic "Starlight."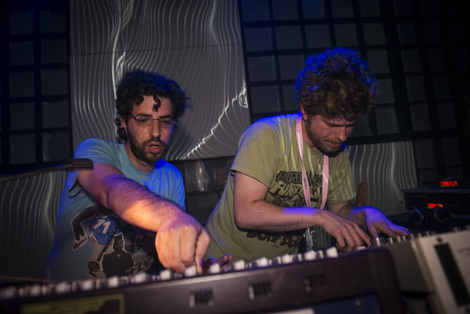 Juju & Jordash, photo by Caroline Hayeur
Finally, Juju & Jordash closed things out with their widely lauded live set, and the praise is absolutely worthy. It was heavy on jamming throughout, and the two were constantly making concerned gestures to each other behind stacks of unwieldy-looking gear. At one point, after thoroughly investigating their jacking house repertoire, the two launched into a lengthy breakdown of hand-drums and live melodica, which is pretty much impossible to coolly describe without sounding like a total hippie, but it was surely a highlight. It's been said before, but the duo are really masters at blending trippy atmospherics, live instrumentation, and house rhythms without ever noodling too much. There was hardly a better act to close out a festival so dedicated to live electronic performance.