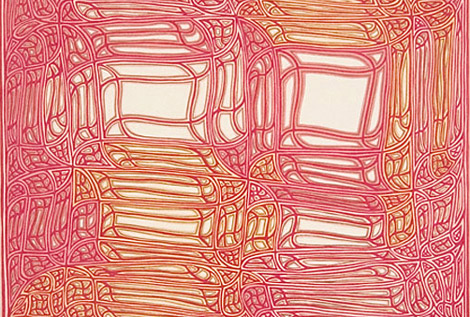 Artwork by James Siena
There's not yet a lot to tell about Moomin. The Berliner debuted in 2010, pairing with his friend Oskar Offermann for the well-regarded Hardmood/Joe McDaddy. Then earlier this year, there was his first solo record, Spare Time. As you'd hope, Sweet Sweet is a little bit different to both, foreshadowing the tone of his imminent album. The title track is fairly simple, banking heavily on repetitions of a central motif; a kind of resonant chiming, like a happier grandfather clock. Moomin carefully shifts this star player repeatedly through a filter, giving it plenty of room to shine by ignoring sharp percussive elements. Thus, woody snares and a powdery shaker make up the bedrock. The only thing left to compete for attention is the kick, its frequent stuttering imparting a jerky groove.
Audio clip: Adobe Flash Player (version 9 or above) is required to play this audio clip. Download the latest version here. You also need to have JavaScript enabled in your browser.
In completely discarding this rhythmic chiming, Oskar Offermann's remix of "Sweet Sweet" renders itself completely foreign to the original. This time, slightly acerbic hi-hats take the lead, an element of which he seems fond. Layering in vocals — exultant but hardly audible — and dramatic pad sweeps, Offermann slowly builds his version to a bridled peak. Last, "The Game" shares parallels with Julius Steinhoff's Out In the Woods EP. Most of the track is made up of gentle hi-hat sprays and blissful pads swirling round the spectrum. As with "Sweet Sweet," these form a central hook, but it's not so obvious and certainly not catchy. That's part of its appeal, though. An understated sense of confidence infuses the piece, expressed by — among other things — fine blasts of white-noise, probably inaudible away from headphones. Like Steinhoff, Moomin took his first steps cautiously, collaborating before moving ahead alone. Judging by this accomplished release, however, he need not have been so timid.