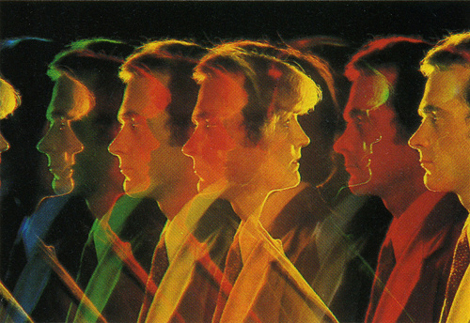 If you have a penchant for dance music, are over 21 and living in any moderately sized US city there is almost no avoiding nightclubs. They serve as the most likely environs to experience a DJ but often times they are venues ill suited for the music. Be it shitty sound systems, poor layouts or staff with attitude to spare, a bad club can ruin a great DJ's performance, but more importantly they counteract the whole reason for going out in the first place. Santiago Salazar's debut 12″ for Wallshaker Music takes the modern club owner to task for those very sins and more.
Audio clip: Adobe Flash Player (version 9 or above) is required to play this audio clip. Download the latest version here. You also need to have JavaScript enabled in your browser.
Up to now Salazar's limited solo work has been firmly focused on techno albeit with elements of house and Latin influences peaking through, but for "Your Club Went Hollywood" he lays his attack on the field most fitting the topic. Calling this commercial house would be missing the point, but with a healthy drum track intro this is begging for play in the very places it is criticizing. Like any wolf in sheep's clothing, what starts as just mere DJ fodder changes direction as the Rhodes keyboard line and flanged hi-hat pattern are joined by a voice listing all the dubious things about some club owner's venue: "$20 parking, $25 entry, $12 mixed drinks, bootleg photographers getting in my way of dancing." In other words "your club has gone Hollywood" and "the underground gonna put a stop to that." It's a UR-style statement but said so smoothly its force may be lost on clubgoers who are too busy digging on the corkscrew keyboard melody, rising strings and funk bass line to realize the irony.
Aaron Carl's remix doesn't alter the script much but introduces the melodic elements much earlier, adds a subtle acid line and doesn't give the full vocal as much play in its entirety. For the digital version an additional track is offered that shows off Salazar's more techno/house fluent side. "Chela's Groove" utilizes driving drum programming and a thick bass line played rapid-fire like Bootsy Collins on speed as a footing. But Salazar's ear for melody gets equal billing as moody minor chords intersect with shimmering, expansive keyboard lines. It has a much less produced feel but the raw emotion of the melodies comes through with soulful vibrancy. While "Your Club" will likely get more play, "Chela's Groove" won't be in need of an update in 2020 as inflation makes $12 mixed drinks sound like a bargain.