Photo by Dariowaty
Since 2003, the Unsound Festival has been about bringing the disparate impulses inherent in electronic music under one roof — a music event urging you to scratch your chin one minute and dance your ass off the next. Presenting itself like a film festival but booked like a forward-thinking summertime weekender, Unsound has consistently showcased brilliant and challenging new sounds without ripping them from their underground trappings. Any music festival as likely to feature Sunn 0))) as Zomby is sure to pique my interest, but by nature of it happening in Krakow, Poland, its ridiculously open bookings stood quite a bit out of my reach. New York City — its population overeducated, overstimulated, and relatively accepting of high-end dance music thanks in no small part to Beyond Booking's forward-thinking Bunker parties — always seemed like the perfect candidate for something like Unsound, and for a week in February 2010, my fair city got it. And not even a knock-off, either! The Unsound Festival New York brought a truly impressive and deliciously diverse line-up of electronic musicians — asking you to ponder, get down, or do both at once — to underground venues across Manhattan and Brooklyn. And I was lucky enough to trudge through New York's famous February weather to witness the festival on Little White Earbuds' behalf. (Very big ups are due to Gamall Awad of Backspin Promotions for making this possible.)
Before you commence living vicariously through me or skewering my apparent snub of your favorite electronic music subgenre, please allow me to offer this disclaimer on my coverage. Like most New Yorkers, I have a day job that doesn't stop for Ezekiel Honig. And one of the venues, Littlefield, in Brooklyn's quasi-apocalyptic Gowanus district, would have been nigh-on-impossible to get home from in the wee hours of a "school night" for a dude who doesn't own a car. (My sincerest apologies, Morgan Geist.) In the interest of staying sane enough and awake enough to fully appreciate the programming LWE's readers (and, I must admit, your correspondent) would take the greatest interest in, I had to streamline Unsound's programming somewhat to best suit our needs. If your musical interests and general stamina are anything like mine, my guess is you would have done the same.

A still from "Blowjob" by l_c_m_tt_
After my supremely special guest for the weekend, LWE editor-in-chief Steve Mizek, arrived from Chicago, my Unsound week began in earnest. We kicked off the festival on Friday, February 5, at the Film Society of Lincoln Center's Walter Reade Theater, to watch Carl Craig and nsi. perform live soundtracks for Andy Warhol's short films "Blowjob" and "Kiss." I'd been hearing whispers throughout the day that Tobias Freund's participation in the festival had been nixed, but Max Loderbauer could certainly have done much worse than snagging Sasu Ripatti to sit in for his visa complication-addled nsi. partner. I can't imagine the duo had much prep time, but I found the seasoned improvisers' impressionistic score for "Kiss" hitting plenty of the right notes. The piece, however, didn't seem to have much to do with the sloppy black-and-white making-out happening right above Loderbauer's and Ripatti's heads; indeed, about halfway through the short film, Loderbauer closed the laptop the duo was using to monitor the film and proceeded to just jam on keyboards and effects units to their hearts' content. C2, donning his finest mnml scarf and sipping daintily on red wine, was more in the business of soundtracking than the opening act. His score, filled with musical double-entendres befitting his tawdry material, wasn't necessarily any better than what preceded it, but I found it on the whole more engaging. Steve and I had known for months we'd be seeing Loderbauer and Ripatti later that weekend at the Moritz Von Oswald Trio's U.S. debut, but we'd been tipped off — by MVO himself, on LWE no less — that we'd be seeing Craig on stage once more that weekend as an honorary member of the Trio. The performance thus proved to be an auspicious beginning. But our night was hardly over.
After a dinner of artisanal tacos, Mexican Coke, and rampant dance music gossiping, Steve and I made our way to Public Assembly in Williamsburg, Brooklyn, for the first of three Unsound-affiliated Bunker parties. After head-nodding in the coat check line to Legowelt's supremely nerdy live set, we made our way into the club's dimly-lit back room, where Luke Hess was playing a tasty if same-y dub techno PA to a disconcertingly tiny group of dancers. The room began filling, though, as midnight — and the U.S. debut of Newworldaquarium –drew near. I don't normally get too jazzed about live sets, as a dude standing in front of his laptop generally loses my interest pretty quickly, but NWAQ's nearly two-hour performance was truly one of the most revelatory things I've ever witnessed in a club. Members of the now-packed dance floor were literally screaming in bliss as our protagonist dropped classic after classic — yes, he played a souped-up version of "Trespassers," and yes, we all almost died — at an impossibly loud volume. (Once again, Beyond Booking, kudos on maintaining perhaps the best soundsystem for house and techno in town.) NWAQ gave us a masterclass in letting just a few perfectly funky sounds do a whole lot of work, and hearing some of his best works in succession really brought out their subtle brilliance. Too exhausted and too blasé about the line-up for the next three hours to hang around for Ripatti's Uusitalo set (a very rare thing, and a tantalizing replacement for tobias.'s planned closing performancing), Steve and I and our ringing eardrums called it a night.
Saturday, February 6 paired another Warhol film with a new electronic soundtrack, this time one performed by musicians less associated with dance music and on a more epic scale. While Steve and I recovered, LWE correspondent Momo Araki ducked into (Le) Poisson Rouge in Manhattan and filed this report:
"Empire," in Andy Warhol's words, is a film to "see time go by" though twenty-four hours of continuous footage (compressed to eight screening hours) of the Empire State Building. It captures nonevents like blinking building lights to mark gradients of time. Though I was only able to catch about ninety minutes of Groupshow's eight-hour accompaniment to the film, with about thirty to fifty people cycling in and out of the show at any moment, some staying briefly, others ostensibly for its entirety, I thought of their set also as a nonevent. To be clear, this is not a criticism. It felt right to enjoy the intimate basement performance in a casual manner with the metropolis buzzing routinely above. The performance seemed more about circulation than destination. You enter, tune in, chill out, leave, get a sandwich, come back, and go home, all at your leisure. The players did the same: Jan Jelinek would leave his seat, and with his synths hibernating, Hanno Leichtmann and Andrew Pekler would strip down the sound to a rhythm section of drum pads and delayed electric guitar. When Jelinek returned, he'd drone things out, at which point Leichtmann would get up for a brief reprieve.  
Things might have been more formal and intense from the outset, or have intensified towards the culmination, but with "Empire" as their reference point, I wouldn't be surprised if Groupshow intended for, and executed, this casual pacing throughout the eight hours. To be clear, this wasn't about the sensory overload achieved by Warhol and the Velvets. Groupshow would sketch up a jam for about ten to fifteen minutes, cut it loose into the ether, and begin anew, much like their latest album. Formerly known as the Kosmischer Pitch live band, Jelinek, Pekler and Leichtmann last came to New York to perform Jelinek's material from the 2005 album of the same name. My friends reported it was like contemporized Krautrock; I didn't catch any motorik beat this time, but the band was definitely on form and abundant with musical ideas. With so many reference points to their sound, describing it is an exercise in futility (for those curious, a simple Googling will help); nonetheless, finally catching them live left me excited about their next moves. With the Moritz von Oswald Trio to lay down later that night in a musical style none too dissimilar from Groupshow, Saturday ended up a truly rich day for improvised electronics.
—
Steve and I joined Momo at (Le) Poisson Rouge later that evening for the aforementioned Moritz Von Oswald Trio performance, the event we'd been anticipating more than any other at Unsound. (A quick word for the designer sweater-wearing bro working LPR's coat check: if my hooded sweatshirt and pea coat are worn as one item and fit easily on one hanger, how can you sleep at night knowing you charged up the wazz for two items? I stuffed my hat in my coat pocket — why not just charge me for three? And promoters wonder why no one goes out in Manhattan anymore.) Apparently hundreds of others had been similarly set abuzz: after an opening performance of Ravel & Mussorgsky pieces (from which C2 and MVO crafted their 2008 Recomposed album) that honestly felt a bit distracting and patronizing — must electronic dance music be paired with classical music in order to take on an acceptable level of artistic seriousness? — the crowd waited anxiously for the stage to fill with the creators of last year's instant classic Vertical Ascent.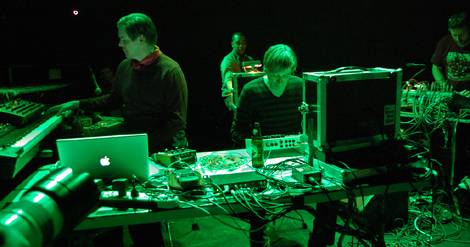 (L-R) Moritz Von Oswald, Max Loderbauer, Carl Craig and Francois K. Photo by Dariowaty
When Ripatti, Loderbauer, and MVO finally took their places behind mountains of gear, they were joined by C2 and Francois Kevorkian, the latter of which lent the group his legendary mixing skills. At the end of their performance, C2 grabbed a microphone and declared this particular MVOT performance to be "the best set" they've ever performed, and it's tough to imagine he's wrong. While lacking the floor-readiness of some of Vertical Ascent's most memorable moments, the personnel extracted genuine charisma and humanity out of a stageful of machines. Analog bleeps soared over boiling washes of dub and churning electro-acoustic rhythms, serving up what Momo elegantly described in an email afterwards as "a lush synthesis of modern music from the last thirty years." It was a supremely tough act to follow, and shit-hot New York producer Levon Vincent didn't necessarily try with his closing DJ set. He just did what he's best at — playing the nastiest, toughest house jams imaginable — and in the process coaxed a decent percentage of the crowd into a dance party. His set, encompassing plenty of deep, dirty cuts and such gems as Floating Points' "Vacuum Boogie" and his own "Six Figures," would have been the highlight of practically any other club night, and it left me and my friends with awesomely sore feet on Sunday. One epic weekend down, one editor back to Chicago, and one equally epic weekend to go.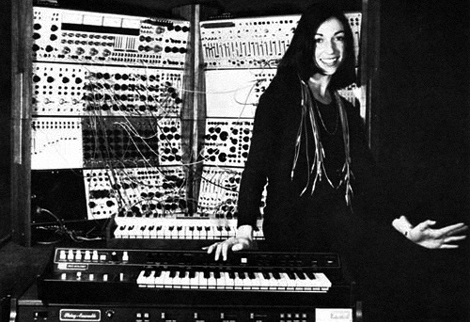 While I'd had Wednesday's experimental Silence and Noise showcase at LPR with Tim Hecker, Radian, and Mountains on my calendar, a sizeable blizzard kept me confined to my apartment. That left a program of electronic music documentaries on Monday, February 8, to hold down my weekday Unsound activities. My girlfriend recently gave me a copy of White Noise, the cult British electro-sleaze-pop record featuring BBC Radiophonic Workshop guru Delia Derbyshire, so I was thrilled to see the New York premiere of Kara Blake's "The Delian Mode" and learn a bit more about this enigmatic tape machine manipulator. Both that film and the documentary that followed it, Mika Taanila's "The Future Is Not What It Used To Be," about crazed Finnish computer guru Erkki Kurenniemi, suffered from too much style and too little substance. The Derbyshire documentary in particular glossed over tangible biographical details — critical for giving audiences more than an insinuation of her importance to contemporary electronic music — in favor of making a kind of filmic homage to her method and aesthetic. ("The Alchemists of Sound," a BBC documentary from 2003 available on YouTube, is more useful to anyone truly interested in her and her Radiophonic Workshop colleagues' work.)
Friday, February 12 brought on the second Bunker party, perhaps the one I was most excited for. It seemed that others might be suffering from club night overload. As I waited outside for my +1, I watched more than a handful of potential attendees step up to the door, grimace at the $30 cover, and wander off to someplace cheaper. I was almost compelled to intervene, to grab these Friday night revelers by the shoulders and explain to them that the legendary Anthony "Shake" Shakir, the brilliant Mike Huckaby, and the exciting underdog DJ Qu would be playing, and that such a lineup just might be priceless, but I felt for these folks. With the exchange rate, these Unsound Bunkers were more expensive than a Saturday night at Fabric; it'd be a lot to pay for a standalone night, let alone a night in a week packed sardine-like with them. So it goes. I made it in for the last half-hour or so of hometown headfuck practitioner and ever-opinionated Internet personality Eric Cloutier's opening set in the back room, and he mixed up just the sort of the painstakingly-curated smoothness for which he's gaining international renown.
Next up was DJ Qu, an Underground Quality member I've somehow never seen play out before. He was absolutely brilliant, playing a set of un-trainspottable stoner-house that just got better and better with every track. It was only in the last twenty minutes or so that I could drag myself into the front room for the final moments of Mike Huckaby's set. Huckaby's mixing was a touch rough and his track selection somewhat scattered, but dancers seemed to be having a good time. The real gem of the night, if not the whole festival, was Shake. Opening with a sublime string of poppy, vocal-laden Detroit house tracks, Shake cast his adoring crowd in multicolor, a feat awesomely at odds with the Bunker's signature low light. Obviously fatigued, the veteran flubbed some transitions and had to spend some time seated behind the booth as his set went on, but every single track he dropped was pure gold. And the guy's still got plenty of tricks up his sleeve. At one point, Shake dropped two copies Cooly G's "Narst Dub" on the decks and proceeded to extend the break and ingeniously cut up the beat structure for a number of minutes. He'd start one record a beat or two off and swap between both records with the cross-fader, creating a wild re-edit on the fly. I felt truly honored to witness this legend in action, especially when he busted out "Arise" — perhaps the most euphoric side on his Frictionalism retrospective — and damn near splattered our brains all over the walls.

2562. Photo by Kristopher Trolle
I went into Saturday, February 13, expecting to have to shift gears considerably. That night featured Unsound's big finale, Bass Mutations, a version of the dubstep party brought over from the festival's Krakow edition in collaboration with the Bunker. Given the power of Beyond's soundsystem and the relatively grimy, low-key confines of Public Assembly, my expectations were running extraordinarily high. The Bass Mutations forum earlier that day, in which a smattering of the night's performers opined on the state of bass music, had done much to excite me as well. I hadn't been expecting straight-up Croydon bass wobble — almost all of the artists on the evening' s bill are known for pushing the envelope — but I wasn't expecting the DJ's and producers on hand to nearly mutate the bass right out of their sound.
TRG, the Romanian producer best known for his work on Hessle Audio, hid his dubstep pedigree deep beneath layers of funky, tracky tech-house in his back room set. In the front room, Alka Rex's Konque project played a live set that took an extended meander into mid-decade minimal. Untold, spinning at peak-time, brought a violent, hyperactive vibe that seemed to exist beyond genre conventions — truly brilliant music with plenty of bass, but it was almost too manic and intense for me to stomach for extended stretches. My girlfriend lived in London from summer 2008 to summer 2009 and heard plenty of dubstep, but she said that these sounds bore almost no resemblance to the ghostly sounds she'd expected based on her time there. Something tells me that's exactly what these guys were going for. The night encapsulated a truly fascinating moment in this corner of dance music: the dubstep producers showcased are defining themselves by how far away they can get from dubstep. I can't wait to see where they settle, should they deign to settle at all.
After two weekends packed with parties soundtracked by the vanguard of dance music, I'm more than a little wiped. But I'm also as excited by this music — and New York's viability as a dance music town — as I've ever been. It's possible many festival attendees experienced an entirely different Unsound than I did, one in which harsh electronic experimentation and heady panels dominated. At Unsound, festivalgoers must choose their battles to some extent — maybe not what the festival's organizers, hellbent on crossing genres and listening experiences, had in mind, but a reality for anyone with a job and without a car. Whatever their intentions, the festival's curators (Beyond Booking especially) happened to assemble a handful of the best club nights I've come across anywhere. Here's hoping that Unsound decides to catch an international flight over from Krakow again next year.