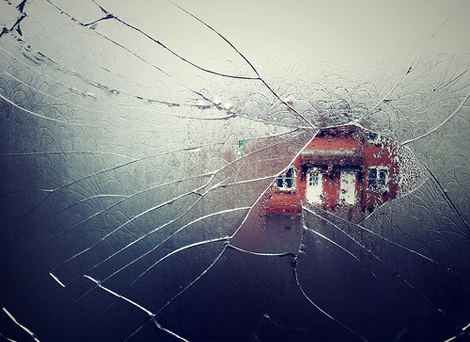 Shedding The Past was released in 2008, just months after Marcel Dettmann's landmark Berghain 02 CD, both on the label arm of Berghain. This, coupled with a brief mid-album statement on "true techno music" and the album highlight "That Beats Everything!" accidentally cemented René Pawlowitz as a torchbearer for the Berghain-styled techno that was starting to take over dance music. So when Shed stated a couple years later that when he buys 10 records "maybe one is techno," it caught many by surprise, especially since he also had unwittingly started a trend by bringing back stamped white labels, the de-facto design for techno labels ever since. While German techno has long been a theme in Shed's oeuvre, it's the country from which those nine other records hail that often lends the more potent influence. Though numerous 12″s under equally numerous names implied it, The Traveller made Shed's love of dubstep, jungle, and hardcore explicit, outshining the much-loved album that preceded it and providing as thorough a picture of "Shed music" as has existed up until this point.
Audio clip: Adobe Flash Player (version 9 or above) is required to play this audio clip. Download the latest version here. You also need to have JavaScript enabled in your browser.
The Killer, Shed's newest album, has usurped The Traveller as the most cogent document of "Shed music" to date, primarily due to its uniformity. Eschewing the nightmarish, masterful jungle and weirdo downbeats of the album's spectacular preview single, The Killer acts as a sweeping overview of Shed's sonic identity without delving too much into specifics. The grooves are mostly techno-based, and the melodies are instantly identifiable as the rave and hardcore motifs with which Pawlowitz imbues all of his work; but rather than darting feverishly through tempos and ideas as on The Traveller, The Killer is surprisingly homogenous (and according to him this is by design). The question is whether or not that's a good thing. It seems everyone wants something different out of Shed, something he attempts to address with his myriad aliases, so The Killer will undoubtedly leave some very satisfied and others hungry for more.
Regardless of what you want The Killer to be, it's undeniably strong and one of the best albums issued so far this year. "STP3" checks that you're listening in a way such that you can feel the bass weight, and once confirmed, "The Killer" gets things started with one of Shed's signature hazy, beatless rave tracks. "Silent Witness" and "I Come By Night" are pummeling warehouse tracks, while the mantra of "Day After," coupled with its elegiac melodies and stepping techno rhythms, is one of the record's standouts. "Phototype" is another clear highlight, perhaps one of the most immediately gratifying Shed has ever done, after which a short album version of "The Praetorian" provides a breather. The rest of the record, from the claustrophobic 303s of "Ride On" through the piano-led closer "Follow The Leader," tows the line closely with what preceded, but given the quality here there's hardly anything wrong with that.
Audio clip: Adobe Flash Player (version 9 or above) is required to play this audio clip. Download the latest version here. You also need to have JavaScript enabled in your browser.
In short, The Killer takes all of the sounds, melodies, and stylistic variants of The Traveller and distills them down into 45 minutes of Shed at his purest. Those who have placed Hard Wax orders mere hours after the posting of a new Head High, WK7, or Equalized record since 2010 will doubtless find something to love in The Killer, as will those new to Shed's music, dropping in to see what all the fuss is about. The crowd who might be disappointed are those always hoping for a return to Shedding The Past's true techno music, but then that was just a temporary stop in Shed's many travels. The Killer catches him looking in the rear-view mirror to surmise where he's been, but provides little in the way of shocks. For most, this would hardly be an issue, but for an artist as confounding as Shed, it seems a touch safe. But then, is safety really an issue if you can't stop replaying it?