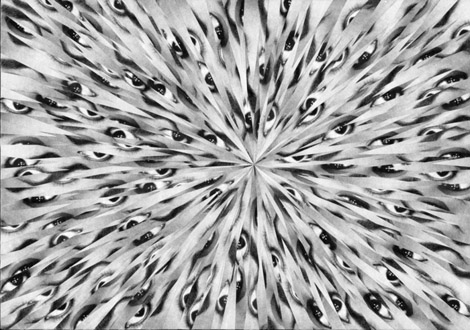 When LWE interviewed René Pawlowitz towards the end of 2010, he expressed disdain not only for the current state of techno, but for the ménage à trois arrangement it had found with dubstep and house. "Some dubstep guys can't make techno music…. The same way when house producers want to make dubstep, it's impossible," he proclaimed. It was — and continues to be — an ironic viewpoint. For many people, cross-pollination is vital to the continued advancement of all three schools, even if they diverge a touch along the way. You might even have a little laugh at Pawlowitz, were it not for the fact that his music so emphatically backs his words. Compare, however, his two widely acclaimed Shed albums with their contemporaries, and there is often a noticeable gap in imagination. Though generally more straightforward, his singles under the Wax and EQD monikers tell a similar story.
Audio clip: Adobe Flash Player (version 9 or above) is required to play this audio clip. Download the latest version here. You also need to have JavaScript enabled in your browser.
For The Praetorian/RQ-170, 50 Weapons talk of a "new side of Shed." Given that Pawlowitz's sound is as diverse as it is hard to label, this seems like hype. No matter, as both sides see him employing the same potent weapons as before: creativity and intricacy. The A-side, for instance, rests not on a 4/4 pulse or conventional broken beat. Imagine the muffled thump of someone pounding briskly on your front door. That's the repeated sequence which underpins "The Praetorian," an optimistic-sounding cut speckled with minute, dainty pricks of melody. That it achieves this mood at all is astounding, the rest of the palette being far harsher. Grinding like a halting train, the clap holds a half-time pattern, while grisly, quasi-acid gurgles shadow the underlying kicks.
On the other hand, "RQ-170" has been drained of all life, and sounds rather like something Adam X might concoct. (In particular, the Luminous Vapors LP springs to mind). This time, the beat is something akin to drum n' bass, only stripped down to tiny clicks. Micro-DnB, if you will. The rest of the track's considerable space is filled out by rhythmic noise and deep, eerie drones. In some respects, it's like any other piece of dark ambient, but the inexorable sense of movement and carefully sculpted sounds keep interest high throughout. Both tracks make it clear that Pawlowitz will continue to be taken seriously, even if his viewpoints are a tad radical.