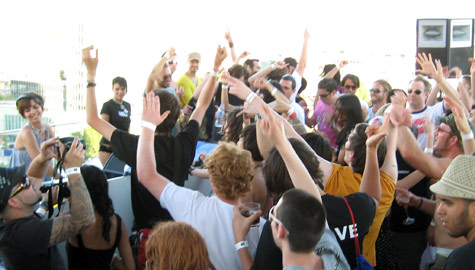 Anja Schneider slays the crowd. Photos by Nate DeYoung.
After a few days' rest, LWE's Nate DeYoung files his report:
In the Sonar coverage I've seen over the years, I never read too much between the lines -– the fact is that this is a festival built upon the principle of overwhelming you. Take a couple of sweat-drenched summer days, add four official stages which end only at sunrise, mix with dozens upon dozens of parties happening at night/day/roof/beach/club/bar/stadium and you'll find a recipe for letting go. And for my first Sonar, I let it wash over me. The only real decisions of the festival could be summed up with a short bullet point list: A. when to go to the next party B. when to eat and C. when to sleep. So with a hyper-saturated Sonar, it's safe to say that it's an experience where you drink as much as you can from a fire-hose. No matter how many favorite artists you catch, there'll be just as many you miss. In my case, big gaps are named Shackleton, Kalabrese and Loco Dice/Luciano -– but spoken without regret. For such a festival, there's no recap, just a highlight reel.

Claude Von Stroke was all smiles
Directly off the plane and taxied straight to the hotel Diagonal Barcelona for Mobilee's first roof-top party of the weekend, I caught the last hour or so of Radio Slave's set. Decked in a dripping inside-out Mickey Mouse shirt, Matt Edwards played his trademark hypnotic slow build techno. Sure, it was probably better suited for dark rooms than afternoon rooftops but Edwards had the good sense to finish up the set with a little sun-drenched house, spinning hit after hit 'til the staff pulled the plug. After the success of the party last year, Mobilee doubled up this year, hosting a second party the next afternoon/evening. Always graceful when DJing, Anja Schneider provided a nice set of simmering techno and Claude Van Stroke pounded away at an endless parade of minimal bangers. All told, the setting was hard to beat -– a gentle breeze, pool, and the 21st century homage to a dildo, the Agbar Tower, looming in the background.


The view from above
Architecture and space made a huge difference for parties. For Raum's Open Air at Velodrome de Horta, everything pretty damn underwhelming. The line-up of Cadenza, Desolat and Get Physical DJs looked like the best ticket of the weekend, but the cavernous space swallowed the music alive – both dance floors were sparse, devoid of energy or excitement. Thankfully, I got out before I became bitterly disappointed. On the other end of the spectrum the Innervisions Night party packed into BeCool's tight basement space. It might've been as dense as any dance floor at Sonar, muggy and full of cigarette smoke clouds, but it was impossible to not get sucked into Henrik Schwarz's set immediately. Same went for Resident Advisor's Night at the tiny Macarena club -– Dan Bell played a great set to a crowd jumping in the back, spilling drinks in the front. Smaller venues all seemed to have a bigger sweet spot for a proverbial hit.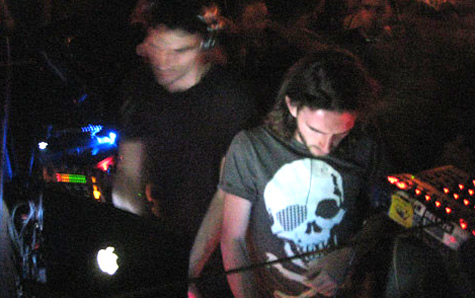 Martyn and Conforce at RA's party
The programming for the official Sonar events was varied enough to experience as a nice potpourri. How about this for an example — when M_nus launched to its latest victims of the Cube, Mala was dropping bass, Roisin Murphy was playing a deranged pop-superstar and Justice were lighting up their stack of Marshall speakers. A little schizoid, but it was hard to be disappointed with anything for too long. Probably my favorite Sonar line-up was the D*I*R*T*Y crew of Pilooski, Discodeine and Dirty Soundsystem picking up a crowd that had hitherto been content to just laze around.

Pilooski's set was smoking
Thankfully, there was little pretension (*cough* outside of the cube *cough*) to get in the way of fun at Sonar — artists mingled around in crowds like fans and shit-eating grins were infectious. For a festival so overloaded, so full of missed shows and connections, my only regret was leaving too early. Some friendly advice to future Sonar attendees: make sure to stay until Monday to soak it all in.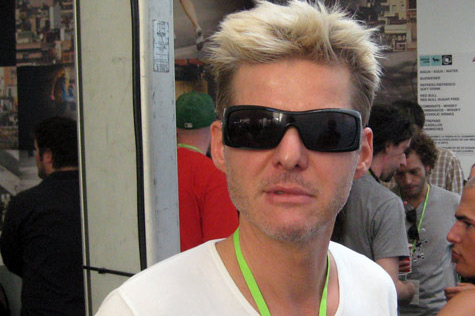 Wolfgang Voigt ain't no one to fuck with!