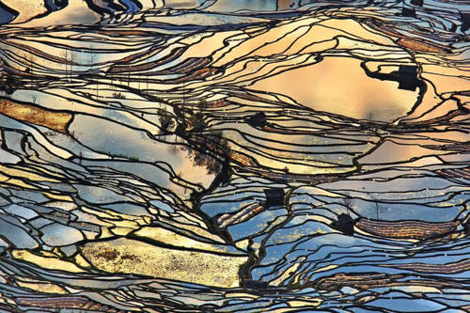 Here's a fun surprise: right after I reviewed the Vladislav Delay Quartet LP a couple weeks ago, a brand new Vladislav Delay 12″ appears on Boomkat and Hardwax. Adding to the surprises is a remix from Ricardo Villalobos and Max Loderbauer, as well as its release on Echocord. I've long associated Echocord with a certain strain of dub techno, and to see Vladislav Delay's name appear on the label is quite odd indeed, given his own abandonment of dub techno almost a decade ago. However, with the foundation of the quartet, Sasu Ripatti has seen fit to return the Vladislav Delay moniker to pure electronic experiments while letting the quartet continue on the path mapped out by Tummaa. The Latoma EP, then, constitutes a pretty sharp left turn for both record label and artist, and a pretty stellar one at that.
Audio clip: Adobe Flash Player (version 9 or above) is required to play this audio clip. Download the latest version here. You also need to have JavaScript enabled in your browser.
"Latoma" begins with a tangle of submerged electronics, but a steady, slow kick drum soon pummels its way through with cavernous bass rubs in tow, recalling to some degree Andy Stott's recent work. Sounds continue to be piled on and snarled further, slowly melding together into a melodic whole, while a snare drum beats away tirelessly in its attempt to make the whole thing seem a lot faster than it actually is. "Korpi" is more typical of previous Vladislav Delay experiments in broken time signatures, with Ripatti's warped rhythmic sense the star attraction. It builds in a way most techno releases simply wish they could, with each unstable release of low frequencies ratcheting up the tension to delirious effect.
The A-side of the record is certainly an imposing side to follow, but the dream team of Ricardo Villalobos and Max Loderbauer are drafted in to create a remix that is almost as good. Their version is an extended trip into "Latoma'"s source material, manipulated and warped by whatever diabolical machines exist in the deepest corners of Schneiders Büro, and guided by Villalobos' heady, thumping beat. Loderbauer's modular systems cut through frequency space in wide chunks, providing brief, fleeting moments of levity amid a sea of undulating sounds. We all know what its like to watch as scenes drip down into the increasingly-consensus-driven mire (some would argue that's where Villalobos himself has been the past couple of years), and that makes music that is unafraid to be challenging all the more precious. Latoma is well deserving of this status, and it sees three of electronic music's most noteworthy figures in top form.