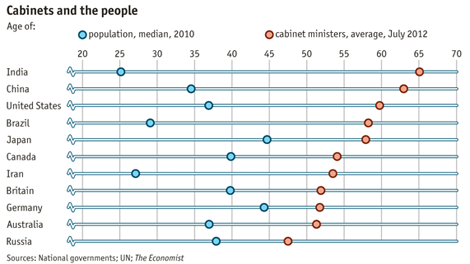 Chart courtesy of The Economist
01. Policy, "One Last Time"
[Rush Hour Recordings] (buy)

One way to look at Rush Hour's Direct Current series is as an incubator for emerging talents, a safe place to release unbashedly creative dance music without having to gel with Rush Hour's standard fare. New York's Francis Hsueh, known to the world as Policy, first debuted in 2011 on RHDC with the clever Specialty Party, and has already made the leap out of RHDC onto the main label with only his second ever single. It doesn't take long to understand why he was given the opportunity. "One Last Time" maintains the spectral elegance of its predecessor but straighten things out a bit, thereby shedding some of the comparisons to Burial's ephemeral music. In return the tune gets a renewed focus on its central motif, a bittersweet, jittering riff that leaves trails — a glittering firework without the boom. In fact the whole tune is light as slightly humid air, aided by intensely detailed dots of percussion and pitched up vocals that still feel fairly natural. The only thing keeping it from floating away is a delectable walking bass line, articulated as if played live on a bass guitar with serious verve. So as the vocals repeat, "It's just me and you," you could easily take "One Last Time" as your theme song, your source of determination and steel. Or, in more sentimental occasions, it seems to signal a contentedness that's fleeting and must be treasured. Regardless what you feel, Policy's latest is sure to have you feeling something that will have you coming back for repeated spins. And with a Rush Hour-released album on the way, there's a good chance we'll all have a lot more Policy on the mind.
Audio clip: Adobe Flash Player (version 9 or above) is required to play this audio clip. Download the latest version here. You also need to have JavaScript enabled in your browser.
02. Storm Queen, "Let's Make Mistakes"
[Environ] (buy)


With only three singles spread across three years, Morgan Geist and his vocalist Damon C. Scott have developed what feels like a complete sonic identity for the Storm Queen alias. Its warm, vintage house sound dates back to when Geist was first releasing dance music, albeit much more in a techno vein. Its 2010 debut neatly beat the 90s house revival by two years, delivering two singles whose old school melodic hooks and eminently singable lyrics have earned the affection of many new admirers for Geist. The third Storm Queen single, "Let's Make Mistakes," completes a trilogy of catchy, well written house singles while continuing to bend the moniker's sound. Slower than its predecessors, it finds Scott's vocals draped across the effervescent synths and bolstered by solid organ chords. But what makes it special is how well they work together: the instrumental is playful and full of details during the verses and shorn to just the purring bass line and Scott's velvet vocals making hay of "Hey hey hey hey!" By continuing to tweak the Storm Queen sound, Geist proves it's more versatile than it first lets on, suggesting that it has longer legs than a handful of singles.
Audio clip: Adobe Flash Player (version 9 or above) is required to play this audio clip. Download the latest version here. You also need to have JavaScript enabled in your browser.
03. Lauer, "Boringtone"
[Running Back] (buy)


There was a lot to like about Phillip Lauer's debut album, Philips, a fact that made it loveable and too much all at once. Opening a deluge of melodies across its 12 tracks, by the end it kind of felt like you were drowning in too much of a good thing. Impressively, Lauer saved two of the best tracks for the B-side of the "Tentatious" remix single, "Boringtone" being one of them. Undoubtedly the laid-back cut of the pair, it nonetheless defies its name and beckons for your attention. Comfortable as a swaying hammock, Lauer lays out a plush, organic house groove paved with rising piano chords, marked out by varied snare hits, and fanned by pulsing string progressions. "Boringtone" has an understated charm despite its nuanced production, like an old friend who knows what little needs to be said to make you smile. Including remixes by Runaway and I:Cube, the whole EP is one of best records Running Back has released this year.
Audio clip: Adobe Flash Player (version 9 or above) is required to play this audio clip. Download the latest version here. You also need to have JavaScript enabled in your browser.
04. The Mole, "Hippy Speedball"
[Ostgut Ton] (buy)


Colin de la Plante can work a groove forever and keep it interesting, a rare producer whose DJ tools are often more satisfying than others' opuses. It's something he's proven time and time again as The Mole, most memorably on "Baby You're The One" through to 2010's "Nervous Disid," and now with his contribution to the Panorama Bar 04 exclusives comp. It's a formula he executes so well: punch out a rising, bass line (rimmed with acid), build up a heady mixture of hand percussion and slicing hi-hats, garnish with a blushing organ chord, and let it stir over seven minutes. There's not much in the way of development; instead, different elements rise to the fore, get turned over and filtered and then disappear behind others as something else takes its place. Dancers won't tire of these changes in focus because everything sounds so damn good; DJs can mix in or out at will, knowing its linear nature won't throw a wrench in their plans. If more producers made tracks like this, "tools" would be as valuable in DJs' bags as the spare underwear tucked in in the side pocket.
Audio clip: Adobe Flash Player (version 9 or above) is required to play this audio clip. Download the latest version here. You also need to have JavaScript enabled in your browser.
05. Dara, "Scribble Me This"
[Kleine Reise Records] (buy)


This last one flies in from left field, having been released back in April (but just discovered by myself recently, whoops) on a brand new label by artists I've never heard of. Apparently the first fruit from the label arm of Berlin's Kleine Reise club, KR Family EP: Vol. 1 offers a bumpy, esoteric sound that's just as comfortable around guitars as MPCs. The standout is Dara Drea O'Neill's "Scribble Me This," a tune that could have been salvaged from a slightly melted 80s demo tape if not for the clear fidelity. With a heavy accent on its downbeat and more notes than pitches, Dara's main groove is punchy in a nonchalant way, something you nod along to subconsciously. Which is good, because it's with listeners throughout most of the tune, accompanying a punch drunk vocal that's bluesy in its articulation and smile-inducing in the cheerful melodies it tracks. There are breezy woodwinds wafting in and a solid snare/kick pulse, but the appeal of "Scribble" is how the seemingly incongruous main elements play off each other. It's pliable like a day with no plans, that starts in the afternoon and seems ripe for some mild mischief. Dig out that bag of weed stuck in the back of your sock drawer, pour a summer shandy (or radler, it's all good), and let this wash over you as both enter the blood stream. It's going to be a good day, whenever you get around to it.
Audio clip: Adobe Flash Player (version 9 or above) is required to play this audio clip. Download the latest version here. You also need to have JavaScript enabled in your browser.
06. Cooly G, "Come Into My Room" [Hyperdub] (buy)
07. Nor'Easter, "Tri-State" [The Corner] (buy)
08. D'Marc Cantu, "Green Bike Seat"
[M>O>S/Delsin] (buy)
09. Juju & Jordash, "Jewsex" [Golf Channel Recordings] (buy)
10. Leon Vynehall, "Golden Language" [ManMakeMusic] (buy)
Staff Charts
Steve Kerr
01. Nguzunguzu, "Smoke Alarm" [Hippos In Tanks]
02. Wavy Spice, "Bitch I'm Posh" [self released]
03. Lone, "Lying In The Reeds" [R&S Records]
04. Trance Yo Lie, "Cosa C'e' Sotto?" [Wania]
05. Howard Thomas, "Eradicate Me" [Fit]
06. Tr-One, "Living In, Now" [POGO Recordings]
07. Aster, "Danza" (Ital's Remix) [Hivern Disc]
08. Austin Cesear, "Cloud Hall" [Public Information]
09. John Roberts, "Crushing Shells" [Dial]
10. Nick Sinna, "Voyager" (James T. Cotton Remix) [Prime Numbers]
Kuri Kondrak
01. Transilvanian Galaxi, "You Have Always Been The Caretaker"
[Acido Records]
02. Tr-One, "Living In, Now" [POGO Recordings]
03. Amir Alexander, "Dark Dirt" [Argot]
04. Carlos Nilmmns, "Impressions" [4 Lux]
05. Max D, "Orgies Of The Hemp Eaters" [Future Times]
06. Psychic Mirrors, "I Come For Your Love (Feat. Cecilia De Cárdenas)" [Cosmic Chronic]
07. Deepside, "French" [Fnac Music Dance Division]
08. Huerco S., "Bypass" [Wicked Bass]
09. Symbols & Instruments, "Mood" (Optimystic Mix) [KMS]
10. Lone, "Dream Girl/Sky Surfer" [R&S Records]
Chris Miller
01. Schweiz Rec., "Untitled B1" [Workshop]
02. Transilvanian Galaxi, "You Have Always Been The Caretaker" [Acido]
03. Bruno Spoerri, "Fragen An Den Computer" [Dead-Cert]
04. Austin Cesear, "The Groove" [Public Information]
05. Theo Parrish, "Any Other Styles" [Sound Signature]
06. Pépé Bradock, "Hello!" [Atavisme]
07. Terre Thaemlitz, "Rosary Novena For Gender Transitioning (Homosexual Spirits)" [Comatonse]
08. Anworth Kirk, "Shacklecross" [Pre-Cert Home Entertainment]
09. Joy O & Boddika, "Nil (Reece)" [Sunklo]
10. Christian Cosmos, "And Some Birds Came And Devoured Them"
[Hospital Productions]
Brandon Wilner
01. Smallpeople, "Move With Your Vision" [Smallville Records]
02. Les Sins, "Fetch" [Jiaolong]
03. Moomin, "Beautiful As You Are" [Aim]
04. Bipolardepth, "Jogger (Feat. E.vorobyov)" [Udacha]
05. Delta Funktionen, "Utopia" [Delsin]
06. Sensate Focus, "X" [Sensate Focus]
07. John Roberts, "Crushing Shells" [Dial]
08. Austin Cesear, "Shut In" [Public Information]
09. Teengirl Fantasy, "Motif" [R&S Records]
10. Borrowed Identity, "Faith" [Foul & Sunk]