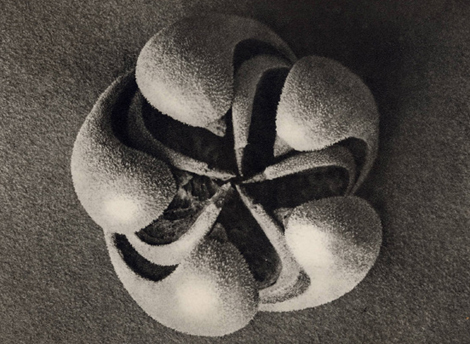 Karl Blossfeldt's "Blumernbachia hieronymi Loasaceae" (1932)
[Hyperdub]
As much as an image is capable of encapsulating a moment in time — telling you who, what, when, and sometimes how — its limits leave viewers to fill in the rest of the details. What lies outside the frame goes unacknowledged; why the moment played out like it did and how its actors responded goes unsaid. Many artists face a similar struggle when trying to express themselves: how do you capture the totality of a situation in a way that's compelling to the audience within the constraints of the medium? A common solution, especially among musicians, is to boil things down to a single, manageable idea or feeling. Although there are benefits in letting the audience wonder about the context, it can leave the art feeling stuck at surface level.
Audio clip: Adobe Flash Player (version 9 or above) is required to play this audio clip. Download the latest version here. You also need to have JavaScript enabled in your browser.
Merissa Campbell, the South London-based producer known as Cooly G, hinted at her ability to enmesh those contextual details into the few singles she's released since being discovered by Hyperdub in 2009. These weren't overt references, mind — she describes her approach to making music as "just vibes from the heart" — but they could be found in the interplay between her self-sourced vocals and their musical underpinnings, particularly on "Love Dub" and "Up In My Head." Unlike their grime-influenced flipsides, these songs bore an obvious emotional weight in the melancholic motifs sighing beneath her succinct yet insightful lyrics. On her long-awaited debut album, Playin Me, Campbell harnesses her talents to convey the complexity of the moments inspiring her tunes.
At the root of her elaborate sentiments is an aesthetic that's equally multifarious — a style she's been honing since her preteen years spent learning to utilize her father's home studio. Campbell melts house, garage, R&B, UK funky, and downtempo signifiers over the dub reggae she was raised on to form a 21st-century dub hybrid, the singular nature of which becomes clear on Playin Me. It's an album that bends to meet each of the 13 tracks' themes and moods without splintering into poorly executed genre exercises. Her voice, at turns sultry or swaggering, deadpan or keening, is the glue that affords her sound its coherence. While often recorded with a thinness that seems to reveal the humbleness of her self production, her vocals are often wrapped in harmonizing layers around the instrumentals in an invitingly intimate way. And when let loose on autobiographical lyrics of seduction, struggle, betrayal, and heartbreak, the affective power of her pipes is never in doubt.
Audio clip: Adobe Flash Player (version 9 or above) is required to play this audio clip. Download the latest version here. You also need to have JavaScript enabled in your browser.
Admittedly, Campbell is not yet a stellar lyricist, opting for conversational, earnest lines that wear repetition well. But more importantly, she's aware of which musical themes communicate the depth of the sentiments she's singing and evoke mixed emotions. Both the tense, subtly stuttering tones swelling up from "Good Times" and the sad, skanking beat slinking through "Sunshine" foster cognitive dissonance when taken with her cooed come-ons and moaned refrains, suggesting uncertainty and regret. "Come Into My Room" may have the twinkling piano licks and sustained strings of a 90s garage tune, but the tones they hit, hovering without kicking into gear, are more tearful than the suggestive lyrics put forth. The album's title track is its centerpiece as well, a sizzling call and response tune that erupts into angry synth stabs as things get serious. There are more optimistic moments as well, like the nostalgic, guitar-laced "He Said I Said" and the extensively reworked "Up In My Head," all hopeful, glistening synths and almost giddy vocals. Yet overall Playin Me documents a wounded Campbell taking stock of frustration and heartbreak.
Given that Campbell's discography is fairly evenly split between slamming, percussion-focused tracks and deeper, more melodic cuts, one might expect this emotionally fraught narrative to play out in a tougher, more explosive manner. Playin Me is instead largely a demure LP, keeping to sturdy but often unimposing drum programming while maintaining a physical resonance through smart dollops of sub-bass. The haunting "Good Times" and "Come Into My Room" forgo percussion almost completely, leaving a single, thoughtfully chosen pattern to keep things in place. Kicks and snares stalk the sidelines of "What This World Needs Now" and the Sinbad-featuring "Landscapes," rattle in the gloomy space of "Sunshine," and cascade across the back of the swollen "Trying." Even her affecting cover of Coldplay's "Trouble" is alluringly restrained, drums dripping down the side of the updated, piano-studded ballad.
Audio clip: Adobe Flash Player (version 9 or above) is required to play this audio clip. Download the latest version here. You also need to have JavaScript enabled in your browser.
As the narrative turns at "Playin Me" the album grows more percussive, culminating in the blinding tribal patterns of "It's Serious," featuring Karizma, and the dystopian thump of "Is It Gone." When the LP closes on the lighthearted "Up In My Head" listeners can sigh with relief that there's hope at the end of her tale. Having borne witness to Merissa Campbell's vividly portrayed struggle and the conflicted melodic expressions of her reactions, it's hard not to feel an affinity for the stunningly talented artist who captured it so wholly on Playin Me.