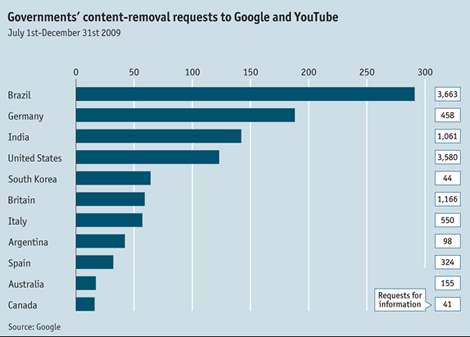 Chart courtesy of The Economist
01. Dexter, "Junofest" [Rush Hour Recordings] (buy)

So far Dexter's 2010 output has only gotten better with each release as his Redbox EP for Steffi's Dolly imprint (a sub-label of his Klakson) was soon followed by the even better remix of Midland's "Play The Game." To these ears he's managed to top himself again with the Not The Only One EP for Rush Hour Recordings. The title track and its instrumental dub are both incredibly catchy but the cut I keep returning to is their close cousin, "Junofest." Swells of aquamarine synth chords rush along the contours of the swinging beat, each proptly answered by a multihued retort of Juno bass in a call and response fashion. Slightly raving synth pitches seethe through any open spaces, providing a bed of shifting texture that steps to the fore during the build up and breakdowns. Simple yet sophisticated, accessible without being cheesy, it's exceptional for most producers and par for the course for this talented Dutchman. Here's hoping the level of quality only continues to grow and fill his forthcoming debut album.
Audio clip: Adobe Flash Player (version 9 or above) is required to play this audio clip. Download the latest version here. You also need to have JavaScript enabled in your browser.
02. Stefan Goldmann, "The Maze" (Part 1)
[Macro] (buy)

For a producer with such an experimental bent, Stefan Goldmann's tracks are almost always at home in the club and make as much sense arriving on Cocoon as Mule Electronic or his own Macro imprint. His combined mastery of conceptual execution and dance floor utilty are in fine form on The Maze, his latest for Macro. White all three of its sections are cut from the same singed cloth, "Part 1" is the most straightforward and useful for DJs. From a restrained base of clipped kicks and hats and (what seems like) sharp guitar licks erupts a volcano of modular synth strains that sizzle like aural magma. Sometimes Goldmann fires off complementary torrents, othertimes he lets it boil over the edge and melt everything around it, relishing the squeals and groans of the abused synth. Occasionally abrasive and always coursing with energy, "The Maze" is nearly impossible to ignore and quite likely to whip dancers into a frothy, heaving mass.
Audio clip: Adobe Flash Player (version 9 or above) is required to play this audio clip. Download the latest version here. You also need to have JavaScript enabled in your browser.
03. Sebastien San ft. Aaron-Carl, "Faces"
[Room With A View] (buy)


Considering his instrumentally focused work for Echocord Colour, Figure SPC, Rush Hour and Planet E, I was somewhat surprised to find Sebastien San had invited a vocalist to spice up his latest release. Yet the French producer chose well, asking Detroit's late, reigning male diva, Aaron-Carl, to lend his considerable talents to his Faces EP for Room With A View. This unexpected pairing yields some quite wonderful results: "Faces" sounds like Carl Craig creating a trilling, undulating techno throne from which AC sings about his long career and the pursuit to "keep me amazed." However, I tend to gravitate towards the "Other" mix which thickens the synth lines to hug tightly to Aaron-Carl's vocals, augmented by buzzing upper registers, lending them even more heft. This world-weary anthem in waiting is a fitting reminder of Sebastien San's versatility and Aaron-Carl's vocal genius — especially in light of the latter's recent and untimely passing from lymphoma. He was one of Detroit's greats and a friend of LWE. Our thoughts are with his loved ones.
Audio clip: Adobe Flash Player (version 9 or above) is required to play this audio clip. Download the latest version here. You also need to have JavaScript enabled in your browser.
04. Gabriel Ananda, "Serengeti" [Sportclub] (buy)


Considering how quickly dance music audiences and selectors tire of popular artists it's not entirely surprising Gabriel Ananda is no longer running at the front of the pack. But while the author of the once inescapable "Doppelwhipper" and the well liked Bambusbeats LP has fallen from the tip of tastemaking tongues (and coincidentally slowed his pace of releases), his knack for writing catchy techno tracks hasn't abandoned him as easily. Take for example "Serengeti," his contribution to the second of Sportclub's five year anniversary samplers, the vinyl for which is sadly only available on Decks.de. Reliant largely on a low, gritty synth line that creates friction as its long legs stride through unfussy percussion, Ananda waits until the second minute to let the progression reveal melodic variations. It catches you off guard with how catchy and simple it is, a sensation made even more accute when breezy pads and arpeggios add to the dreamy, half-remembered mood. If Ananda can get away with stowing such a fantastic track on a sampler EP, it's only a matter of time until he's back on our radars again.
Audio clip: Adobe Flash Player (version 9 or above) is required to play this audio clip. Download the latest version here. You also need to have JavaScript enabled in your browser.
05. Tomson & Benedict, "Rainy Things"
[Freerange Records] (buy)


I'm thankful Freerange Records seems content to release well produced music that holds up over time rather than going along whatever the trends dictate. A more fad-conscious label might have hesitated to sign a single like Rainy Things, the debut single from Manchester's Tomson & Benedict, because frankly it has a lot in common with the colorful tech-house prevalent in 2007. In the case of "Rainy Things" this is actually quite refreshing — an engaging glide through kaleidoscoping arpeggios that dart up and down the register like graceful dancers. Complemented by soothing counterpoint pads and assertive, Juno-like bass notes, the track builds to a peak of pulsating ostinato strings that recall Tiger Stripes and Âme in the same breath. Rather than sounding out of touch, Tomson & Benedict sweep up audiences in familiar motifs that prove relevant and enduring, even if it does have me a little nostalgic. They've even planned for the grumpy novelty addicts with the "Telepathy Dub," which sounds like an Agnès remix — always a good thing in my book. What will be the most interesting is where the duo goes after this fortuitous start.
Audio clip: Adobe Flash Player (version 9 or above) is required to play this audio clip. Download the latest version here. You also need to have JavaScript enabled in your browser.
06. Jichael Mackson, "Sugar Hill Mountain"
[Musique Risquée] (buy)
07. NDF, "Since We Last Met" [DFA] (buy)
08. Barker & Baumbecker, "Candyflip"
[Ostgut Ton] (buy)
09. Matthew Dear, "Little People (Black City)" [Ghostly International] (buy)
10. Terrance McDonald, "Mind Over Matter"
[M>O>S Deep] (buy)

Staff Charts:
Chris Burkhalter
01. Pinch, "The Boxer" [Tectonic]
02. Moody, "It's 2 Late 4 U And Me" [KDJ]
03. Commix, "Be True" (Burial Remix) [Metalheadz]
04. LD, "Mastermind" [Soul Jazz]
05. Duplex, "AM Death" [Field]
06. DJ Rum, "St. Martins" [On The Edge]
07. Cosmic Metal Mother, "Rat's Poem" (Prins Thomas Miks) [Panacustica]
08. Ibex, "My Mojo" [Yore]
09. Anodyne, "Corrosion (Bitten By The Black Dog)" [Psychonavigation]
10. Nacho Marco & Raoul Lambert, "Delicate" [We Play House]
Luke Hawkins
01. STL, "Seductive Temptation" [Something]
02. Marcello Napoletano, "This Movement Must Be The Start" [Mathematics]
03. Ø, "Kuvio" [Sahko]
04. Audio Atlas, "Alaska" [Mathematics]
05. Aaron-Carl, "Crucified" (XDB Edit) [Millions of Moments]
06. Emmanuel Jal, "Kuar" (Olaf Dreijer Remix) [Innervisions]
07. Roof Light, "Midas" [Millions of Moments]
08. Northworks, "Through" [Millions of Moments]
09. Giorgio Gigli, "Interneurons" [Electronica Romana]
10. Erosion, "3" [Chain Reaction]
Anton Kipfel
01. Chicago Skyway, "Resolution M" [Uzuri]
02. Oskar Offermann & Moomin, "Joe MacDaddy" [Aim]
03. Skudge, "Overture" [Skudge]
04. Axel Boman, "Purple Drank" [Pampa Records]
05. Portable, "Find Me" [Perlon]
06. Kassem Mosse, "We Speak To Those" [Nonplus+]
07. Jichael Mackson, "Sugar Hill Mountain" [Musique Risquée]
08. Aaron-Carl, "Crucified" (XBD Edit) [Millions Of Moments]
09. Azari & III, "Indigo" [Turbo]
10. Nick Turner, "Out Of Your Love" [Trendy Mullet]
Chris Miller
01. Harmony Funk, "Can't Let You Go" [Clone Jack For Daze]
02. Ace and the Sandman, "Let Your Body Talk" [Trax]
03. John Roberts, "Navy Blue" [Dial]
04. Portable, "Find Me" [Perlon]
05. Matthew Dear, "Slowdance" [Ghostly International]
06. Terrance McDonald, "Mind Over Matter" (New Mix) [M>O>S Deep]
07. A Made Up Sound, "Extra Time" [AMUS]
08. 2400 Operator, "Footsteps" [Underground Quality]
09. Addison Groove, "Sexual" [white]
10. Kassem Mosse, "We Speak To Those" [Nonplus+]
Andrew Ryce
01. Discreet Unit, "Shake Your Body Down" [Prime Numbers]
02. Arkist, "Out of the Sun" [Deca Rhythm]
03. Skudge, "Convolution" (Marcel Fengler Remix) [Skudge]
04. A Made Up Sound, "Demons" [AMUS]
05. Downliners Sekt, "Selfish G" [Disboot]
06. Brendon Moeller, "Close Up" [Ann Aimee]
07. Damu, "Mermaid" [Local Action]
08. Barker & Baumecker, "Candyflip" [Ostgut Ton]
09. Raffertie, "Rank Functions" [Super]
10. Phaeleh, "Afterglow" [Afterglo]
Colin Shields
01. Mike Dehnert, "Biface" [Fachwerk]
02. Victoria Wilson James, "Through (Drop Deep Dub)" [Epic]
03. John Roberts, "Ever or Not" [Dial]
04. Candi Staton, "Evidence" (Pépé Bradock Reconstruction A Rebrousse Temps) [Honest Jon's]
05. Mr Fingers, "Stars" [Alleviate]
06. Omega II, "Sonic Boom" (Delorian Mix) [Debonaire Records]
07. Daniel Wang, "Like Some Dream" [Balihu]
08. Chicago Skyway, "Resolution M" [Uzuri]
09. A Made Up Sound, "Demons" [AMUS]
10. Joi Cardwell, "Goodbye" (Victor Simonelli New Vocal Mix) [Eightball Records]