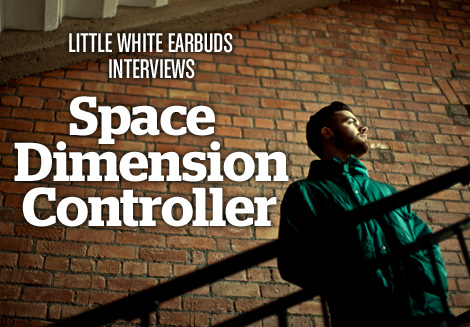 The concept of album anticipation is often lost on electronic music. Because singles generally suffice and no one seems all that concerned with subscribing to the album-a-year industry standards that guide most other realms of music, a buzz just isn't something that's built. Unless you're describing Space Dimension Controller, in which case buzz doesn't even really begin to do justice. If it seems as if the Belfast producer's — real name Jack Hamill — entire career has been building towards his first proper full-length, Welcome To Mikrosector-50, that's because it has, largely by his own construct. All the ingredients for proper hype are present: In his early 20s, Hamill still fits under that "promising young talent" umbrella. Yet he's already filled his catalog with a glut of classic material, most released on the canonical R&S. And his previous release, Pathway To Tiraquon 6, was actually billed as a "prequel" to Mikrosector-50, a signifier that is only present because of cinematic frame in which he's boxed himself into, one which concludes with the LP, an honest-to-god electronic concept album. With the feature presentation finally dropping next week, LWE interviewed Hamill via email about his interplanetary outlook.
I noticed that with Welcome To Mikrosector-50, like The Pathway To Tiraquon 6 before it, opens with a track titled "Feature Presentation" and closes with "Closing Titles." Can you speak on your decision to frame your work like a film?
Jack Hamill: Well, the album itself sort of plays like a film as it is, with each track as a chapter and the little scenes in between. I wanted to have the intros and outros of the album like the credits music. Although The Pathway to Tiraquon6 wasn't as conceptual or cinematic as this album, I used the same idea on that to kind of get the idea across as a set-up to the proper album.
I guess there's a couple ways to pose this next question, but when you're in the process of producing the album, do the scenes play out in your head? Like, you think here he's entering the club, we need a club song with "Rising"? Or do you just produce and then assign the tracks to the specific circumstances after the fact?
I definitely have the scenes in my head, that's how I come up with the titles. For this album and the prequel I came up with the tracklist first, built the story around them and then made each track (most of the time) in order.
This album feels a little more unilateral than past efforts, like you've mainly stuck to a singular aesthetic style as opposed to jumping genres. On Pathways at least, you moved from D&B to hard-nosed techno to ambient. Was this more singular vision here done intentionally?
Yeah, more or less. The reason Pathway was a bit more all over the place was because the story was a bit more chaotic too. Also, Mr. 8040 wasn't in the story, so that's why it wasn't as funky.
I've read an interview where you mention 80s disco and electro as being major influences on your sound, but listening to Mikrosector, the most prevalent reference point I could come up with was 80s and early 90s R&B, in particular New Edition and Jodeci sprang to mind. Any kinship with that particular era of music?
I have one New Edition song, I can't remember the name of it though. Jodeci I couldn't name as an influence at all, I've only heard that MK remix and the original of it. Things like Tyrone Brunson, Prince, Break Machine, Newcleus and the "Grand Theft Auto: Vice City" soundtrack were all major influences. I was firstly a massive fan of stuff like AFX, Brian Eno and Boards of Canada, though.
Why the decision to rap on this?
There was never any real decision. I've done this attempt at rap since I first started the SDC thing and always flirted with it in past releases. It was always the plan to bring Mr. 8040's personality/voice out fully when I finally made an album.
Can you talk about your relationship with the people at R&S? I'm assuming they must have great faith in you if they trust you enough to allow you to make this rather rare leap in a conceptual electronic album that you actually rap on.
Yeah, they're great. They've always been really supportive and have totally got my vision (if you could call it that) from the very start. It's nice to have them believe in the album too.
Any plans for a special live show to go along with this album?
There are plans, but at the moment they are just plans. We're waiting on some news to see if we can full go mad with a live concept sort of thing.
How vividly does the concept play out in your head? If approached to adapt to the screen, is that something that'd you be game for? Do you have a vision for these characters down to specific character attributes, etc.?
Very vividly, especially since I'd been working on it for so long, it got kind of embedded in my head. I would absolutely love to make some sort of animation of the story. I would need to get more in depth with writing about the characters though. I have an idea how each one is, but on the album you can't really build a character as much as you could in a film. There would also need to be more than just a few!
Could you picture yourself ever doing soundtrack work? Like say Disney came to you tomorrow with a rather undeniably large check and said they like what you did here and they want something similar for "Star Wars VII," what would it take to get you on board?
It's something I've always wanted to do, and part of the reason I decided to make such a conceptual alias. Ever since I was younger I always wanted to get into film directing, but by the time I was 16 I figured it was pretty hard to make it on your own. So I started producing with the idea if I get decent enough at that, someone might ask me to make a soundtrack. I'd probably turn down the Star Wars idea, that would be pretty scary as a first soundtrack!