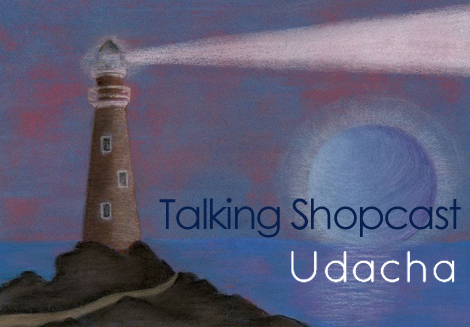 For a while there, Russia was practically silent. House and techno may have been global phenomenons by the 90s, but we heard precious little about it from the planet's ninth most-populous nation. Recently, however, that's begun to change. Alexey Kalik, who runs Udacha with his wife Oksana, can't explain the quiet revolution. All he knows is, "three to four years ago, we had an absolutely different situation here." At the time, there were no labels like Arma or Ethereal Sound, and artists Anton Zap were barely known outside the country. Now, though, having achieved a "certain level of self-expression," Russians are finally beginning to attract international attention.
29-year-old Kalik, who produces under the moniker A5, is one of a number of artists and label owners helping to lift the lid from the native scene. "It's difficult to say about the future," he admits, "but I'm sure we will find a lot of new names." Udacha, which means "luck" in Russian, has showcased a good number of them already, as well as cultivating an approachable and subtly unique brand of music. Its seven 12″s have been a tour de force fusion of house, jazz and good-natured synth weirdness. Udacha 5, for instance, is bookended by two slices of sharp jazz swagger, while the middle is dominated by Kurvenschreiber, a Russian trio who record their rambling, dream-like tracks live.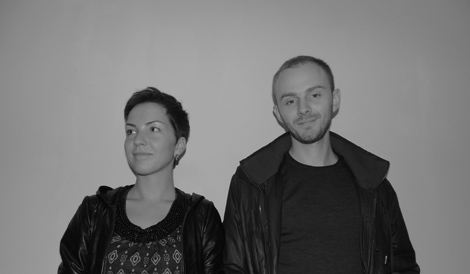 Oksana & Alexey Kalik
"[The label] is not strictly about jazz, or my love for jazz," Kalik says. It's a necessary comment, given how many of his signings throw cool bass or classic Rhodes keys into loose, improvised-sounding arrangements. This recurring theme, he says, reflects his high school years, where he played in a grunge band and spent his days listening to Nirvana. The jazz bent isn't the aim in itself. He simply remains fascinated by the tangible feel of live (or live-sounding) instrumentation, and even has plans to put together an Elektro Guzzi-type project using drums, bass and piano. Exploring outside the boundaries of electronic music is important, he believes, because, "Everything affects everything. And this experience can help you make more distinctive music."
It's an attitude clearly reflected by the Moscow-based label, which dances quietly to its own beat, ignoring the current trend for lo-fi or retro-inspired productions. Its second record was almost the complete opposite, in fact, featuring Russian artist Bipolar Depth and an idyllic, future-gazing take on house. Even Udacha 4 by PJOTR, the straightest, most upbeat record in the catalog, carries this dreamy spirit with it. It's surprising, given that the music is sourced from a mix of close friends, and strangers on SoundCloud. Maybe it's like the famous Infinite Monkey Theorem; search long enough online, and you'll eventually find music which suits your style, even if it's the jazzy, elated form of house Udacha seems to be pioneering. Or at the very least, collecting all in one convenient place.
Once the music has been corralled, Kalik sits down with his wife and conducts a brainstorming session of sorts. From these come the ideas for Udacha's stunning artwork, which she draws in pastel crayon. Like the music, the images themselves, such as a lighthouse, a hot air balloon floating over icy water, or a drum kit suspended in space — are seemingly disconnected, but their underlying style brings them all together. Naturally, Kalik's podcast for Little White Earbuds performs a similar feat, collecting music from as far back as the '60s, and mixing it with his label's latest records via non-beatmatched fades and other unconventional devices. He doesn't always program and mix this way, Kalik says. "I just wanted to record something which tells the weird story that I associate with our label."
Download: Talking Shopcast 19: A5 (61:56)
Audio clip: Adobe Flash Player (version 9 or above) is required to play this audio clip. Download the latest version here. You also need to have JavaScript enabled in your browser.
Tracklist:
01. The Funkees, "Akula Owu Onyeara" [Soundway]
02. Daphni, "Mapfumo" [Resista]
03. A5, "Whirligig" [Udacha*]
04. Mashine, "Trippin' With Me" [Ethereal Sound]
05. Dices, "Confuse" [Udacha]
06. Ashes To Machines, "Resistance" [Leleka]
07. Dada Ques, "Outerealmer" [Udacha]
08. Trueman, "Odyssey Saga" [Udacha]
09. The Doors, "Light My Fire" [Elektra]
* denotes tracks which, as of the time of publishing, are unreleased