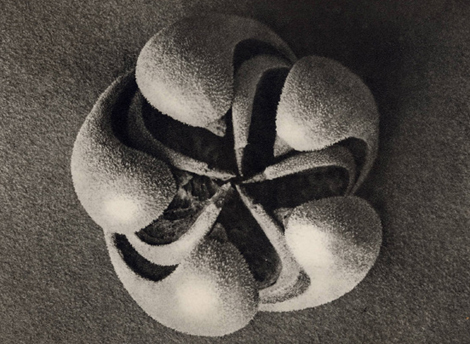 Karl Blossfeldt's "Blumernbachia hieronymi Loasaceae" (1932)
With key releases for Throne Of Blood and Love Fever, an oft-updated blog dropping breadcrumbs through their house music universe, and a calendar rapidly filling with big DJ gigs, Belfast duo Bicep are rising fast in 2012. And with musical interests as diverse as rave-rinsed house and sleazy disco, Andrew Ferguson and Matthew McBriar feel particularly of the moment: less attached to a specific musical genre than to a vibe — bright, big, boiling — that ties together everything they're into, they feel utterly of a piece with how musical tastes coalesce in the Internet age. So while you might not place Bicep on Aus Music based on the sound they've put forth so far, they don't feel at all out of place amongst George FitzGerald and Midland — producers whose contemporary takes on house are considerably less retro in their approach.
Audio clip: Adobe Flash Player (version 9 or above) is required to play this audio clip. Download the latest version here. You also need to have JavaScript enabled in your browser.
The first side of the You / Don't EP, however, adheres pretty directly to what's been the Aus Music aesthetic for the last few years: co-produced by Ejeca, a likeminded upstart also from Belfast, "You" hooks the group's familiar chord progressions, warmly digital sound design, and knack for ultimate catchiness up to the mainline of shiny post-dubstep. It's exceptionally well produced and definitely a step away from their earlier material, but is it a step forward? As it plays, "You" feels more like flirtation than full-on stylistic evolution — a safe exploration of a sound that's been pretty thoroughly mined at this point. "Don't," another collaboration with another newcomer, Omar Odyssey, sticks a little closer to Bicep's sweet spot: clean, snappy drums run their fingers through ascending organ washes and ghostly wisps of soulful vocals, making for a record that's both retro and very now. But again, you're not likely to hear anything that really makes you jump out of your seat.
On paper, Steffi's house music universe would seem to be running in similar circles, but her remix of "You" is evidence of her sound's endurance: in quickening the pace and thickening the drums, the Panorama Bar resident has arguably made the track even more reverent than Bicep and Ejeca's original. But Steffi, ever engaged with vintage sounds but never a chameleon among them, is sure to let plenty of her own style shine through. Perhaps that's what's missing from what should be Bicep's knockout punch: all the muscle they need to break into the big time is front and center, but the personality they'll need to stay there is standing a little too far off to the sidelines.