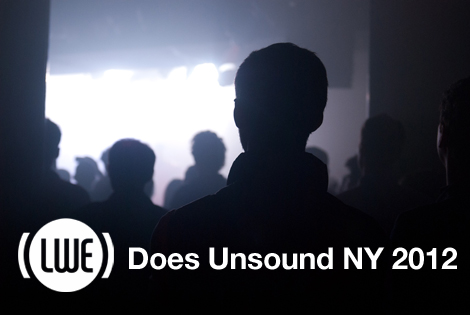 Photo by Natasha Phillips
After a week's rest, LWE correspondents Chris Miller and Jordan Rothlein file their report on Unsound New York 2012.
Now in its third year, the Unsound Festival's New York edition (the festival splits its time between Gotham and Krakow, Poland) has quickly wiggled its way up to the top of New York's music calendar. Not so much a festival proper as a loose agglomeration of shows at venues across Manhattan and Brooklyn, it doesn't feel so much like a special event as a welcome bubbling-up in the city's already adventurous music scene. As we've done each year since the festival opened up shop here, Little White Earbuds sent its New York contingent — associate editor Chris Miller and contributing writer Jordan Rothlein — in search of exciting sounds and as much of a prevailing narrative as one can tease out of a music festival as mind-bogglingly heterogeneous as this one.
Unsound New York has never really been a dance music festival, strictly speaking. But it's also never not been a dance music festival; rather, it touches on compatible strains of disparate musics, with the connections between the dots relatively apparent but not in ways that are easily put into words. The festival's first big show, an all-female showcase at Brooklyn's ISSUE Project Room called The Option of Silence, felt of a piece with the more overtly electronic programs we were perhaps most excited for, in that way only Unsound showcases can feel of a piece with one another.
It was the first time either of us had been to ISSUE, which currently resides in a gorgeous, small hall in a historic building in Downtown Brooklyn. High-ceilinged and ornately appointed with just the right amount of decay, the room established The Option of Silence as a concert, not merely a show. Julia Kent, whose economical cello-and-electronics pieces opened the program, certainly helped as well. Kent's music, which neither of us was familiar with before that night, wasn't particularly complicated, but had there been a curtain obscuring the stage, her arrangements of live-looped cello lines and occasional clicky beats would have seemed like the work of a larger ensemble.

Jenny Hval. Photo by Natasha Phillips
Norway's Jenny Hval had also flown under our radars, perhaps because she's more or less a rock singer-songwriter. Of course, this being Unsound, "more or less" actually means something here. Hval plays with a backing band, but her drummer and lead guitarist spent as much time building atmosphere with their instruments as they did delivering beats and licks. And though Hval has pipes, she used them somewhat sparingly, letting her voice drift off and crawl back as a whisper. We found her music enchanting, and Jordan spent much of the next morning working through Viscera, her album from last year; though not markedly different in sound than her live show, her provocative songwriting (sample lyric: "I arrived in town/ With an electric toothbrush/ Pressed against my clitoris/ After a few weeks/ It ran out of batteries") deserves a more careful listen than a press-packed, photographer-addled concert allows for.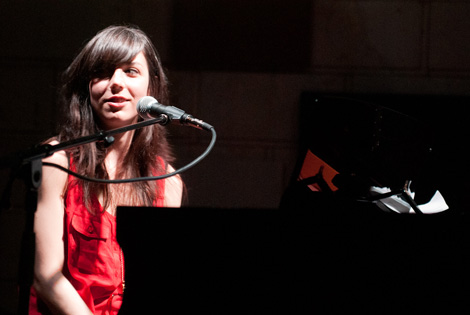 Julia Holter. Photo by Natasha Phillips
The crowd seemed most anxious for Julia Holter, though we at Little White Earbuds found ourselves at odds over her. Our musical preferences are usually hilariously predictable: Jordan tends to gobble up anything with traces of pop, whereas Chris is markedly less keen on the stuff. Strange, then, that Ekstasis, Holter's new album and a big leap toward a more coherent and traditional musical language than noisier previous outings had dealt in, had found a fan in Chris and a skeptic in Jordan. When the crew rolled a grand piano on the stage, with no electronics in sight, we knew this would be a pivotal moment for us both: her songs would be laid bare, which could be a good or bad thing for either of us. Holter, seemingly dropping in on us from a Joe Swanberg film, stuck mostly to material from Ekstasis, and despite their stripped-down instrumentation, not much about them changed. For Chris, the performance reinforced his fondness for Holter; for Jordan, her metamorphosis into a full-fledged songwriter still felt more incomplete than her buzz suggests.
We reconvened late Thursday night for Singularity, a showcase at (Le) Poisson Rouge in Manhattan featuring British bass weirdos Hype Williams, Actress, and utter odd-men-out Next Life. It was nearly impossible to enter the show without preconceptions: few artists get us riled up like Actress, whose new album R.I.P. was literally hot off the presses the day of the show, and Hype Williams' reputation for weirdness gave us little idea of what to expect, other than that it'd be awesome. But LPR, no stranger to our ire (Jordan devoted nearly a whole paragraph to his disdain for their coatcheck guy in his 2010 Unsound roundup), tempered our expectations somewhat, as the venue seemingly chomps at the bit for opportunities to drop the ball.

Next Life. Photo by Natasha Phillips
In short, Singularity was one of the most confounding nights of music we've ever experienced: we were at times blown away, bored to tears, disappointed to the point of anger, and just plain confused. Nearly everyone we spoke to that weekend had an opinion on the show and a theory on why it went down the way it did, and everyone seemed keen to reserve the right to completely change their minds. Plenty of shows stick with you for days, but few do it like this one. Next Life, a Norwegian metal-and-laptop trio, proved to be the program's least controversial inclusion. We at Little White Earbuds aren't particularly hip to metal, and we're guessing not much of the crowd was, either. But the band, particularly singer-bassist Hai Nguyen Dinh, made it impossible not to get on board. Energetic, taut, and musically talented as hell, Next Life certainly broke through any and all walls a crowd of techno kids might put up in the face of a double kick drum pedal.

Hype Williams' bodybuilder. Photo by Natasha Phillips
Considering what happened next, though, the whipped-up state the band's thrashing left us in may have actually been less than ideal. As the venue turned the fog machines up to 11 and a strange cast of characters (a man with a blue face, a scantily dressed bodybuilder), the crowd was ready to lap up whatever Hype Williams gave us. A peculiar loop, with a soulful voice talk-singing "I'm so sorry!" began blasting from the PA, and Dean Blunt and Inga Copeland looked to be springing into action. But as the minutes began piling on — first five, then 10, then 20, all counted by iterations of that same loop — less and less progress looked like it was being made. No explanation was ever offered (nor was that loop, now burned into our collective audio cortex, ever clicked off), but it appeared something went horribly awry with the group's hodgepodge of gear.

The "Hype Williams experience." Photo by Natasha Phillips
Shit happens, of course, especially when an electronic musician's setup involves more than a laptop and MIDI controller. And when Hype Williams finally got their act together, their set captivated an admittedly agitated crowd: big bass and a profoundly stoned stage show have that effect on people. But we have very little sympathy for what went down. If the group wasn't given a proper soundcheck, then shame on LPR and the promoters; if Hype Williams's setup is held together by a few pieces of scotch tape, then perhaps some serious thought should be given to whether it's a suitable rig for a group playing shows at this level; if the debacle was all part of the performance — and we seriously doubt this, for no one in the group or the tech crew looked particularly pleased — then we want no part in it.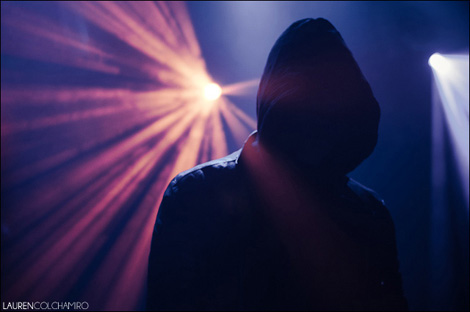 Actress. Photo by Lauren Colchamiro
Between Next Life's academic metal and what we'll diplomatically refer to as "the Hype Williams experience," the crowd was in a weird place when Actress took the stage. Actress is pretty weird himself, of course, but we may not have been the sort of weird he was looking for. By this point, it was rapidly approaching 3 AM on a work-night, and much of the crowd had their sights set on grabbing a few hours of sleep before the office. Actress' set, quiet and abstract and uncompromisingly atypical, didn't help take our minds off of the embrace of our mattresses. It was disheartening for us to see so many concertgoers using tunes as fascinating and high-caliber as Actress' as exit music, but it was equally disheartening for Actress fans as big as us to quietly wish we were following suit. Whether the set suffered from not being loud enough or from being put in entirely the wrong slot in the evening, it just didn't work. We emerged from LPR feeling wounded and a little queasy, hoping Singularity wouldn't become a sort of asterisk affixed to the remainder of the weekend.
Friday night saw the festival's only Bunker event, down from three back in 2010 and two in 2011, as Bass Mutations this year was, for the first time, not affiliated with Bunker. This happens to be a real shame as Bryan Kasenic is one of New York's best party organizers, and the contrast between Friday's show and Thursday's could not have been more stark. Despite having to juggle six separate producers' complicated live set ups, there was never a sound problem — the layers of gear onstage an imposing beast for sure, but handled with ultimate efficiency. Warsaw is not at all the professional Manhattan venue that Le Poisson Rouge is, but the space was more interesting and the sound was leagues better. If an event goes well it's easy to forget the promoter who put it all together (while the opposite is true for a trainwreck of an event), but Kasenic and his crew should be commended for their ultimate professionalism.

Laurel Halo. Photo by Seze Devres
As for the music, many of the sets were festival highlights. Arriving to Warsaw just a bit after 10, I was able to catch most of Zemi17's live set, which was chock full of bass-heavy thinking man's techno. He also made use of the surround sound that was in place for Monolake's set, and standing in the middle of the lightly packed room, the surround was a wonderful effect. Laurel Halo was up next, who stunned with mostly selections from her upcoming album Quarantine on Hyperdub. Her rhythms were endearingly non-standard, and she washed the floor with shifting textures that were occasionally joined by creeping melodies and her own vocals to add some emotional resonance. The whole set was a bit dream-like between the trippy visuals and smeared sounds, and seemed to justify most of the hype that's been following her around.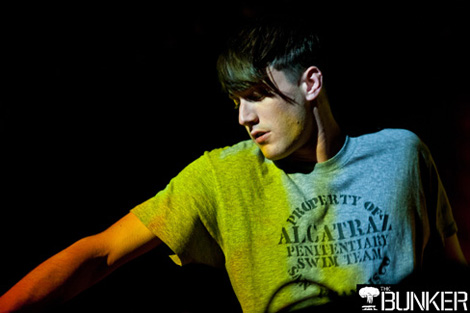 Ital. Photo by Seze Devres
Ital was up next and quickly snapped us out of whatever reveries we were enjoying with his fast paced, gritty set of his own productions. This was apparently one of his first performances using his newly retooled live setup, which now featured an MPC, and his live versions of favorites such as "Culture Clubs" and "Floridian Void" were infectious. McCormick was bounding around and head-banging on stage with an incredible amount of energy, and the music matched, but unfortunately the crowd stayed mostly still.

Hieroglyphic Being. Photo by Seze Devres
Part of that has to do with this being more of a "show" than a club night, with the audience mostly focused up front at the artists on a stage. But given the preponderance of quality club nights in New York and the more esoteric aspects of Unsound's programming this was a minor complaint. Hieroglyphic Being was up next playing a truly whacked-out DJ set that was paced like an extended Mathematics record, with house classics like "Your Love" rubbing shoulders with more nutty noise pieces.

Demdike Stare. Photo by Seze Devres
Demdike Stare took the stage afterwards for what was easily our most anticipated live set of the night and what turned out to be the festival's highlight. Demdike Stare have always been an ode to the giallo films and B movies that Sean Canty and Miles Whittaker seem to love so much, and seeing them live hammers that point home with the impeccable video collage with which they perform. The visuals at this year's Unsound were of very high quality all around, but here they made so much sense, upping the unsettling qualities of Demdike's music with quick-cut clips of incredibly obscure 70s horror films that seemed to focus quite a bit on the eyes (as Argento did in his films). Their performance had an impressive narrative arc, moving from airy drones through battered, skeletal rhythms and back again, touching on points from recent work such as Elemental and their Shangaan remix, along with some new material.

Monolake. Photo by Seze Devres
The most revelatory aspect of their show, however, is just how physical their music is, in more ways than one. The sub-bass pressure throughout the performance had our skeletons truly rattling, feeling the bass pulses all the way down our legs, and their rhythms were eminently danceable — even if it was only the two of us dancing like peyote-soaked madmen. We spend lots of time with Demdike Stare records at home, pissing off our neighbors while blasting through Elemental's four discs at two in the morning, but in seeing them do their thing live something clicked, solidifying them as one of the most intriguing acts around. Monolake took the stage afterwards for a much-anticipated performance of his recent Ghosts album in surround sound, but it was hard to recover from the collective brainfuck Canty and Whittaker had just provided. It was propulsive, bass-oriented music with some great matching visuals, but given how packed the room was at this point, if you weren't in the middle, the surround was more distracting than anything else (with time delay being quite perceptible). Either way, it was a strong showing to the end of the night, and we sloped off home to get some rest.

Jacaszek. Photo by Natasha Phillips
Being the couple of nerds that we are, we headed to a lecture by Pole on mastering on Saturday afternoon before heading up to the West Park Presbyterian Church on the Upper West Side for this year's commissioned piece by Biosphere and Lustmord. The church was gloriously trippy, as we all congregated upstairs first for some keg beer in the midst of some strange artwork, and at 8 p.m. headed to take our seats in the pews. An ominous array of speakers were stacked in the front of the room, and Jacaszek started things off with the trio of himself on a laptop, a bass clarinet player and a harpsichord player. The music reminded of Tim Hecker, both sonically and in terms of melancholia, sounding like a soundtrack to the end of the world. It seemed to fit in well with the church surroundings, as his music had the touch of grandeur that religion tends to invoke.

Biosphere & Lustmord. Photo by Natasha Phillips
After Jacaszek's emotion-filled set, Biosphere and Lustmord sat down in front of their computers (in matching shirts and ties, no less) to present their new piece, Trinity. The theme was nuclear testing in the American Southwest, as the black-and-white visuals focused on the desolate deserts and the nuclear test sites contained within them. The music was stark and loud, reminding more of Lustmord's work than Biosphere's, matching the visuals perfectly. Tension was built as the visuals moved through underground bunkers and up tall metal towers and the sounds got more and more intense. At one point, a screeching high frequency had the whole audience covering their ears, and I can only imagine the unpleasantness of those tones were wholly intentional. Unsound's commissioned pieces are always highlights, and Trinity, like Ben Frost and Daníel Bjarnason's Sólaris piece last year, was one of the festival's most captivating performances.
We rushed across town as fast as we could to Bass Mutations, but an unexpected rainstorm forced us to duck into a deli on our way there for some umbrellas. Completely soaked, we showed up to indieScreen in Williamsburg, a movie theater that usually focuses on art-house cinema of all eras. It was a strange location for a party with a strange setup: the "floor" as it were was alongside the bar and, while the sound was good, the room had a pretty terrible flow that made it near impossible to dance. The music was also piped into the theater itself, where clips from numerous visual artists associated with bass music were projected onto the screen and partygoers could relax in comfortable movie theater chairs. Visuals were clearly a big part of the Unsound festival as a whole, and this set-up seemed to hit the point home, especially as frustrated dancers like ourselves found the plush seats and intriguing projections far more amenable than trying to dance while an endless torrent of people pushed past.

Sepalcure's visuals by Sougwen. Photo by Katya Guseva
We were able to catch some of Throwing Snow's set: a pleasant batch of contemporary bass music that got the crowd dancing more than anything else at this year's Unsound. After that was Sepalcure, who we had high hopes for given their very memorable sets at both previous New York editions of Bass Mutations. Unfortunately, their set basically ran through their entire album with little deviation and little surprises. Given that that album was somewhat of a disappointment for your correspondents, the performance left us wanting. It seemed more like a rock show than a live set where the artists were free to experiment (or drop mind-blowing versions of 90s cheese anthems), though the visuals by Sougwen were predictably great.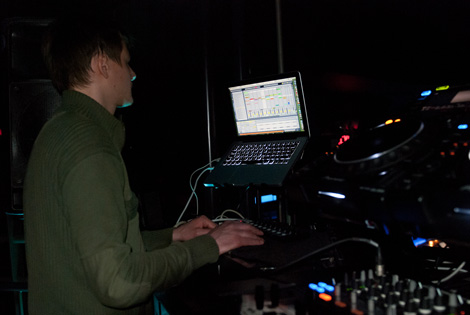 2562. Photo by Natasha Phillips
2562 was up next and, after seeing him DJ a handful of times, I was intrigued as to what his live set would be like. Folding in themes from his recent Air Jordan EP and previous favorites with new material, his live set was easily the highlight of the night. Full of heavy bass weight and kinetic, stumbling rhythms, his tracks veered through almost every conceivable kick pattern, whipping up the dance floor into a delirious mess. Nguzunguzu followed, but we were beat after a long day, and made our way home, drawing the night (and the festival) to a close for us.
So, what did we take away from this year's festival? There were a lot of high points and a couple low points, but all in all the festival this year was an intriguing mixed bag. Perhaps unfortunately, it seems the festival has moved further away from the dance floor than in previous iterations, and we did a lot more sitting at 2012's Unsound than any before it. Technical problems at LPR were pretty much unforgivable, and Bass Mutations seemed to be less adventurous this year than any other year; but when the music connected it connected in a big way, and I don't think many people will be forgetting most of the sets at the Bunker nor Biosphere and Lustmord's show anytime soon. What will next year's edition hold? We would be lying if we said we weren't concerned that the festival will get scaled back even more in the future, and we seriously hope that it doesn't. At the end of the day, Unsound in New York is still easily the year's best week of music in New York, exposing house and techno heads like ourselves to plenty of great music we would normally not hear, as well as booking some of electronic music's most important contemporary acts. Bring on 2013.