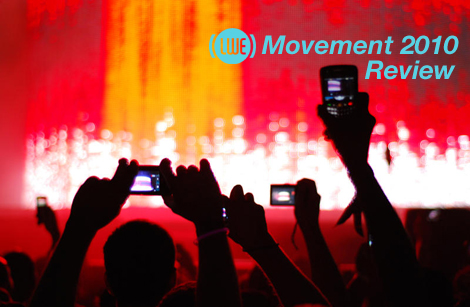 Photo by Elizabeth Beale
After resting his ears and brain cells, LWE's editor-in-chief, Steve Mizek, files his report on Movement 2010
As May rolls around each year, many dance music fans in America and around the world instinctively reach for their wallets and begin making preparations for Detroit's annual electronic music festival, Movement. Although the festival has gone through many iterations in its eleven years of existence, this habit proved equally entrenched in 2010 as fans of all ages and from every corner of dance music culture returned to the Motor City to visit with old friends, make new ones, and dance until their feet threw in the towel.

Inner City. Photo by Bryan Mitchell for Paxahau
Slung across Memorial Day weekend, set outside in Hart Plaza, and featuring a broad range of musical acts, Movement is closer to a Lollapalooza style of festival than the substantially more niche events that make up the Mutek and Unsound NY festivals. This approach has its advantages and drawbacks. On the positive side, an abundance of acts assures that attendees will have their tastes will be catered to — however briefly — and provided alternates in case of disappointments. The all-at-once style also puts a larger strain on the promoter's resources, and spending in one area (eg. adding extra talent) can mean less for another (eg. no free water in the VIP section). If attendance numbers are any indication, this format has grown increasingly popular since Movement first became a paid event, attracting a record number of more than 95,000 ticket holders in 2010, according to The Detroit News. Overall I enjoyed my time at Movement, but I suspect some of the fest's shortcomings were the result of the give and take required to cast its net so widely, so quickly.

Martyn. Photo by Joe Gall for Paxahau
At first glance, Movement's line up was spectacular, bringing together dozens of artists I'd long wanted to see, such as Ricardo Villalobos, Kyle Hall, Theo Parrish, Martyn, and many more. The reality was slightly less rosy, not least because visa issues caused Villalobos to cancel his long awaited appearance. Many of the artists I wanted to see were also clustered around the same times, leaving me dashing from stage to stage in hopes of at least sampling both Cassy and Anthony "Shake" Shakir, or dOP and DJ Koze. I was disappointed with the line-up for the Red Bull stage, which was occupied by drum and bass acts for the majority of Saturday with only a token artist to represent the burgeoning U.K. bass music scene — and few would argue Martyn even remotely fits that classification. There were a few other lame bookings as well (is Booka Shade still relevant in 2010?), but the biggest disappointment on this front was the Movement Torino stage.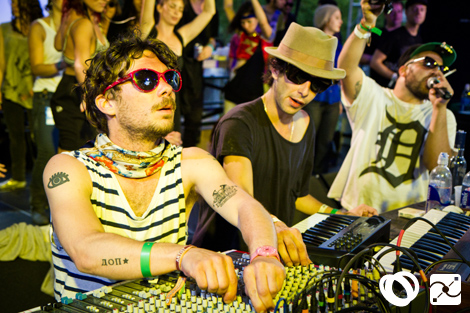 dOP. Photo by Paul Kelley for Paxahau
Inaugurated this year after Movement launched the Torino-based version of the fest in 2009, the Torino stage brought the total number to five and was comfortably positioned in a grassy area along Hart Plaza's streetside perimeter. A long, nearly wall-less tent stacked full of speaker cabinets, the stage was looked upon with jealousy by those of us who spent much of the weekend in the tomb-like underground area hosting the Made In Detroit stage. Not only did the stage have a weak line-up, it was sparsely attended for long stretches of time when more desirable artists like Kirk Degiorgio were playing. Considering how full the Made In Detroit stage stayed throughout the fest, it seemed foolish to find it it once again relegated to an underground, concrete clad stage with poor acoustics. It's a shame Paxahau, the promoters behind the festival, still hadn't learned their lesson three years on.

The Moritz Von Oswald Trio with Carl Craig. Photo by Joe Gall for Paxahau
Keeping five stages running simultaneously and smoothly throughout the festival requires a large, skilled crew to handle all sorts of problems. Sadly tech problems were not uncommon throughout the weekend; and while it's presumptuous to attribute these to Movement's expansive size it certainly didn't help that five stages needed attention. Where strings of sound dampeners hung from the ceiling yielded modest gains in the sound quality of the Made In Detroit stage, various gear problems left artists playing at inconsistent volumes, through turntables emitting obnoxious feedback (as marred Kyle Hall's set), and without sound at all (during Robert Hood's live set). If not for the quick thinking and hard work of an unsung hero like producer/engineer Kevin Reynolds, the Made In Detroit stage would've been in shambles. Gear problems also took a large bite out of The Moritz Von Oswald Trio's highly anticipated set and decimated their audience.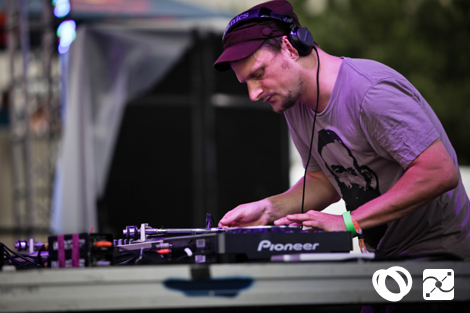 DJ Koze. Photo by Joe Gall for Paxahau
For many electronic artists, events aiming to please the broadest range of fest-goers means tapping into the most populist part of their sound. Unfortunately few DJs do this well; it's as if there is a formula dictating that for every hundred dancers beyond the first the music needs to be more visceral and less challenging or detailed. For example, Chicago acid pioneer DJ Pierre peppered his set with unflattering minimal house cuts that forfeited the momentum of his better, more acidic selections (and hearing him play Dubfire's remix of Radio Slave's "Grindhouse" was enough to make me walk away). Although this phenomenon was most prevalent at the usually minimal-focused Beatport stage, it also affected artists like DJ Koze, Kirk Degiorgio and Onur Özer who I expected to throw off the shackles of lowest common denominator techno/house but ended up embracing it in order to attract and keep bigger audiences. DJs like The Martinez Brothers reveled in the inanity of their music, endlessly milking the entertainment value of dropping the bass on their exasperating facile Latin house tracks.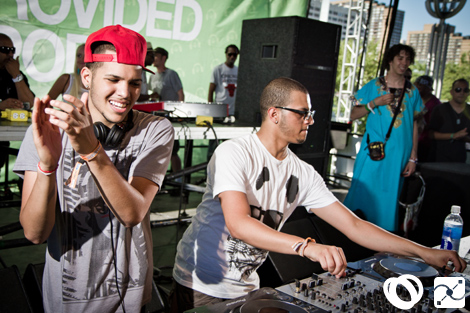 The Martinez Brothers. Photo by Paul Kelley for Paxahau

Cassy. Photo by Paul Kelley for Paxahau
Thankfully, there were also DJs who played to bigger crowds without sacrificing any quality from their selections. Cassy, who opted for the hardest tracks I've ever heard her play, was especially successful in this regard. She satisfied her audience with a mix of techno bangers (seemingly culled from minimal's first, Detroit-based heyday) and effortless, summery house grooves without veering into dry patches. Larry Heard ran with the acid house vibe his predecessor, DJ Pierre, couldn't reliably deliver and kept the concrete bowl of the main stage relatively full. Martyn, an artist whose appeal is defined by his ineffable nature, kept his set varied and thick with hooks and vocals. Whether he was playing 2-step, minimal techno, wobbly dubstep or classic house audience his audience never missed a beat, even launching into crowd surfing during Adonis' "No Way Back." Derrick Carter and Derrick May also deserve praise for their canny populism, tossing classics like Paperclip People's "Throw" into their minimally-inclined but decidedly funkier house sets.

Derrick Carter. Photo by Douglas Wojciechowski for Paxahau

Theo Parrish. Photo by Aaron M. Jones for Paxahau
Yet my favorite sets came from artists who tried to lead their audiences or seemed completely uninterested in crowd expectations. Theo Parrish was the king of the latter domain, weeding out those who were there for anything but the music with loose, free jazz cuts before launching into an eclectic mix of contemporary R&B, proto-house, new wave, remixes of Marvin Gaye, and a few of his own tracks — including his LCD Soundsystem remix. His ability to be recondite but irrepressibly fun made his set worth waiting the extra hour while he readied himself off-stage. Rick Wilhite was also good at confounding and entertaining audiences with a set that had as much to do with rock as funk, dropping remixes of Bjork between unusual old house tracks with a regal air to his posture while at the decks.

Rick Wilhite. Photo by Aaron M. Jones for Paxahau
Visibly frustrated but equally determined, Kyle Hall worked through a buzzing turntable to keep his dancers happy, finding common ground between jack tracks, old school classics like Cajmere's "Brighter Days" (Underground Goodie Mix), and new, soon-to-be classics like Wax's "No. 30003-A." One of my most beloved moments of the entire festival arrived during a similarly diverse set from Anthony "Shake" Shakir, whose brusque transitions were made unimportant by his unexpected track selections. Those who doubted the dance floor potential of Kyle Hall's "Kaychunk" were proven misinformed when Shake unleashed the cut to the delight of a packed Made In Detroit stage, dancers following along even through its beatless portions and throwing hands in the air when the kicks returned. I also enjoyed a deep and techy set by Patrice Scott of Sistrum Recordings and parts of the blistering techno churned out by DJ Rolando, an admired UR-affiliate.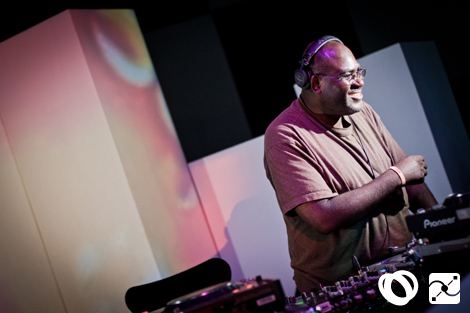 Anthony "Shake" Shakir. Photo by Aaron M. Jones for Paxahau
The live PA is an arena that usually allows artists to avoid giving in wholly to populism because they're playing their own material. Yet the biggest pitfall of live PAs is how they magnify an artist's aesthetic weaknesses and require consistently engaging music to keep the ball rolling. This was especially noticeable for Martin Buttrich, who drew largely upon his debut album with all its indistinct arrangements writ large over an hour's time. Much to my surprise, dOP similarly struggled to keep fest-goers engaged. Oozing charisma, vocalist Jonathan Illel did his best to keep the crowd pepped up with goofy stage antics, but the set seemed canned and unusually insipid for a group as stylistically diverse as dOP. René Löwe and Peter Kuschnereit, the men charged with keeping Basic Channel's music alive as Scion, had a hard time building momentum behind their feathered dub chords and drones. Fans of Richie Hawtin's Plastikman material were understandably thrilled with his rare performance, but I found his shimmering LED display more interesting than his straightforward minimal techno.

Plastikman. Photo by Bryan Mitchell for Paxahau
Of course it wasn't all bad on the live PA front. Ryan Crosson and Niko Marks were more engaging, the former because his psychedelic style kept shifting and the latter because he sang along and played keys with his prerecorded tracks. Despite the rain and lengthy gear troubles, The Moritz Von Oswald Trio, who were joined by Carl Craig, gave no quarter to accessibility and soldiered on through free jazzy arrangements and dub-flecked rhythms. Kevin Saunderson and Paris Gray's Inner City project proved to be an entertaining if predictable headliner for Sunday night, performing the radio-ready tunes that brought them acclaim without renovating much for the 21st century. But the granddaddy of all live PA's came from Robert Hood. Dressed in his signature jump suit and tweaking a bank of analog equipment, Hood built impossibly complex rhythmic structures higher and higher before demolishing them under the weight of truly gargantuan kickdrum hits. Even when his equipment suddenly gave out he was quick to find a solution and launched right back into destroying what remained of audience's hearing.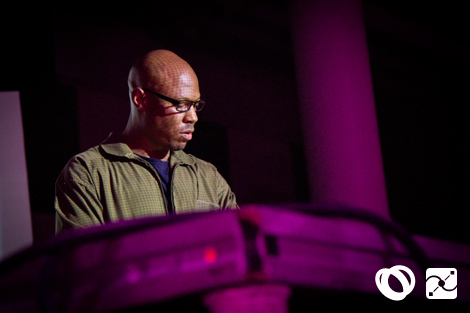 Robert Hood. Photo by Paul Kelley for Paxahau
The cure for the blandness of so many DJs' festival sets was attending afterparties, which seemed to be held almost anywhere people could fit a PA. As we noted in our afterparty guide, there were so many going on it was impossible to attend everything you wanted without a car, superhuman stamina, and a fat stack of bills. But the parties I did attend offered such concentrated good times that I didn't mind missing the Shit Show or the infamous boat party. The best party I attended was NDATL's Deep Detroit at 1515 Broadway. Essentially the back room of a late night cafe, the space was perfect for hearing Kai Alce lay down some unconventional deep-house, one of the most perfect house sets I've ever enjoyed care of Larry Heard, and a James Brown-heavy set from Theo Parrish — not to mention the exclusive 7″ single on sale. That same night I tried to catch Ben Klock at the Centre Street Social but left disappointed as the long line I waited in was informed the party had been shut down by the police. This became a common theme throughout the weekend as the police shut down party after party, possibly in response to a number of shootings that reportedly occurred early Sunday morning. Early Monday morning I made it to the MetroPlex 25 party located in a gigantic building stocked with three floors of DJs. There I enjoyed an uniformly excellent house set from Eddie "Flashin" Fowlkes and a surprisingly decent and techy set by Kevin Saunderson, offering more evidence that the big stage mentality is only temporary.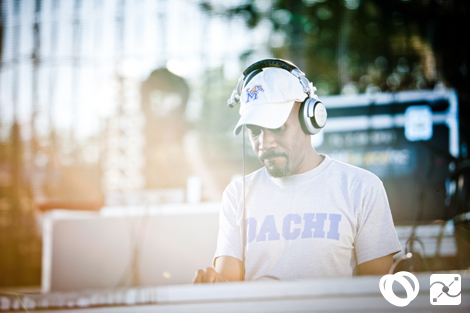 Larry Heard. Photo by Douglas Wojciechowski for Paxahau
As much as I'm glad that Movement is becoming a truly popular destination for electronic music fans of all stripes, I'm also disheartened by what that's meant for the quality of the festival. Granted any large scale event is going to feature DJs playing to the sensibilities of unwashed masses, but Movement's continual enlargement has escalated the rate at which I've been disappointed by jocks giving in to these instincts. The addition of a fifth stage yielded very little of interest and was another slap in the face to Detroit's homegrown talent who were without a doubt the festival's highlight — even in an unfavorable venue. Focusing on creating a catch-all electronic music festival to sell ever more tickets has come at the expense of the bedrock on which it was founded. What's more, the quality of the afterparties schedule that weekend made it easier for fans to skip the festival entirely and catch sought after artists in settings conducive to the highest caliber of music instead of what might work for candy ravers, guys in green body suits, and average fest-goers alike. I sincerely hope Paxahau and all involved at Movement continue to refine what works and show more respect for Detroit's artists instead of relentlessly expanding. It's a wonderful festival that I've enjoyed a great deal each year — including this one — but the reasons for returning for the festival itself are dwindling.