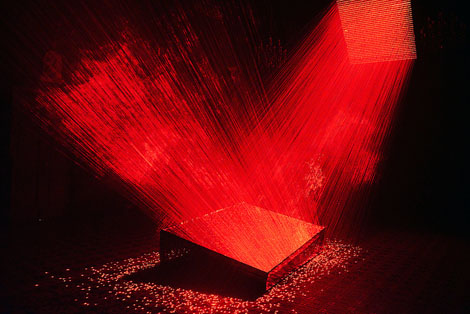 It's not often a long-player asserts its nature as quickly as Recondite's On Acid. About 10 seconds is all it takes, the first burst of tweaked 303 foreshadowing all that comes after it. It's incredibly sluggish, a quivering blister of barely-heated mud rather than a furious bubbling mass. Tin Man did something similar last year with "Nonneo," slowing things way down and wringing more sadness from the instrument's pendulous curves than many had imagined possible. But here, Berlin-based producer Recondite seems intent on outdoing him. In opener "Petrichor," that first bit of 303 isn't even immediately obvious, so accustomed are we to the abuse of its peculiar timbre. It's strung out like treacly strands of candy between a chef's scrapers, stretched and droopy. Ironically, it's Tin Man himself who hardens the mixture, replacing Recondite's woody, two-stepping drums with a more determined thump and bringing the 303 to a shrill, pad-shrouded crescendo in his final third.
Audio clip: Adobe Flash Player (version 9 or above) is required to play this audio clip. Download the latest version here. You also need to have JavaScript enabled in your browser.
To varying degrees, the remaining originals are concerned with the same languid direction. And true to the label's purpose, none abandon the 303 altogether. The meek "Tie In" sounds like it's covering a piece written for acoustic guitar, gentle strums resting on scuffing percussion and a woozy low end. In "Felicity," a bright offbeat stabbing lends a false sheen of urgency, the track's optimistic pads and moaning 303 still drifting in a lethargic haze below. By now, it should be clear that your appreciation for On Acid will be solely dictated by your tolerance for this particular use of the 303. Perhaps — even if you're a fan — you'll grow tired of the barbiturate trance and wish it would evaporate for a track or two. It doesn't, at least not on Recondite's watch. The still-mild "Jaded" is the boldest thing on offer, framed by crisp rhythms at odds with the rest of the album's rotund percs. Scuba's remix is truly frenetic, however, forming a satisfyingly upbeat conclusion to the 55-minute dirge. Cantering along via shimmying filters and salvos of claps, it has an unmatched sense of momentum and purpose. Here Recondite's gloomy tones are little more than a fast-chiming refrain.
In the 90s, artists like D.A.V.E. The Drummer and Chris Liberator squeezed every last drop of aggression from the 303. In pushing the limit the other way, Recondite has been extraordinarily successful, creating an album more deeply psychedelic and mind-bending than a vast majority of previous attempts, at least in the realm of techno. It's a wonder more people haven't explored the instrument's torpid side this deeply. Recondite has unlocked a very simple secret: the slower a given sound is, the more time you have to study and appreciate its form. And given acid's richness of tone, this can only be a good thing, even if the result might be a little monolithic. This fact, coupled with arresting composition, makes On Acid the best full-length exploration of the 303 in recent memory, and an album that comfortably holds its own against all comers.