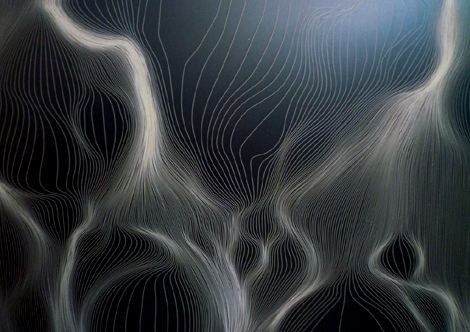 Consider René Pawlowitz. Under one name or another, he's produced some of the most innovative genre music of the last decade. Instantly recognizable sonically yet wholly committed to and camouflaged by whatever style he chooses to inhabit, Pawlowitz balances reverence to dance music with a fierce individualism. As he showed on his classical techno treatise, the Shedding The Past LP as Shed, he can simultaneously innovate while sliding seamlessly into a genre's continuum. His other musical projects — Wax for house, STP and Panamax for dubstep-esque beats, and Equalised and Deuce (with Marcel Dettmann) for Berghain-ready techno — only confirm his deftness with form. Able to act as both a student and leader in his field, he's so far been the best, or at least most generous, sort of genius: rather than reinvent the wheel, he puts his own indelible squeak on it.
Pawlowitz's commitment to working within the confines of genre has been anything but a crutch for him. But I'd imagine a producer of his stature might be curious what "Shed music" might sound like, not just how "Shed making house" or "Shed making dub" sounds. Thus, on his latest full length, The Traveller for Ostgut Ton, he's more or less pulled the floor out from under his productions. Where past Pawlowitz records have fit beautifully into a straight line, the fourteen tracks on The Traveller tie the filament in knots or scramble it in nearly inscrutable code. Whichever metaphor you prefer, you're likely to spend your first dozen listens just untangling this music. But should you decide to make that commitment, you'll be amply rewarded.
Audio clip: Adobe Flash Player (version 9 or above) is required to play this audio clip. Download the latest version here. You also need to have JavaScript enabled in your browser.
The Traveller is that rare difficult electronic album that's neither headphone-friendly nor abrasive. Your first mistake upon hearing this ultimately strange music would be to switch off your speakers for a closer listen. A much better strategy would be turning them up. From the early metallic slam of "Keep Time" to the laser experiments of "No Way!" and "HDRTM," Pawlowitz pushes air as forcefully as he ever has. He does it by coaxing as accurate and direct sounds out of his machines as any producer is likely to. Beyond hints of delay and reverb and extreme fine-tuning, I sense very little engineering ornamentation on these drum machines and synthesizers. That clean, to-the-point, nearly pure sound Pawlowitz has been pushing for the last year (use the STP remix of Wax's "Dub Shed" as your reference point) comes fully into bloom here, oddly sounding both exquisitely handcrafted and itinerantly devoid of nuance.
Yet for all these direct sounds, the compositions they bring to life feel intentionally stunted. Musical ideas begin but don't resolve, or resolve without ever really beginning. The set's longest number, "The Bot," hardly goes anywhere at all. When tracks do develop, they follow mutant logic. "44A (Hard Wax Forever!)," for example, begins sweetly and softly, its synthetic bells shimmering on a wide plain, before thick, grinding drums and heavy dub pads send all that gorgeousness fleeing. This pacing extends to the album itself, letting fast numbers bump up against dirges, and placing ambient interludes where they're likely to build more tension instead of opening up the air vents. Still, the album does divide roughly in half, with a more formless and exploratory beginning that ends with "Mayday" and an energetic, nearly thrilling ending starting with "No Way!" But it's obvious Pawlowitz wasn't looking to create a standard, linear album narrative. One almost wonders if he spent hours paging through M.C. Escher image searches before going into the studio every day.
Audio clip: Adobe Flash Player (version 9 or above) is required to play this audio clip. Download the latest version here. You also need to have JavaScript enabled in your browser.
The Traveller quickly got me asking more questions about our own listening habits than about Pawlowitz's intentions. Is it producers who cling to genre, or do listeners? We use all the music we've ever heard as a filter for all the new stuff that's coming in, so when we hear music basically unfettered by all the usual reference points, it's bound to be a bit jarring. Only at "Leave Things," the album's beautiful jungle-referencing closer, is it immediately apparent (from a compositional standpoint) we're even listening to a dance album. But is there not something moving — physically and, on occasion, emotionally — about the thirteen tracks that precede it? I think we've caught Shed in the process of truly shedding the past this time, and his confidence and continued excellence in the studio bode well for wherever he's headed. We're likely to be debating this beguiling roadmap until he gets there.