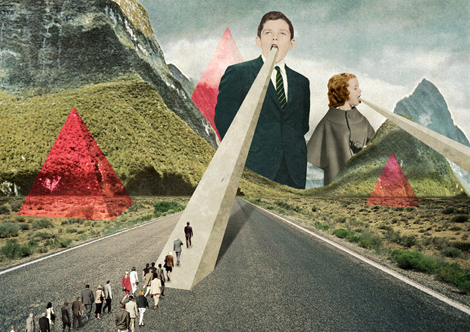 Art by Julien Pacaud
There's nothing inherently shocking these days about young producers making utterly fantastic dance records. From the smart-alecky, hyper kinetic house of Kyle Hall to the 10 to 15 new genres created every time David Kennedy puts out a new single, we've found some of the most exciting and obsession-confirming sounds in our little corner of the musical universe springing forth from some of its youngest denizens. Of all the college-age soundsmiths twiddling (what are by and large virtual) knobs right now, Jack Hamill, aged 20, is among the more conservative of the bunch. So it's a bit strange that his youth feels especially shocking. We're used to hearing young producers assert themselves with boundless energy, relative nonchalance about the rules, and the ability to grow artistically by leaps and bounds with each and every sonic utterance. Space Dimension Controller, Hamill's time-traveling alter ego, isn't exactly sidestepping any of these. (It's difficult, in fact, to think of a contemporary producer who exudes more energy.) But his aesthetic — imagine if Quincy Jones had sat at the controls on Fingers Inc.'sAnother Side, or if Prince put out a single on Royal Oak — is so fully formed and pitch-perfect you'd be forgiven for thinking he was a 20-year veteran, not a guy from Belfast who's only been alive for that long.
Audio clip: Adobe Flash Player (version 9 or above) is required to play this audio clip. Download the latest version here. You also need to have JavaScript enabled in your browser.
SDC wears a number of different hats on Temporary Thrillz, his new doublepack for the back-with-a-vengeance R&S label, without ever sounding like he's finding his footing. Be it a sensitive slow jam or uptempo face-melter, each one of the six tracks on offer is a product of the same tightly controlled milieu. He begins the set with "Mercurial Attraction," a dreamily romantic, truly epic slice of spaceman house replete with Drexciyan bass and what I like to imagine are keytar solos. (Luckily for my mind's eye, the doublepack is rife with similarly awesome synth noodling.) The stutter happy title cut sits even higher in the galactic clouds. They're both more sprawling, sensitive creations than their stylistic counterweight, the acutely funky "Transatlantic Landing Bay" (think a less stoney Dam Funk, or a decidedly stonier Tensnake). Taken together, they're surely what dance floors will remember this release for. This isn't to say that SDC's less DJ-friendly cuts aren't fantastic or even downright thrilling. Beneath gamma-ray whispers and robot-diva theatrics on "Kaleidoscopic Ecstasy" lurks some of the fattest bass I've heard anyone (save Mala) let loose in awhile. "Simmering Emotion" makes good on its title, containing sprinting percussion in a magnetic field of analog ambience. Even "2EZ (Autopilot's Lament)," the closest Temporary Thrills comes to filler, is drenched in detail.
Audio clip: Adobe Flash Player (version 9 or above) is required to play this audio clip. Download the latest version here. You also need to have JavaScript enabled in your browser.
When I was 20 (which, I must admit, wasn't very long ago at all), it was perfectly acceptable to be some schlub in cargo shorts bragging about locking down a summer internship. I get the sense that Hamill (artistically and professionally, at least) has things figured out quite a bit better than I and practically everyone I know did. If he keeps it up — and his purported analog hardware collection leads me to believe he has every intention to — he'll go incredibly far, because Temporary Thrillz would be a pretty big release for a producer of any age. I'm sure I'm not the only guy in the galaxy curious to hear what Space Dimension Controller besting himself once again might sound like.