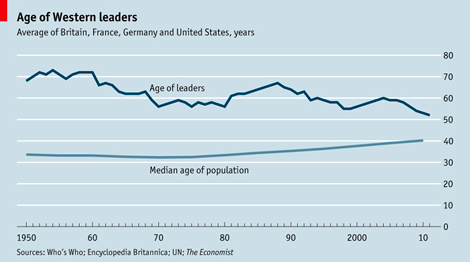 Chart courtesy of The Economist
01. Jerzzey Boy, "Like A"
[My Love Is Underground] (buy)

With retro house styles so completely en vogue, it makes sense that labels are beginning to combine new, classically influenced releases with re-releases of hard to find records. My Love Is Underground, the Paris-based imprint owned by Jeremy Underground, takes it a step further: of its four releases so far, two seem to contain newly released tracks that date from the fetishized early/mid-90's. Their third was by Jerzzey Boy, the duo of Curtis Edwards and George Lockett Jr. whose last record together dates back to 1994. The clear highlight of their Lost Cuts Pt.1 is "Like A," a short and vivacious house track that's clearly indebted to Journey With the Lonely-era Lil Louis. Its staccato organ chords and bass line hit the same pleasure centers, and Keva Holman's confident vocals command the same level of respect as Lil Louis collaborator Joi Cardwell. It seems nearly impossible not to get caught up in the catchy refrain or the grin-inducing melodies throughout. Hats off to Jeremy for rescuing this excellent lost material; we look forward to what he and his crew unearth next.
02. Recondite, "Robur" [Plangent] (buy)


It's become something of a familiar story: a hand-stamped white label arrives in stores with barely any information about the label or artist and wins the hearts and cash of discerning listeners. But like the best records to fit into this mold, it's the music rather than the buzz that has shoppers adding Plangent#001 by Recondite to their piles. It's altogether a splendid release, but "Robur" at A2 seems to be the standout. While bound together by sturdy 808 percussion, "Robur" is a delicate tune whose contemplative synth leads intermingle like curls of smoke rising from the morning's first cigarette. The combination is quite affecting — just enough momentum to stir the dance floor's first entrants with more melodic nuance than found in some whole DJ sets. Fans of Kassem Mosse, RNDM and Lawrence should check out this one before it vanishes from shops' stock.
03. Roman Flügel, "Iron Curtain"
[Live At Robert Johnson] (buy)

There aren't too many sonic signatures that tie-together Roman Flügel's lengthy and varied back catalog; even his beloved 303 only shows up from time to time. Yet it's fair to say the broad majority of Flügel's work is endearingly lighthearted, and using his tracks in a set can act a reminder that dance music isn't serious business and can be used to facilitate fun. He follows his Simon LeBon single for Live At Robert Johnson (one of the most killingest labels currently in operation) with the Desperate Housemen EP for the imprint, a cheeky record whose best moment, "Iron Curtin," is as sticky in the mind as chewed gum is in hair. Its plush pads and complimentary synth strings, taken alongside syncopated house percussion, recall the exalted air of 90's deep-house. So far so good, but what sets the tune off is the slippery synth lead which scrambles between notes like puppy on hardwood floors — eager and excited but barely able to control its enthusiasm or feet. The result is sure to bring a smile to dancers' faces as they wiggle along. It looks like Roman Flügel's third act continues to be as compelling and charismatic as parts one and two.
Audio clip: Adobe Flash Player (version 9 or above) is required to play this audio clip. Download the latest version here. You also need to have JavaScript enabled in your browser.
04. Terrence Dixon, "City Nights" [Thema] (buy)


If an artist's popularity was commensurate to their talent, Terrence Dixon would be as well known as any of the Detroit producers adored by the dance music world. His music is otherworldly and familiar at once, containing many of the same ingredients as his peers but arranged in such unexpected ways that it can take a few spins before their structures click with what we come to expect. For his first release of 2011, Dixon teamed up with Brooklyn's Thema imprint for a five track EP that showcases some of his more accessible material as well as his characteristically complex side. Like many of his best tracks, lead track "City Nights" fits together long, funky loops filigreed with jazzy tones and intervals and is bolted together with vibrating slap bass cables. Although it's a straight 4×4, the frantically intricate drumwork leaves it feeling open to interpretation and various styles of DJing. The highlight, however, is when the strings detach from their high perch to swoon from side to side, providing the sensation of the whole track melting. Tunes like "City Nights" make us glad that labels keep giving Dixon a platform for his sui generis style of techno and give us hope that larger audiences will follow.
Audio clip: Adobe Flash Player (version 9 or above) is required to play this audio clip. Download the latest version here. You also need to have JavaScript enabled in your browser.
05. Vakula, "Kiev" [Achipel] (buy)

Mikhaylo Vityk, the producer better known as Vakula, has enamored himself to the deep house scene with great alacrity. In his two year career, the Ukrainian talent has racked up releases on top shelf labels such as Uzuri, 3rd Strike Records, Quintessentials, Firecracker Recordings, and most recently Anton Zap's Ethereal Sound imprint. Yet it's a largely overlooked release for Archipel which recently caught our attention and helped explain his allure. What he does so well, showcased best by the track "Kiev," is to infuse familiar deep house motifs with empyrean synth lines that elevate the earthy elements. The funky bass line of "Kiev" seems to be swimming in a current of stardust as persistent hi-hats and staggered snare hits give the tune shape. It's the kind of track you want to hear while watching the clouds float by, preferably while shaking it at the water's edge.
Audio clip: Adobe Flash Player (version 9 or above) is required to play this audio clip. Download the latest version here. You also need to have JavaScript enabled in your browser.
06. Julius Steinhoff, "Mischief Of One Kind And Another" [Geography Records] (buy)
07. Peverelist, "Dance Til The Police Come"
[Hessle Audio] (buy)
08. Prostitune, "NJ Turnpike"
[Just Another Beat] (buy)
09. Andre Lodemann, "Your Choice"
[Room With A View] (buy)
10. Leonid Nevermind, "Thymus Stimulator"
[Nowar] (buy)

Staff Charts:
Steve Kerr
01. Old Apparatus, "Untitled B" [Deep Medi Musik]
02. Andy Stott, "Dark Details" [Modern Love]
03. Grouper, "Alien Observer" [Yellow Electric]
04. Shifted, "Reach" (Szare Remix) [Syndrome Z]
05. Invisible Conga People, "Can't Feel My Knees" [DFA]
06. Blondes, "Lover" [Rvng Intl]
07. Marcellus Pittman, "The Mad Underdog" [Seventh Sign Records]
08. Gesloten Cirkel, "Yamagic" [Moustache Records]
09. Sneaker, "You Think You Think" [Uncanny Valley]
10. Lone, "Blossom Quarter" [R&S Records]
Anton Kipfel
01. Julius Steinhoff, "Mischief Of One Kind And Another"
[Geography Records]
02. Dinky, "Polvo" [Ostgut Ton]
03. Hitsafe, "Let The Acid Out" (Tin Man Remix) [Shaddock Records]
04. Burial, "Stolen Dog" [Hyperdub]
05. Reggie Dokes, "Haiti" [Royal Oak]
06. Kenton Slash Demon, "Daemon" [Tartelet Records]
07. WK7, "Higher Power" (Hardcore PCK Mix) [Power House]
08. The Parallel, "Analogue City" [Kosmisch]
09. Unity Love Vibe, "Doom Loop" [Station 5 Records]
10. Art Department, "What Does It Sound Like?" [Crosstown Rebels]
Chris Miller
01. Andy Stott, "Excecution" [Modern Love]
02. DJ Qu, "Get Sum" [Strength Music]
03. Midland, "Through Motion" [Aus Music]
04. tobias., "Girts" [Ostgut Ton]
05. Pearson Sound, "Deep Inside" [Night Slugs]
06. Pangaea, "Run Out" [Hessle Audio]
07. Dresvn, "Woodlandscene A2" [Acido Records]
08. Versalife, "Solenoids of Insomnia" [Clone West Coast Series]
09. Donato Dozzy, "In Bed" (Tin Man Remix) [Absurd Recordings]
10. Steffi, "Sadness" [Ostgut Ton]
Keith Pishnery
01. Kahn, "Like We Used To" [Punch Drunk]
02. 13&God, "Armored Scarves" [Anticon]
03. Wiley, "Numbers in Action" [Big Dada]
04. Illum Sphere, "Dreamstelin" [Tectonic]
05. Mexicans With Guns, "Highway To Hell" [Innovative Leisure]
06. Kode9 & Spaceape, "Otherman" [Hyperdub]
07. Save Slaves, "Revolver Juggling" [Nihon Kizuna]
08. Burial, "Stolen Dog" [Hyperdub]
09. Mokira, "Axis Audio" [Kontra-Musik]
10. Groundislava, "Animal" [Friends of Friends]
Andrew Ryce
01. Pittsburgh Track Authority, "Vertical Impact" [Uzuri]
02. Andre Lodemann, "Your Choice" [Room With A View]
03. Andy Mac, "Everytime" [Punch Drunk]
04. Steffi, "Sadness" [Ostgut Ton]
05. Machinedrum, "Fantastix" [Planet Mu]
06. Andy Stott, "North To South" [Modern Love]
07. Duijn & Douglas, "Clap Voor Je Backingvocals" [Feelharmonic]
08. Monolithium, "Swag Equity" [Error Broadcast]
09. Redinho, "Edge Off" [Numbers]
10. Miyoo, "Biogram" (West Norwood Cassette Library Remix)
[West Norwood Cassette Library]