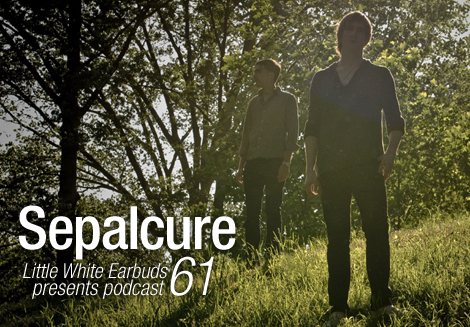 It's one thing to be excited about music from your hometown. It's quite another to find out that some of the most exciting dance music on the shelves right now, in your humble opinion, was made quite literally down the street from you. When I met Praveen Sharma this past summer, we initially bonded over living on the same street just a few blocks from each other. When a mutual friend pulled me aside and said, "You're talking to one of the Sepalcure dudes," I was shocked I hadn't heard any woozy, loved-up bass coming in through my back window. (Finding out that the other Sepalcure dude, Travis Stewart, had spent a chunk of his musical formative years in my hometown in Florida blew my mind a bit as well.) A collaboration between old friends and New York dance music veterans, Sepalcure very quickly moved from casual side-project to Hotflush-approved, extremely-hotly-tipped "lovestep" juggernaut. After a recent taping of Bless Up! at Brooklyn's famed Halcyon record shop, I sat down with Sepalcure to find out how it all came together. The boys were also kind enough to provide us with an aural accompaniment to the interview — an exclusive, edit-heavy mix of the sort of tender house, fiesty bass, and Sepalcure sounds that's perhaps best enjoyed with a smooth Malbec and that special someone.
LWE Podcast 61: Sepalcure (42:06)
Audio clip: Adobe Flash Player (version 9 or above) is required to play this audio clip. Download the latest version here. You also need to have JavaScript enabled in your browser.
Tracklist:
01. Kenny Larkin, "Breathe" [Peacefrog Records]
02. Twerk, "Kiu Kiu" [Mille Plateaux]
03. Shed, "Warped Mind" [Ostgut Ton]
04. Michaux, "12£ Ute-No" [Audio.nl]
05. Scuba, "On Deck" (FaltyDL Remix) [Hotflush Recordings]
06. Velour, "Kick it Til it Breaks" [Night Slugs]
07. The Hundred in the Hands, "Pigeons" (Blawan's Bare Bones Remix)
[Warp Records]
08. Distal & HxdB, "Typewriter Tune" (VIP Mix) [white*]
09. Spatial, "100505" [Infrasonics]
10. Sistol, "On the Bright Side" (Scuba's Brighter Side Remix)
[Halo Cyan Records]
11. Millie & Andrea, "Gunshot" (Stripped) [Daphne]
12. Neat, "Lime & Sugar" [Airflex Labs]
13. Icicle, "Anything" [Tempa]
14. Commix, "Be True" (Burial Remix) [Metalheadz]
* denotes tracks which, as of the time of publishing, are unreleased

How did you meet? How did this Sepalcure collaboration come about?
Praveen Sharma: I was just getting really inspired by all this UK-whatever, this past year especially. I'd been doing the Praveen & Benoit for awhile, and I was just kind of bored, and Travis was just kind of bored, and I'd started making beats again for the first time in awhile. I invited Travis over and was just playing some shit, and we just started doing it for fun.
But your history goes back a ways before Sepalcure, right? How far back do you go?
Travis Stewart: Years. Maybe like eight years. Praveen was helping out with a show and was also performing, at Knitting Factory, wasn't it?
PS: Yeah, downstairs at [the old Manhattan location of] the Knitting Factory.
TS: We had been talking off-and-on before then, and he'd been playing some of my Machinedrum records on his radio show upstate, like he's been doing the Percussion Lab Radio thing for years. We'd just been talking then, and I met him through a couple shows. When I was living in Florida, I would come up to play in New York. Then I moved to New York, and we pretty much started hanging out all the time. We lived together at one point, like I was subletting at his place. It's kind of funny that we've known each other for so long and only within the past year have really started collaborating musically. But it's been beautiful the whole way.
Was there something that you guys bonded over musically, like a particular style or particular records, something that made the relationship click?
TS: Not necessarily. We have a lot of similar tastes across the board as far as genres go. We're always playing each other different records and sending each other tunes and stuff. But Praveen definitely got me into a lot more of the UK sounds. I'd always been aware of the UK sound and dubstep and stuff like that, but I wasn't that into it. Praveen was really digging into a lot of stuff and was playing me really interesting stuff that was coming out of the whole dubstep scene and UK funky scene and just bass music in general. Just from giving me a bunch of tracks, he started getting me on the same kind of path. He was a big influence on me to start doing more of that dubstep sound for sure.
Praveen, did this sharing go in the other direction as well? Were you getting lots of music from Travis?
PS: I've always gotten a lot of music from Travis. I still get shit-tons, especially now that we're doing these back-to-back Serato sets. I'm thrilled because I end up every time with like a boulder full of gems. He was a big influence earlier on, especially when I was doing my Neo Ouija album. I just loved what he was doing with the whole glitch-hop thing and all that. The whole time [we've known each other], we've always been sending each other tunes. I think it just sort of flipped this time. It's been more of me being like, "You've got to hear this shit! This shit is not the shitty dubstep that we don't like! It's better!"
Praveen, you mentioned that album you put out awhile back on Neo Ouija. I wanted to talk about each of your music careers before Sepalcure. What were you both up to?
PS: Originally I was doing a lot of IDM. I was sort of in the same circle as Travis, and I used to send him stuff. I thought he was the shit, because he came out with this sound before Prefuse 73 did. But I was always doing a way more toned-down, minimal, ambient electronic thing. That was for my Neo Ouija release and my Ai release, my Expanding Records release. All that stuff was very minimal, electronic, ambient. Then eventually I went through a period where I was pretty bored by a lot of electronic music. I went on this trip to India and sort of found half of my roots — half of my family is Puerto Rican, and is Indian — and I came back with a harmonium and some tablas, and I started working on this project with my friend Tom [Meluch], who goes by the name Benoit Pioulard, on Kranky, and that was way more of a folky sort of vibe. That was the last, like, three years maybe, with no beats. I would maybe throw in some beats, but not like we're doing now. I was very far removed from what we're doing now. The lead-up was fun. It was this big switch-up that's been pretty inspiring.
And Travis, a big part of your back-story has been Machinedrum, right?
TS: As far as the Machinedrum sound goes, it's always kind of been up to whatever I'm into at the moment, you know? I've never really adhered to any rules, like that my sound has to be part of some specific formula or anything. It's definitely — like since I've moved to New York, it's become more dance-centered and more clubby. I definitely feel like the Sepalcure project has been a natural progression from what I've been doing with the Machinedrum stuff to this new sound we've been getting into.
It sounds like the beginnings of Sepalcure were pretty casual. When did you know you were onto something? When did you start thinking in terms of releases?
TS: We didn't plan on it originally. Originally, just like Praveen said, we were both bored. We just wanted to make some tunes influenced by the stuff we were both listening to at the time. We were passing it out to friends, and you know, when you're friends with people who work with labels or know people who work with labels, it's sometimes natural that those songs end up in other people's hands. It just happened to be that we passed a couple of the unreleased Sepalcure tracks to Alex Incyde from Dub War, and we had no idea that he was actually doing PR for Hotflush at the time. He passed along the tracks to Scuba and got back to us before we were even considering demo-ing out tracks. It was really cool that it happened that naturally.
PS: Yeah, the shit we sent him wasn't even finished! I think the first time for me that we were really onto something was our booking at Bass Mutations [at Unsound Festival New York this past February]. It's like, how the fuck did that happen? We had no releases, we really hadn't even performed; that was our first performance together. And it went off really well. I think that was the first time we were like, 'Holy shit, this is gonna be dope!'
You didn't send out any demos to get that gig? They just got in touch with you?
PS: Well I mean, we had sent Alex and also Dave [Q, founder of Dub War] — it's kind of a funny story, because we'd sent both of them some tunes. Alex hit us up and was like — we still had no idea he was working at Hotflush — he was like, 'I think Paul [Rose, aka Scuba] would really like these.' And we were like, 'No, no no no no! They're not done!' But Dave didn't ask! He just sent them. Dave was actually the one who sent them to Scuba. We had no idea, and then the next thing we knew Scuba was hitting us up for two tracks — "Feeling That I Know So Well" and "Deep City."
This is kind of a nice segue. I was doing some research on you guys getting set for this interview–
PS: Creepy!
Yeah, this is gonna sound a little creepy. You know, if you google "lovestep," you guys are the first thing that comes up.
TS: Naturally.
As someone who listens to a lot of this stuff, I think it's kind of a fantastic tag. Like it's kind of silly.
TS: It's kind of funny. We were both noticing this whole shift in the dubstep scene, taking the whole "brostep" sound and just, like, melt-your-face bass lines and intense testosterone-driven music to a more relaxed, more soulful, more melodic kind of form, with the influence of diva vocals and everything like that, bringing the sound full-circle with this kind of New York and Chicago house sound that was so big in the '90s and that kind of disappeared for awhile. I think it's sort of reinvigorated a lot of producers that are out right now.
So you guys were obviously aware of what was going on. I didn't really know that the timetable was like when you guys were making the Love Pressure EP. I was wondering if your sound was a reaction to people like Joy Orbison, or Pangaea with his "Memories" release…
PS: Of course. My lovestep mixes were definitely a reaction to that. It was just me loving that shit. The term was actually coined by our friend Nick, who lives in London and used to be the chef for Warp or something crazy like that. He came by, I think in September or late August [2009], when we'd first started. He heard us throwing in all these diva vocals and this soulful New York garage or New York house sort of sound, and he was like, "That's some lovestep." I thought it was hilarious. But to be honest, that was when we were just doing it for fun. It's a funny term, but we wouldn't want to be pigeonholed right now, because a lot of the tracks that we have cooking right now are a lot darker. There's still some of the loved-up ones, but we have a lot of diverse tracks that are ready.
If you'll permit me to do a little reading of what you guys are doing… you know, I definitely hear the similarities with UK people like Joy Orbison or even Floating Points. But it totally makes sense that you guys are doing this in Brooklyn. From a geographical standpoint, you have the people to your east, in London and elsewhere in the UK, who have taken influences from New York and almost pushed them into the pop realm. But then I also hear in your sound a lot of what's going on to your west in LA, where the beats aren't totally quantized and there's this hazy, stoner quality to the mids. Do you feel yourselves sitting between these two scenes, pulled in both directions by them?
PS: We're influenced by everything we hear, for sure. But we have a lot of [those qualities] that we'd been doing in our own side projects. We are definitely very influenced by what's happened in the past in New York, and it's a huge inspiration for us to see people like FaltyDL, people like Kingdom, all these producers who are coming up now who are sort of bringing this New York garage thing back in a different way. That's really inspiring for us.
TS: And I also feel that there's been this big shift in locality of music. Like, there was a New York sound, and there was a predominant UK sound and West Coast sound and what have you. And now I really feel like, especially with today's technology, it's all becoming more world music, in a way. People are influencing each other and creating music that — like, you have a producer from Detroit or wherever making something that could very well come straight out of London, and this is happening everywhere right now. It's becoming harder and harder to pin down a localized scene. I'm kind of embracing that right now. It's kind of exciting to think about music being more worldly rather than localized.
It's interesting, because you're influenced by music that's from New York, that's part of your local cultural history, and also by music that's influenced by New York music. Like, could Sepalcure have even happened 15 or 20 years ago, before the Internet allowed music to travel around like it has?
TS: If we had, for whatever reason, 15 years ago had the sickest connections to DJs and record circles and stuff, maybe we would be doing the same stuff. It's really hard to tell. Obviously we're both very passionate about music and seeking out music, so who knows? Maybe 15 years ago we would have sought out music in the same way, you know, just used whatever resources we had at the time rather than the Internet.
Let's get into Love Pressure now. From the artwork to the flow of the tracks, it doesn't just feel like a 12″. Like, it's four tracks, but it feels like you've approached it as a cohesive unit. Once you guys got serious about releasing something, were you trying to create a whole rather than parts?
TS: I think what happened, and the reason it kind of sounds so cohesive, is because we were literally writing a lot of those tracks in the same two- to three-week period, or at least starting a lot of them. So they naturally all ended up sounding similar, because we were just on a certain tip at that time and weren't even necessarily concerned if the songs sounded too much like each other or if we were using the same samples in some of the songs. We just wanted to do it. Yeah, I think it just has to do with the timing.
PS: On the artwork tip, we've tried to maintain a kind of cohesive style artistically. It's actually Sougwen Chung who's been doing a lot of the artwork. When we were just doing it for fun, she was living out in Europe and would send us these live drawings to tracks we were working on, like "Every Day Of My Life" and "Feeling That I Know So Well."
Yeah, you can find videos of those on the internet, right?
PS: Yes. They weren't ever supposed to be on the Internet. They were, you know, just supposed to be for us. Then all of a sudden they started getting a lot of views.
TS: It kind of happened in the same manner that the tracks did. We made the tracks for us to jam to, you know? There was no intention of tons of other people hearing them. It was kind of cool that both the visual side and the music side kind of came together in that way. It was like accidental exposure in a way.
Love Pressure is for sure cohesive, but for me, there's one real standout. Can you talk specifically about how "The Warning" came together?
TS: We were trying to make an interlude track.
PS: Yeah, that's exactly how it started.
An interlude track?
PS: We were like, okay, we have all these tracks, we should make an interlude track or something. So I just jumped on the Rhodes and started playing some keys, and we threw in some ambient soundscapes we were working on. Travis was at the controls while I was playing the stuff on the Rhodes. Next thing I know, I hear beats, and I'm like — I turn around, and I'm like, 'This is supposed to be an interlude track!' And he's like, 'No, motherfucker. This is too dope to be just an interlude track.' And then we just went with it. I think that's why it might sound a little bit separate, is because it started from a different place.
TS: Yeah, the initial approach was very different.
Speaking of approach… as a duo, is there a distinct division of labor when you guys are in the studio?
TS: Recently we've been experimenting with the long-distance thing. I spent a month in Europe, and we got to experiment with a different way of making tracks. It's been very successful, but it's definitely very different. When we're in the studio together, it's basically like, whenever one person becomes fed up or just kind of overwhelmed with all the work, we just kind of switch it up and then the next person takes the lead. He may continue with what the other person was doing or may do something completely different. There's no real rules.
PS: There's no real rules. But I think the one important rule that's actually made this such a fucking awesome process to work together is that we really just let either of us try whatever we want to try. Then if we don't like it, or if the other person doesn't like it, you know, then we flip it up. There's a lot of elements in these tracks that started as something totally different. Say I start some bullshit. Travis comes to it, and he's like, 'I like some of this,' and then, like, flips it. We just keep switching.
TS: There's a lot of trust.
PS: Yeah, a lot of trust.
So what's next? Let's first talk about what's coming up release-wise. You guys have your first EP out right now. What can we look forward to?
PS: We're working on an EP right now, another EP for Hotflush. We're hoping for the fall, so it's a tentative fall release. We've got the tracks done. Basically, we've just got to get in the studio again and finish a lot of them. And then we'll see what happens after that. I mean, there's a lot floating around right now, but that's really our next big goal. We have a handful of gigs at Decibel Festival [in Seattle] — a Hotflush showcase with Sepalcure, Scuba, and Untold. Machinedrum has a show, and then I'm doing a Praveen performance. It might turn out to be Praveen and Benoit, I'm not sure yet. This winter, we're hopefully heading overseas to do some Sepalcure shows.
TS: Something we've been trying to maintain, and it's difficult — you know, when you start a project and you start putting out releases, you have a certain amount of pressure, if you will, to create and put out new stuff. And I think what was so beautiful about everything we've made together is that there was a complete lack of that pressure. So we're trying to maintain that as much as we can. There's obviously people asking us to do mixes or, you know, when's the next album coming out, when's the next EP or whatnot. But we're just trying to take it one day at a time just like we naturally would. When the time comes that we have enough material to put out a release, it'll happen. I'm very confident of it.
How about performing? Praveen, you briefly mentioned some overseas shows a second ago.
PS: This winter, there are some tentative dates overseas, in London and we'll see what happens with those. We can't really talk too much about them, they're up in the air, but they will hopefully be pretty big.
Considering how fast things are happening for these guys, I thought it might be good idea to touch base once more with Praveen and Travis before our original interview went to press. Not surprisingly, they had quite a lot to fill me in on. They answered a few more questions via email.
Decibel Festival was on the horizon when we last talked. How'd that go?
Sepalcure: Decibel was fantastic. We both played solo sets at different venues and then converged to play the Hotflush showcase, which confusingly had the worst sound system but the best crowd. We had a blast and hope to get to play on a proper system next time. Was great to see Seattle's crowd absolutely hungry for the Hotflush sound.
I understand that you intended your next EP for Hotflush, which you've just finished, as a bit of a departure. What's different about it? Was there anything different about your process this time around?
This time around, there was far more back and forth between us. With Love Pressure, we'd worked on all the tracks only while together in the studio. I think "Fleur" is the only track we both started and finished together on this one. Otherwise, we feel like it's just a natural progression from that sound we started exploring with Love Pressure.
When's it due out?
Just in time for the tour this December. [Hotflush informs us the EP is actually scheduled for January -Ed.] Actually just sent the final pre-masters out to Scuba today. We've got our visual artist, Sougwen, hard at work on the next batch of Sepalcure art. Anyone who knows her work already should get excited — she's been working with new mediums just for this EP.
Mary Anne Hobbs has been a massive supporter of you guys. On her final Radio 1 show, she mentioned that she'd been working with Darren Aronofsky on the soundtrack to his forthcoming film Black Swan, and that it would feature some music from you guys. Talk to me about how this came together. Will the movie feature new and exclusive Sepalcure jams, or is it stuff we'll already be familiar with?
Mary Anne Hobbs is actually the reason we landed this amazing opportunity. We're extremely flattered that she recommended us to Aronofsky. Travis was in Europe at the time so we collaborated remotely for the majority of the summer on a few different options. The movie will feature a small bit of an exclusive track that we wrote specifically for the film, using parts from Swan Lake and vocal track by Body Language's Angelica Bess.
When we spoke over the summer, you were reluctant to let too much slip about your upcoming European tour. Can you share any more specifics?
We're heading over to Europe from December 9th to 19th! We'll be over there on a short Hotflush tour alongside Scuba and other Hotflush family. Can't really say much more than that at the moment but we've got some really great shows lining up.
LWE Podcast 61: Sepalcure (42:06)